---
Kudo Support Inc. Job Hiring
Ad Type: Offer | Location: Lapu-Lapu City | Views: | Comments: | Ad ID: 4667 | 23 September 2011
KUDO SUPPORT
24x365 Business Support

A stable and growing BPO / call center located in MEPZ 1, Lapu-lapu Kudo Support is a PEZA Accredited I.T. Facility offering competitive wages and benefits with advancement opportunities. Clothing companies, Telecommunications companies, Internet Service Providers, Hotels and Restaurants are just a few of the industries which depend on us 24 hours/day to provide customer care, technical support and billing services to their customers.

We provide 24x365 service to our clients and our employees enjoy advancement opportunities, bonus and benefit programs including company sponsored health & dental insurance, an on-site dining café, and a professional atmosphere in a relaxed environment. If you're looking for a career, not just your next job, visit our office.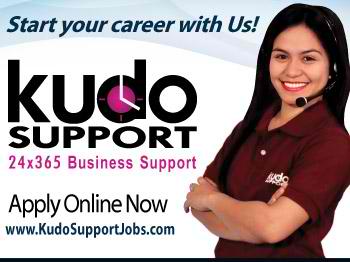 Multiple positions available for new accounts!

Also accepting applicants for:

Team Leads
Chat Agents
Accounting Positions
HR Staff
I.T. Assistants
Product Trainers
Web Hosting Agents
Marketing Representatives
Quality Assurance Positions
Also accepting those with Medical Training, such as nursing graduates, for accounts related to the medical industry.
Kudo Support, Inc.
Address: MEPZ 1, 2nd Street corner 3rd Avenue
Lapu-lapu City, Cebu, Philippines 6015
Telephone No.: (032) 341-1239
Website: www.kudosupport.com

Please bring valid id and updated resume

Customer Service Representative for Inbound Voice Positions
Ongoing Training Every Week!
Apply anytime, Monday to Saturday
8am to 5pm at our office


Pictures
---
Views:
3836
|

| Comments:

3
Total comments: 3

3 An Marie J. Wapere

(14 October 2016 5:03 AM)

Good day! I am interested to apply in CSR as i think i have the skills to help clients concern.

I am hoping for your response.

Thanks,
An Marie

1 Efemie T. Jumalon

(15 April 2015 3:34 PM)

Good day! I am interested about the I.T assistant position.Im Efemie T. Jumalon A graduate of Bachelor of Science in Information Technology
From the school of Mandaue City College.

I am hoping for your response.

Thank you and Godbless.