---
ROOMS FOR RENT in a BOARDING HOUSE (php 2,500.00/month) Mambaling, Cebu City
Ad Type: For Rent | Location: Cebu City | Views: | Comments: | Ad ID: 20537 | 02 January 2013
ROOMS--BOARDING HOUSE FOR RENT in Cebu City, Philippines
Cell# 0923-410-4121 and 0948-669-7915

Single rooms (good for one (1) person only: (Single occupancy)

php 2,500.00 per month -(with-out foam and electric fan)
php 3,200.00 per month -(with foam and electric fan)

Double rooms (good for one (1)or two (2) persons only: (Double occupancy)

php 3,400.00 per month - (with-out foam and electric fan)
php 4,200.00 per month - (with foam and electric fan)

TRANSIENT -- php 300.00/day/head ( with foam and electric fan)

Free light and water
No curfew, separate entry
Ideal for working professionals and college students and couple without children.
Clean, safe and peaceful surroundings
Room is furnished with wooden bed, table, cabinet and chair.
Foam and electric fan can be negotiated.
Accessible to all types of vehicles going to southern part of Cebu.

One ride to SM City Cebu and Cebu City proper, University of San Carlos-Main campus, Colon St. University of the Visayas Main Campus, Gaisano Metro, Main, Gaisano South Capital and Robinsons Galleria Cebu.

Walking distance to University of Cebu-METC, CIT- University,
Mc Donalds, Shopwise (Rustans), 360 Pharmacy, MetroBank, Banco de Oro , SM Seaside SRP, and Gaisano Metro Mambaling.
Clean and shared comfort rooms, separate for boys and girls.
No children and pets allowed.
Smokers not allowed here.

LOCATION: Mambaling, Cebu City, Philippines
Contact cell# for more details: 0923-410-4121 and 0948-669-7915

DOWNPAYMENT-- ONE MONTH ADVANCE ONLY
NO DEPOSIT REQUIRED, ONLY ONE MONTH ADVANCE RENTAL
NO CONTRACT
Pictures
---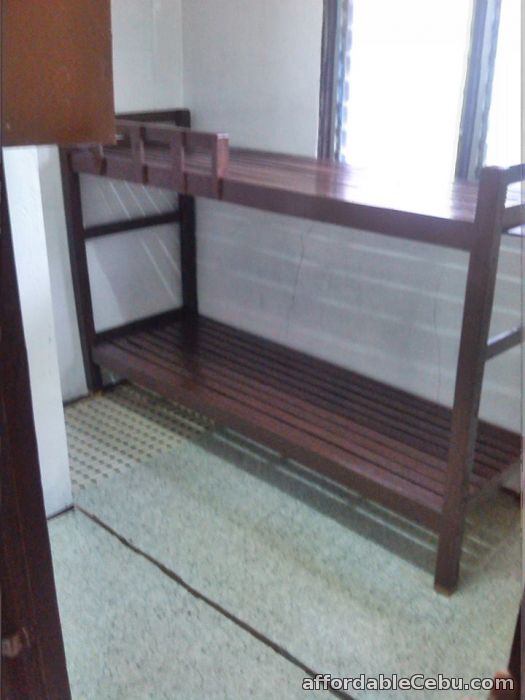 Views:
2563
|

| Comments:

2
Total comments: 2

0

Spam

2 KARLA MARIE ANGELICA

(06 March 2014 10:06 PM)

Is there a picture of the rooms for rent?
can you please send me one..
Also, is your area near also in IT Park?
Please contact me in this number, 09175440539

0

Spam

1 Trixie Abayan

(12 May 2013 1:40 PM)

Hi, Mag inquire lang tana ko if naa pai available for 2 person ni xa. Dool raba ni sa IT PARK? I'll be there in cebu this may 16,2013 and wala pajud koy nakita na room for rent. Pls reply asap. Thanks!