---
How to Add or Enroll New Account in Metrobank Online Banking (MetrobankDirect)
Given that you have already an account in Metrobank which is enrolled in Metrobank Online Banking facility (MetrobankDirect). If you want to add or enroll another account (new account) to Metrobank online banking, you don't need to fill-out an application form. Just follow this simple procedure below on how to enroll new account in Metrobank online banking:




Step 1



Log-in to your Metrobank online banking facility (MetrobankDirect) - [ https://personal.metrobankdirect.com/ ]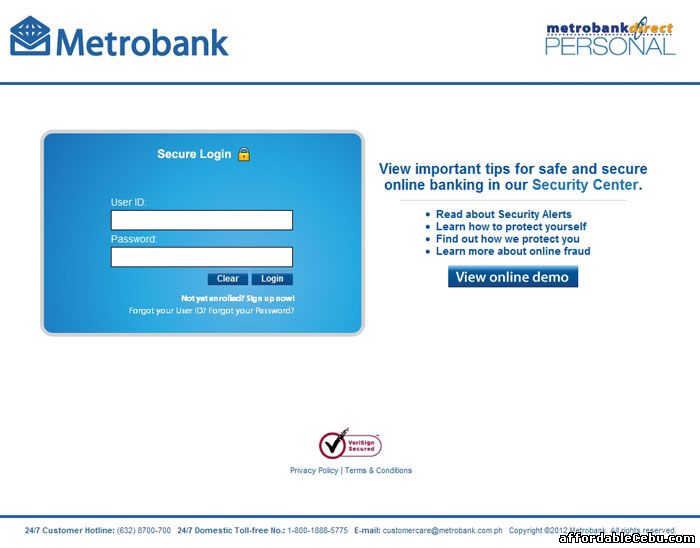 Step 2



Inside MetrobankDirect, go to MANAGE ACCOUNTS >> Enroll Accounts.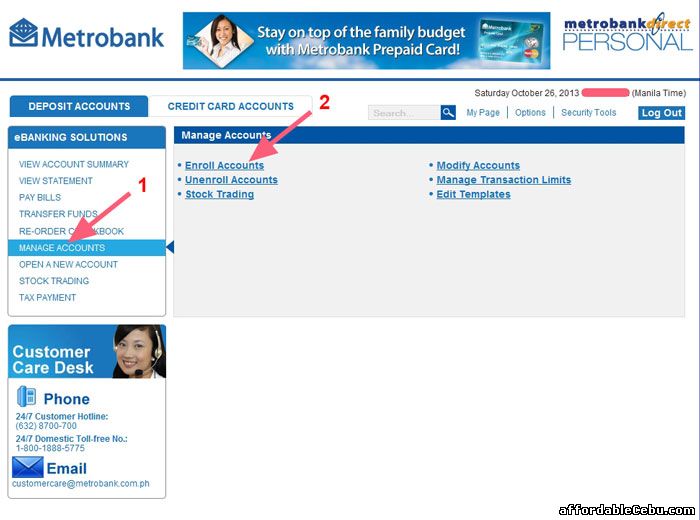 Step 3



Input your account number (own account) you wish to enroll and also input any nickname you want for that account. You can add or enroll many accounts and also 3rd party accounts (accounts which you don't own). Then, click the Continue button.







Step 4



You will then receive the Transaction Acknowledgement. Wait for a few days for enrollment verification with Metrobank's Customer Service Agent.




Enrollment Process Successful



A customer service agent will sent you a message to your Metrobank online banking email account and to your other email (e.g. Yahoo, Gmail, etc.) that confirms the approval of your account enrollment.

Are you having a problem in enrolling your new Account to Metrobank online banking facility (MetrobankDirect)?

Warning! When posting comments, strictly observe correct spelling. Avoid incomplete words such as TY (as Thank You), Pls as Please, gud as good, dpt as dapat, etc. You can comment in English or Tagalog. If you will not follow this simple instruction, your comment(s) will not be accepted or published.
Total comments: 5
3
VICENTE ESPINOSA FRANCISCO
(01 August 2016 3:37 PM)
Hi , i would like to add my metrobank checking account to my savings account but the checking account is only 10 digits and the online requires 13 digits. please advise.thanks

0

VICENTE ESPINOSA FRANCISCO, add 3 zeros at the beginning of the 10-digit account number.
2
Mailah De Mesa
(12 February 2016 8:39 PM)
hi, my account number is only 10 digits...when i enroll new account syytem said it should be 13 digits...do i need to add 3 0 on the last number?thanks
1
santicutie
(20 June 2014 12:13 PM)
Hi, I'd like to ask about the account number of checking accounts. Just recently got my check book and I'm trying to add it into my existing online account but the account number on the check book is only 12 digits. When I enter the account number for enrollment, I get an error message that I need to enter 13 digits. Is the number of my checking account mistaken by any chance? Or do I need to include 0 at the end? Please help!!