---
How to Link Metrobank Account to Paypal Account?
Aren't you aware that you can actually add or link your Metrobank account (atm or passbook) to your Paypal account. You can now avoid the hassle of having a Unionbank EON card. Like me, I have a Unionbank EON card but my city where I live doesn't have a Unionbank branch. So, it's a hassle to go to another city which is a one-hour travel just to deposit money to my EON account. Metrobank has expanding aggressively across the Philippines. Fortunate for me that we have a Metrobank branch in our city. So, if you own a Metrobank account, you have the opportunity to avail the great services Paypal offers. Here's a simple guide on how to add or link your Metrobank account to your Paypal account. Don't worry it's free. Paypal doesn't charge you a cent or a peso from your bank account in linking your Metrobank account.

1. First is you should have a Paypal account. If you don't have, you can register or sign-up on Paypal's website (https://www.paypal.com).




2. Log-in to your Paypal account. Go to Banks and cards >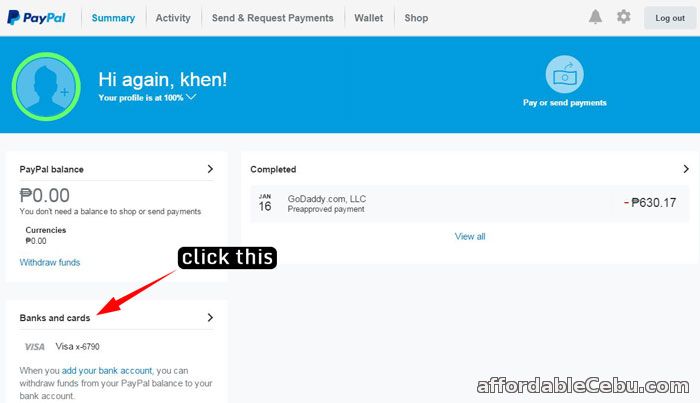 3. Under Bank accounts, click the Link a bank account button [+].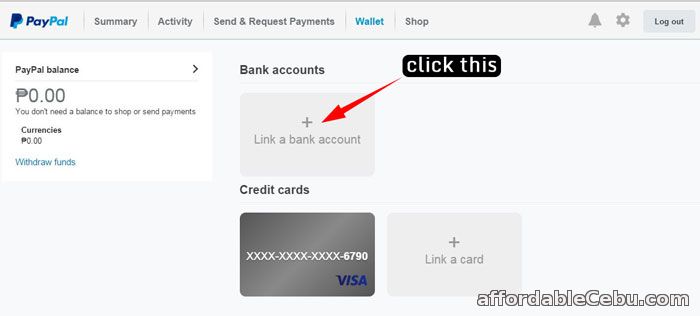 4. You will be redirected to another page where you are going to fill-out a form (Add a bank account in Philippines).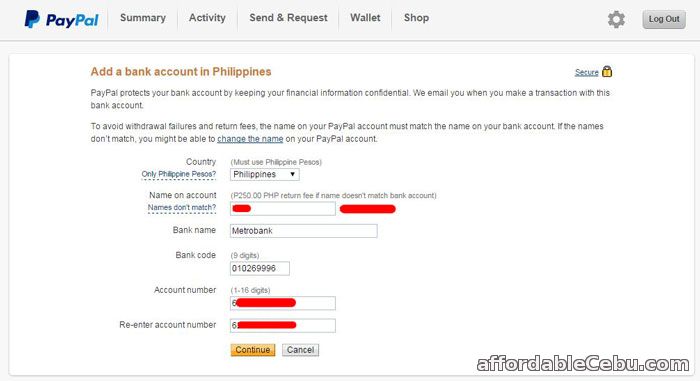 Enter the following details in the fields:
Country: Philippines
Name on account: Your name
Bank name: Metrobank
Bank code: 010269996
Account number: your Metrobank account number
Re-enter account number: enter again your Metrobank account number
Then click the Continue button.
5. You will be notified to review your bank account information. As you can read in the screenshot below, "Please make sure your information is correct and complete. Otherwise, transfers to and from your Paypal account will be returned. A return fee of P250.00 PHP will apply, and your bank may charge additional fees".

After careful checking of the bank account information, click the Save button.
6. As you can read in the screenshot below: "You can now transfer funds to and from your Paypal account to your bank account in Philippines".
You will receive a message to your email that confirms the successful linking of your Metrobank account to your Paypal account.
Are you having any problems linking your Metrobank account to your Paypal account?
Warning! When posting comments, strictly observe correct spelling. Avoid incomplete words such as TY (as Thank You), Pls as Please, gud as good, dpt as dapat, etc. You can comment in English or Tagalog. If you will not follow this simple instruction, your comment(s) will not be accepted or published.
Total comments: 3
3
Rommel
(10 October 2016 12:47 PM)
Is it possible to link a Metrobank Joint Savings account with paypal?
2
Mj
(04 September 2016 1:23 PM)
Hi. Should I include my middle initial for the name on the account? Because I already linked my metrobank atm but after a week metrobank declined the transfer. Thanks.
1
Leah
(01 September 2016 7:52 AM)
Can I link my atm Metrobank card that was provided by my Company where I work before?
Thank you!!