---
How to Pay VECO Electric Bill Through BPI Online Banking
The biggest electric utility in Cebu, Visayan Electric Company (VECO) makes it easier for you to pay your VECO bills. VECO partnered with the Bank of the Philippines Islands (BPI) to facilitate bill payment for VECO. With just a few clicks, you can now pay your VECO Electric Bill through the BPI online banking facility. How? Follow the procedure below:

Step 1







If you already have a BPI account and applied for BPI online banking, you must log-in to your BPI account. From the Main Menu, go to Payments & Reloading -> Bills Payment -> Enroll All Other Bills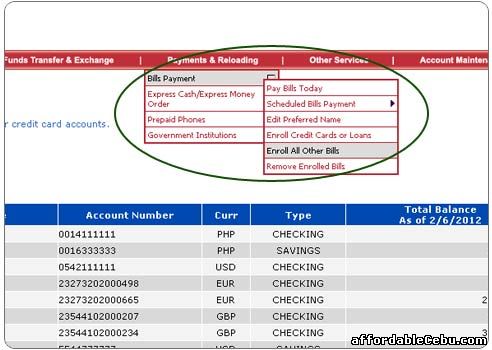 Fill-out the enrollment form.
In the ATM Card number option, choose which type of BPI account your would like to use for paying your VECO bill. Enter the 2-digit located at the lower right hand corner of your ATM card right across your name.
Under Company Name, choose VISAYAN ELECTRIC COMPANY, INC (VECO).
Under the Reference Number, enter your
VECO Account Number
. Your VECO Account Number can be found on upper left part of your VECO bill (
encircled in red
).
After completing the form, click the
Submit
button and you will receive a confirmation message verifying your successful bill enrollment. You can now pay your VECO bill right after this enrollment.
Step 3
In the menu, go to Payments & Reloading -> Bills Payment -> Pay Bills Today.
You will be redirected to the Pay bill form.
Step 4
Input the necessary information on the merchant to be paid: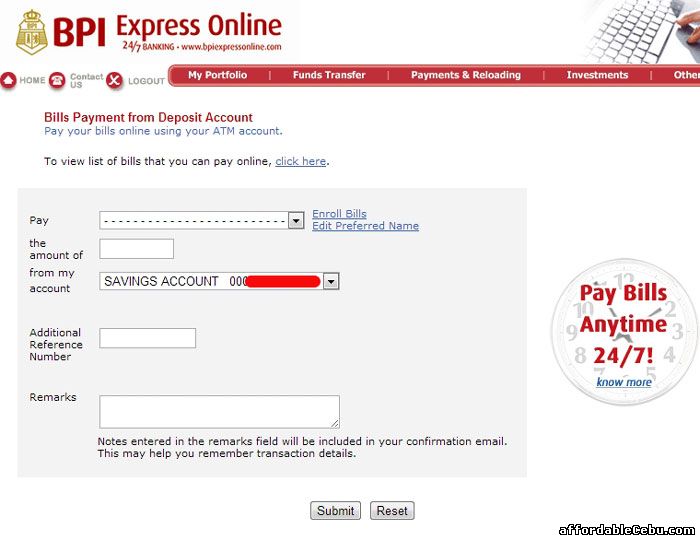 > Choose VISAYAN ELECTRIC COMPANY INC (VECO) to pay for.
> Enter the amount to be paid (do not include comma).
> Choose Source Account where payment will be debited from.
Then click the Submit button. You will then receive a confirmation message. Confirm the payment and you're done. (finished).
On your next payments, you don't need to re-enroll the VECO merchant. You may only follow Step 3 to 4. So, paying your VECO bill through BPI online banking is just a few clicks. Very convenient!
Important Reminders
If a confirmation page does not appear, please check if your account was deducted. To do this, click on More Options from your portfolio, choose "View my transactions for the day" then click on Submit.
Your account will be deducted immediately.
Payment will be forwarded to the merchant's account one banking day after your transaction.
Transactions done between 10:00 PM and 12:00 AM are considered transactions the next banking day.
Warning! When posting comments, strictly observe correct spelling. Avoid incomplete words such as TY (as Thank You), Pls as Please, gud as good, dpt as dapat, etc. You can comment in English or Tagalog. If you will not follow this simple instruction, your comment(s) will not be accepted or published.