---
Where to Find the Security Code or CVV of LandBank ATM Card?
CVV is an acronym for Card Verification Value. It's a security code that helps ATM cardholders to avoid credit/debit fraud. It's a very very important security feature for fund transfer or online purchases. Confused where to find the CVV or Security Code of your LandBank ATM card?




Where to locate the CVV or Security Code of your LandBank ATM Card?



You can find it at the back of the ATM Card. It's printed in 3 digits. That's the CVV.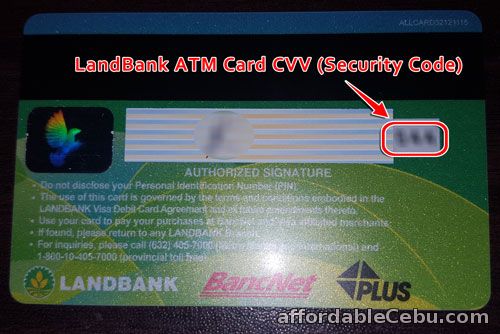 Back view of LandBank ATM Card
CVV or Card Verification Value is also termed as:
Card Verification Number
Card Verification Data
Card Verification Code (CVC)
Card Verification Value Code
Verification Code (V-Code)
Signature Panel Code (SPC)
Card Code Verification
Card Identification Number (CID)
Card Validation Code (CVC2)
Unique Card Code (UCC)
Elo Verification Code (EVC)
Card Verification Value 2 (CVV2)
Card Validation Number 2 (CVN2)
Do you have any problem finding the CVV (Security Code) of your LandBank ATM Card?
Warning! When posting comments, strictly observe correct spelling. Avoid incomplete words such as TY (as Thank You), Pls as Please, gud as good, dpt as dapat, etc. You can comment in English or Tagalog. If you will not follow this simple instruction, your comment(s) will not be accepted or published.