---
Future Net-Networking Marketing Association of the Philippines: a Scam?
The agency that regulates securities in the Philippines, Securities and Exchange Commission (SEC) warns the public against an operator of a new pyramiding scheme, the Future Net-Networking Marketing Association of the Philippines Inc. and its affiliate Future Net Credit Cooperative. According to SEC, both organizations are engaged in networking, promising huge profits or sky-high returns including direct and indirect referral commissions, net loan commission, satellite referral commission, within a short period of time depending on the number of recruits or level of participation.



Members of both organizations are entitled to multiple privileges ranging from loan availment, social, educational, medical, dental and insurance benefits.




SEC describes their mode of operation as a "classic pyramid scheme".




"Their mode of operation features that of a classic pyramid scheme since participants attempt to make money solely from recruitment of new participants in the program otherwise selling cooperative membership", says SEC.




Future Net-Networking Marketing Association of the Philippines is registered as a non-stock and non-profit organization. That's why SEC warns the public that it should not engage in investment taking business whether on its own or in conjunction with its affiliate or related entity.




Here are the full details of the SEC Advisory: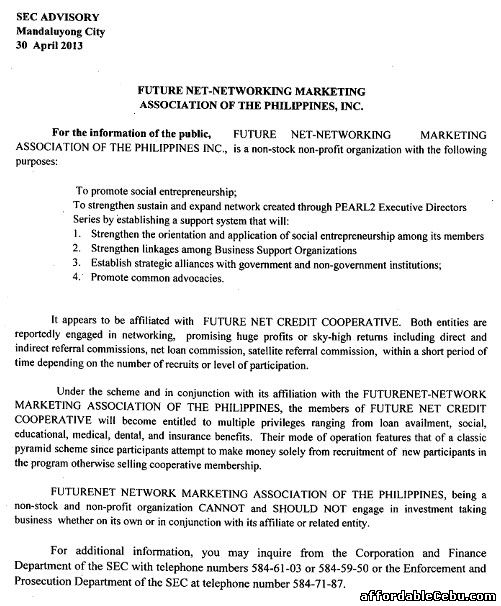 Warning! When posting comments, strictly observe correct spelling. Avoid incomplete words such as TY (as Thank You), Pls as Please, gud as good, dpt as dapat, etc. You can comment in English or Tagalog. If you will not follow this simple instruction, your comment(s) will not be accepted or published.