---
How to Pawn Your Jewelry in Henry Lhuillier Pawnshop?
Sometimes during emergency situations in which you have no or little cash available, one of the easiest things to do to have immediate cash is to pawn your jewelry. And that is if you have a jewelry to pawn. One of the top pawnshops in the Philippines where you can pawn your jewelry is Henry Lhuillier Pawnshop. Pawning your jewelry in Henry Lhuillier is very simple. You can follow these three steps below:




Step 1



Bring a valid ID. The pawnshop requires you to bring a valid ID. Without it, you cannot pawn your jewelry.

Then, go to any Henry Lhuillier Pawnshop branch.




Step 2



Ask an employee inside the pawnshop, that you're going to pawn a jewelry. Give your valid id and jewelry to the employee for appraisal.

The employee will give you a Form to fill-out. He/she will appraise your jewelry. Appraisal will take 2 to 5 minutes.




Step 3



The employee will give you the appraisal amount or the value of the jewelry that the pawnshop can give. It's up to you to decide whether you approve for pawning your jewelry. You can cancel the pawning if you want to.

Then, sign some papers, get your cash (the value of your jewelry) and your receipt. Don't also forget to get your valid ID back.

Here's how the receipt of Henry Lhuillier Pawnshop looks like: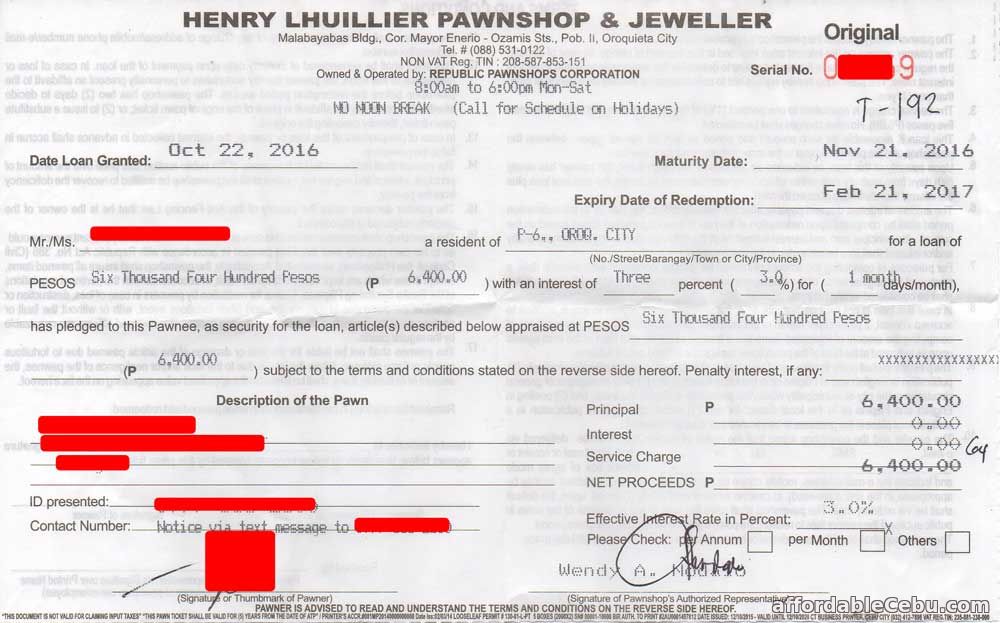 A copy of Henry Lhuillier Pawnshop loan receipt (front)


Note: Henry Lhuillier doesn't offer advance interest. So, you can enjoy the full amount of the value of your jewelry.




Henry Lhuillier Pawnshop Interest Rate
1% interest - if you redeem or claim your pawned jewerly in 1 to 3 days.
2% interest - if you redeem in 4 to 5 days
3% interest - if you redeem in 6 days and above
If you want to know the terms and conditions of pawning in Henry Lhuillier Pawnshop, you may read "Henry Lhuillier Pawnshop Jewelry Loan Terms and Conditions"

Do you have any concern with pawning a jewelry in Henry Lhuillier Pawnshop?
Warning! When posting comments, strictly observe correct spelling. Avoid incomplete words such as TY (as Thank You), Pls as Please, gud as good, dpt as dapat, etc. You can comment in English or Tagalog. If you will not follow this simple instruction, your comment(s) will not be accepted or published.