---
Top 20 World's Most Valuable Companies 2012
This is a list of the Top 20 World's Most Valuable Companies based on Forbes' Annual Ranking as of April 18, 2012. They are ranked in terms of market value. Having $546 billion market cap, Apple ranks as the most valuable company in the world. Exxon Mobil, which ranked first in the previous year, now ranks as the second most valuable company in the world having $407.4 billion market value. The higher the company's market value, the greater the growth potential.






Top 20 World's Most Valuable Companies 2012

(as of April 2012)



Rank
Company
Market Value
(in billion $)
Country
1
Apple
$546.00
United States
2
Exxon Mobil
$407.40
United States
3
PetroChina
$294.70
China
4
Microsoft
$273.50
United States
5
IBM
$238.70
United States
6
ICBC
$237.40
China
7
Royal Dutch Shell
$227.60
Netherlands
8
Chevron
$218.00
United States
9
China Mobile
$216.50
Hong Kong-China
10
General Electric (GE)
$213.70
United States
11
Wal-Mart Stores
$208.40
United States
12
Nestle
$205.40
Switzerland
13
Google
$203.20
United States
14
Berkshire Hathaway
$202.20
United States
15
China Construction Bank
$201.90
China
16
BHP Billiton
$187.50
Australia
17
AT&T
$187.30
United States
18
Procter & Gamble
$185.20
United States
19
Petrobras-Petroleo Brasil
$180.00
Brazil
20
Johnson & Johnson
$178.80
United States
Here's a bar graph of the Top 20 Most Valuable Companies in the World 2012. Notice how Apple outranked the other companies: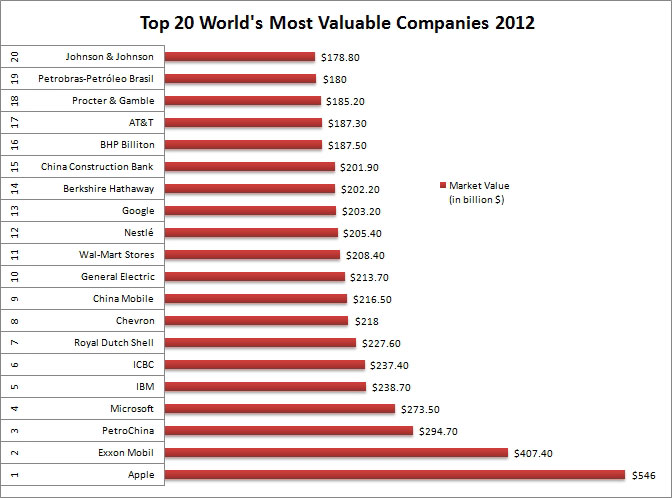 Can Apple company hold its position as the most valuable company in the world until next year (2013)?
Warning! When posting comments, strictly observe correct spelling. Avoid incomplete words such as TY (as Thank You), Pls as Please, gud as good, dpt as dapat, etc. You can comment in English or Tagalog. If you will not follow this simple instruction, your comment(s) will not be accepted or published.