---
Oroquieta City Fiesta 2013 Schedule of Activities
It's fiesta sa Oroquieta! October 16 is the scheduled date of fiesta in Oroquieta City, the capital city of Misamis Occidental. This celebration commemorates the good deeds of blessed Virgin Mary of the Holy Rosary. Here's the schedule of the activities to be conducted: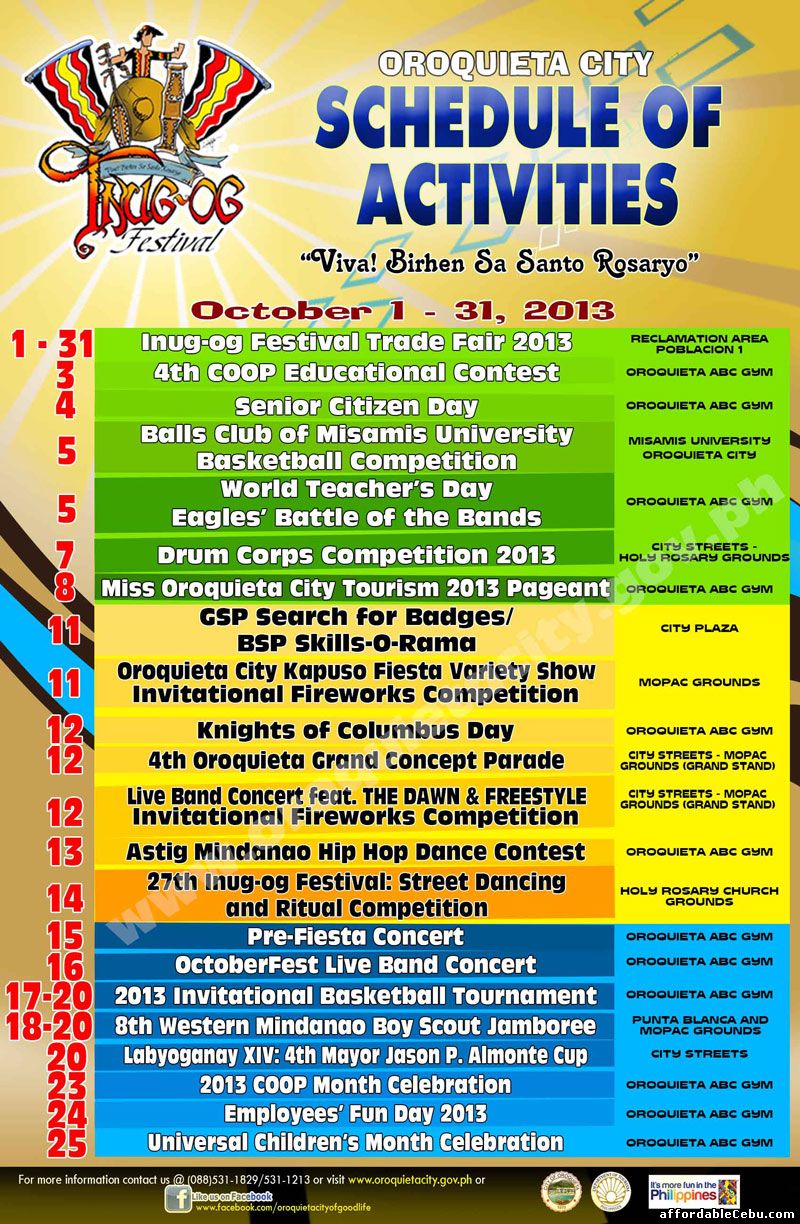 Transcription:



Oroquieta City Schedule of Activities (Fiesta 2013)


"Viva! Birhen sa Santo Rosaryo"

October 1-31, 2013


Date

Activities

Place

1-31

Inug-og Festival Trade Fair 2013

Reclamation Area
Poblacion 1

3

4th COOP Educational Contest

Oroquieta ABC Gym

4

Senior Citizen Day

Oroquieta ABC Gym

5

Balls Club of Misamis University Basketball Competition

Misamis University, Oroquieta City

5

World Teacher's Day Eagles' Battle of the Bands

Oroquieta ABC Gym
7

Drum Corps Competition 2013

City Streets-Holy Rosary Grounds

8

Miss Oroquieta City Tourism 2013 Pageant

Oroquieta ABC Gym
11

GSP Search for Badges/BSP Skills-O-Rama

City Plaza

11

Oroquieta City Kapuso Fiesta Variety Show Invitational Fireworks Competition

MOPAC Grounds

12

Knights of Columbus Day

Oroquieta ABC Gym
12

4th Oroquieta Grand Concept Parade

City Streets-MOPAC Grounds (Grand Stand)

12

Live Band Concert feat. The Dawn & Freestyle Invitational Fireworks Competition

City Streets-MOPAC Grounds (Grand Stand)
13

Astig Mindanao Hip Hop Dance Contest

Oroquieta ABC Gym
14

27th Inug-og Festival: Streed Dancing and Ritual Competition

Holy Rosary Church Grounds

15

Pre-Fiesta Concert

Oroquieta ABC Gym
16

Ocotber Fest Live Band Concert

Oroquieta ABC Gym
17-20

2013 Invitational Basketball Tournament

Oroquieta ABC Gym
18-20

8th Western Mindanao Boy Scout Jamboree

Punta Blanca and MOPAC Grounds

20
Labyoganay XIV: 4th Mayor Jason P. Almonte Cup

City Streets

23
2013 COOP Month Celebration

Oroquieta ABC Gym
24
Employees' Fun Day 2013

Oroquieta ABC Gym
25
Universal Children's Month Celebration

Oroquieta ABC Gym

For more information contact (088) 531-1829, 531-1213

Warning! When posting comments, strictly observe correct spelling. Avoid incomplete words such as TY (as Thank You), Pls as Please, gud as good, dpt as dapat, etc. You can comment in English or Tagalog. If you will not follow this simple instruction, your comment(s) will not be accepted or published.