---
How to Renew Motorcycle Registration in the Philippines?
Some of you might be worried how tedious or complicated it is to renew your motorcycle registration here in the Philippines. You don't need to worry. I'll share with you the process in a very simple way and I'll also share some tips to make your motorcycle registration renewal less hassle as possible. You will know that it's time to renew your motorcycle registration if the current month coincides to the last digit of your plate number. If the last digit of your plate number is 2, then, February is the month of your registration renewal. If it is 5, then, May is the month of your registration renewal. If it's 12, then, it's December. Always remember that the last digit or the last two digits of your plate number corresponds to the month of your registration renewal. Here's the process on how to renew your motorcycle registration: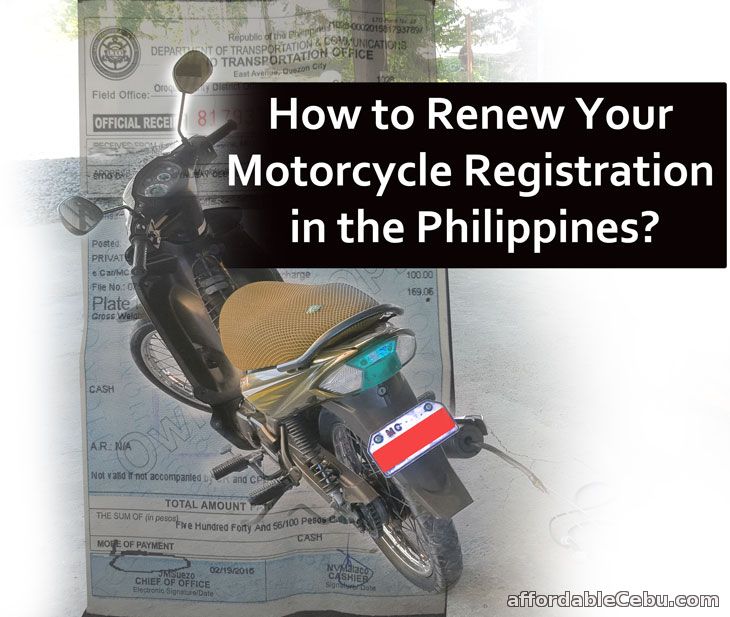 Step 1
You need to prepare the following requirements before going to the Land Transportation Office (LTO).
Requirements for Renewing Your Motorcycle Registration:

Bring the original copy and the photocopy of the OR (Official Receipt) of your motorcycle registration.
Bring also an original copy and a photocopy of CR (Certificate or Registration) of your motorcycle.
Get a TPL (Third Party Liability) Insurance from an insurance company. Most often, insurance companies have satellite office or agent office near the LTO office. But I recommend to get a cheapest cost of insurance like from the one offered by Cebuana Lhuillier. What I've noticed is that insurance company's satellite office or agent office near the LTO office offers an expensive cost of insurance with almost the same benefits with Cebuana Lhuillier or those who provide motorcycle insurance. So be wise upon choosing an insurance. You may refer here on how to get or apply a Motorcycle Insurance in Cebuana Lhuillier: "How to Apply a Motorcycle Insurance in Cebuana Lhuillier?"
Smoke Emission Test result. You can get this from a certified smoke emission testing center.
Stencil of the engine number and the chassis number of your motorcycle. You can do this yourself or with the help of the employee in the Smoke Emission center.

Pictures of the Documents (Requirements):






OR (Official Receipt) of a Motorcycle Registration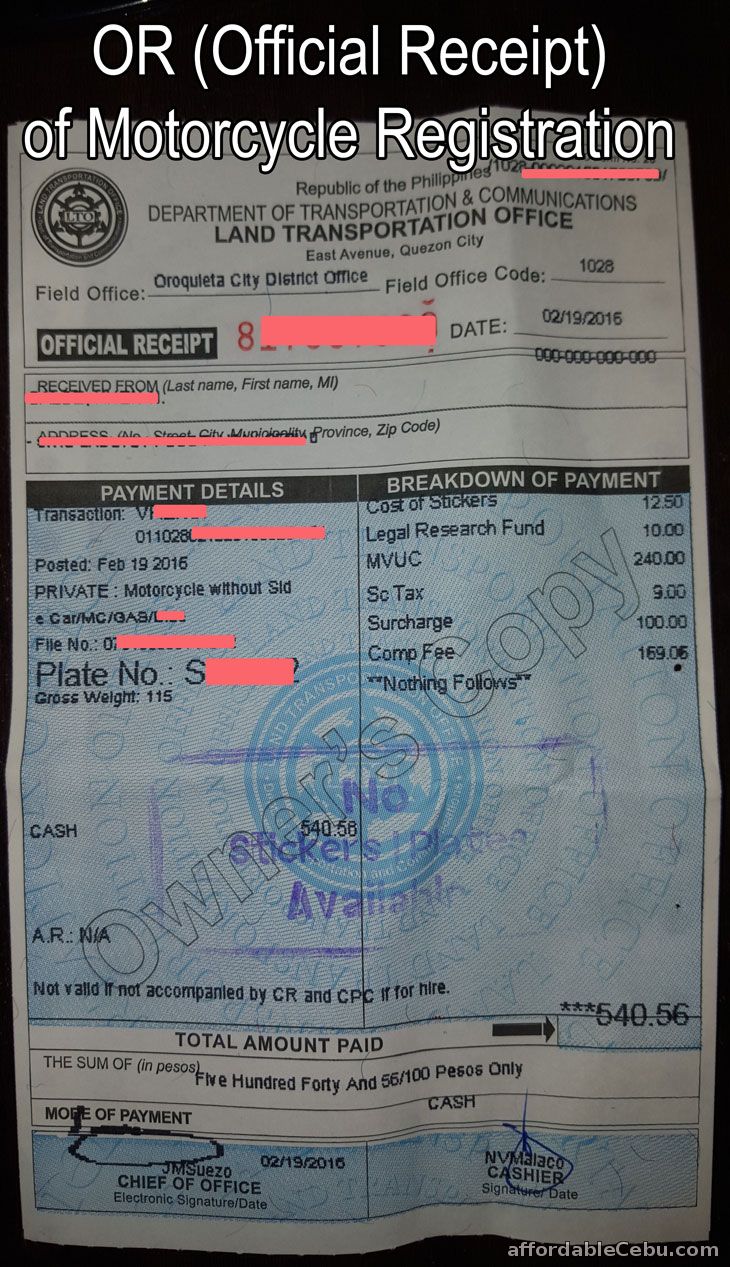 CR (Certificate of Registration) of a Motorcycle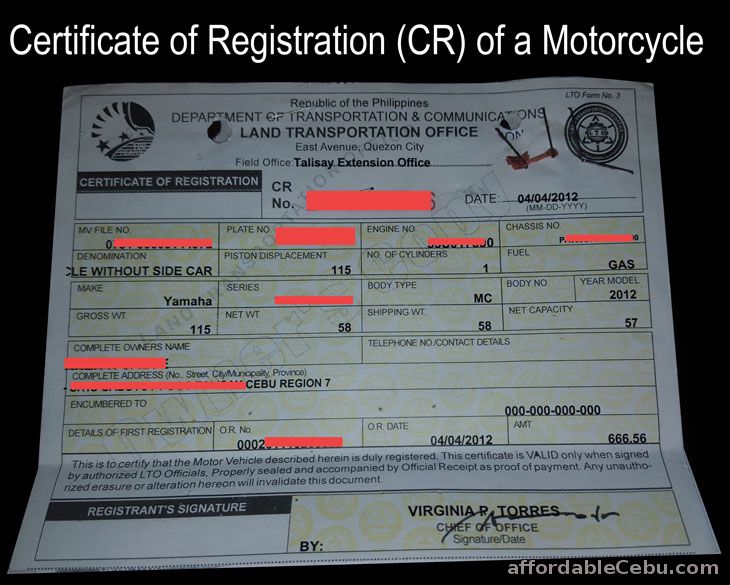 Motorcycle Insurance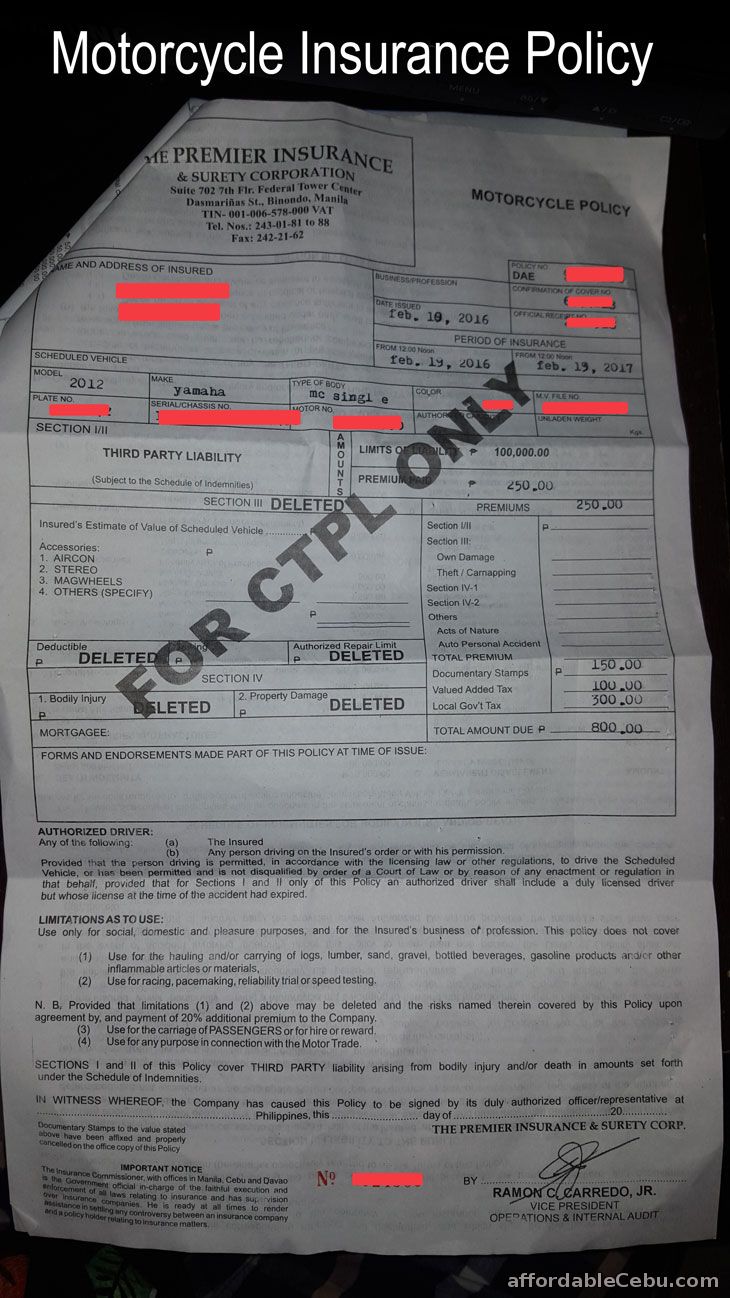 Smoke Emission Test Certificate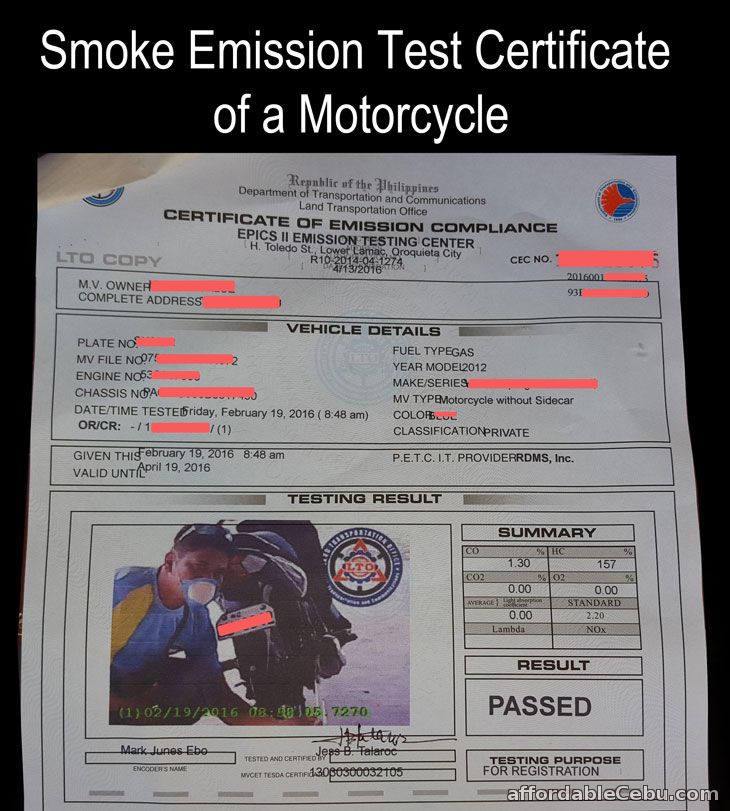 Stencil of the Engine Number and Chassis Number


Step 2
After you have all the necessary requirements, you can now go to the LTO office and apply for renewal of motorcycle registration. Submit the requirements. Your application will be processed.
Step 3
Have your motorcycle inspected by an LTO officer (checking if all the important motorcycle parts are working such as headlight, tail light, brake light, signal lights, horn, front and rear brakes). Payment of the inspection is Php50 and to be paid to the Cashier. You will receive a receipt which you should present to the LTO inspector.
You can skip this Step 3 if you know the LTO officer (as a friend or relative). This Step 3 has not been implemented to some LTO offices such as in parts of Mindanao.
Step 4
Pay the fees (around 400 to 500 pesos) of the registration renewal. Sit down and wait for the processing of your application... You will receive your new Official Receipt (OR) at the Releasing Window.
The process usually takes around 30 minutes to an hour depending on the number of applicants/clients in the LTO office.
Tips
Renewal will only take 30 minutes if you have a friend/relative who work in the LTO office. The 20-minutes is just the emission test and the 10-minutes is the processing of your registration inside the LTO office.
Implement a GIVE-and-TAKE approach. If you prepare all the requirements and give them to a fixer, you don't have to wait for several hours. You can go home and just wait for the text of the fixer.
Warning! When posting comments, strictly observe correct spelling. Avoid incomplete words such as TY (as Thank You), Pls as Please, gud as good, dpt as dapat, etc. You can comment in English or Tagalog. If you will not follow this simple instruction, your comment(s) will not be accepted or published.