I'm Khen. I'm one of the victims of JJPTR's ponzi scheme.
I invested $1,000 (Php 52,000) in November 2016 and $1,000 (Php 53,000) for my wife in March 2017. A total of $2,000.
I never profited. They offer withdrawable capital but now (as of April 27, 2017), we cannot withdraw our capital anymore. I requested a withdrawal, but they denied my request.
But still many investors are hoping. But me? I don't trust JJPTR anymore. Only IDIOTS believe in false hopes or false promises.
I know the MINDSET of those who pioneered or who started early in JJPTR and those who are used to this kind of money game. Numb! (Manhid!).
Just for the sake to earn HUGE MONEY in a SHORT PERIOD OF TIME, they will hide the TRUTH from you. They're BLINDED by the MONEY they earn.
I'll tell you the truth about JJPTR. Journalists, real financial market traders can spot my point here. So the main concern here is "Is JJPTR a Scam?"
Let's dig first what JJPTR is all about.
JJPTR (JJ Poor to Rich)
JJPTR
stands for JJ Poor To Rich. It's a trademark of JJ Global Network company which was registered in the government of Malaysia in 2015.
JJ Global Network Founder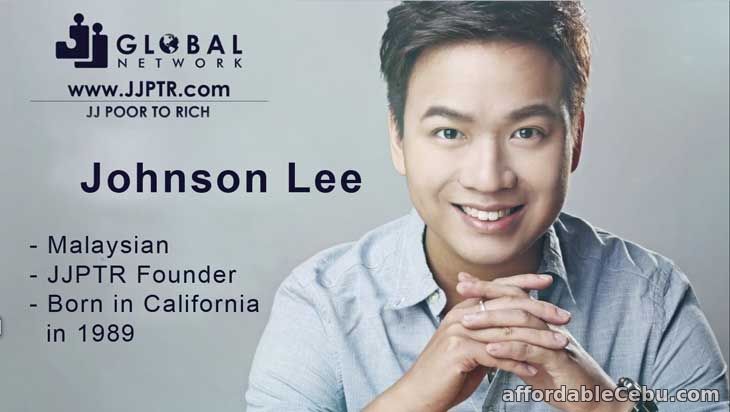 Johnson Lee
JJPTR's Main Source of Income and Businesses
JJPTR allegedly engages in trading foreign currencies (FOREX trading).
Johnson Lee told during his visit here in the Philippines that he has an auto-trading software (robot) that can generate up to 50% profit per month. That's a total of around 500% annual return. Smells fishy, right?
JJPTR promises to give 20% interest per month to its investors. So it's a total of 240% annual return.
JJPTR's other businesses are the newly bought hotel Krystal Suites which is not yet fully operational, few restaurants and cafes in Malaysia. JJPTR has a controversial tie-up of a popular media company in Malaysia, the uTopia.
If JJPTR a Scam?
At first, I made to believe that JJPTR is real. That its forex trading profit is real. But a month ago after some researches and problems that JJPTR currently faces, I concluded that JJPTR is a scam
.
That's the truth... JJPTR is scam, a different type of
ponzi
scheme (pyramiding scheme). You can search the internet about Charles Ponzi, the person who was known and became famous about this fraudulent investment scheme. He became a millionaire in just a few months but later went to jail.
JJPTR allegedly earns up to 50% per month in forex trading. Even if it promises to earn up to an average of 30% per month or equivalent to 360% annual return, it's beyond the boundary of the AVERAGE REALISTIC RETURN OF SOME OF THE BIGGEST INVESTMENT COMPANIES IN THE WORLD who engage in trading forex:
Soros Fund Management (hedge fund owned by George Soros) - made 22% annual return in 2013
Ex-Goldman Sachs Trader David Tepper made 42% annual return
Steven Cohen's SAC Capital made 19% in 2013 - this relatively low return outperformed most other hedge fund traders in the market
Carl Icahn's investment fund earned 31% in 2013
James Simons made 19% annual return from his holdings in Citadel
Larry Robbins' Glenview Capital hedge fund made 43% net annual return in 2013.
Normal realistic return is 1% to 5% per month according to InsiderMonkey.com and A
So, those big companies earn around
15% to 40% per year
while JJPTR earns around
300% to 500% per year
(assuming 30% to 50% monthly return). So, to whom will you believe?
Likewise, the first Introducer Broker (IB) in JJPTR Philippines Alexander Soon Uy said this:
He resigned as an IB last year and Reynan Sison replaced him.
But how come JJPTR pays all its investors at the start?
In a ponzi scheme, it will pay its investors at the start. But it cannot last. All ponzi scheme has a lifespan depending on the rate of return or daily (monthly) interest they offer. The higher interest, they offer, the shorter its lifespan.
JJPTR pioneer (old) investors entice other people to join in the investment program. And those invites are also convinced to join especially if they see that the pioneer investors receive their promised return (profit). The new invites or investors will invite also other people to join. Thus, bringing in more people and more funds in the fraudulent investment scheme. The payout for old investors comes from the pay-in of new investors and top-ups (re-investments).
It's likened to a pyramid structure which is getting bigger. It's also like a time bomb ready to explode when it reaches its time limit (life span).
Will JJPTR Last Long?
No. JJPTR (version 1) is on the verge of collapse right now. Johnson Lee promises a new complan (compensation plan) which I think urge the members to invest again.
He also promises to give all investors' principal (capital) which is not possible. Why? Funds are low. JJPTR scam news now spread in the web. JJPTR members are now hesitant to invest to the new complan. So, where will he get the funds for all investors' capital?
Is JJPTR's forex trading in Metatrader (under JJPROFX Account) True?
No. It's faked. Why? Here are my reasons:
1.
Around 300 million dollars of investors money is at risk in the market (appeared in MT4) while Johnson Lee is very busy in visiting other countries to launch the opening of new JJPTR branches. He is not afraid to lose that amount of money (if it's real).
2.
Johnson Lee doesn't show his forex traders, how skilled they are, and what set-up they have. Just explore in Youtube how giant companies sets-up their computers for trading: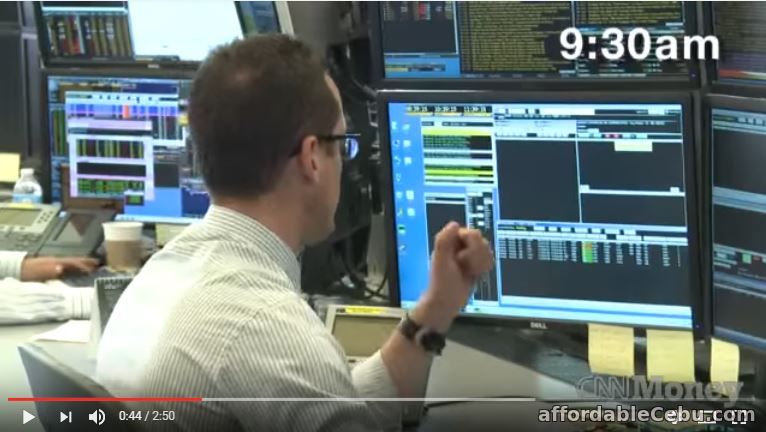 3
. Metatrader trading history can be faked. According to fxfisherman.com,
" MetaTrader statements could be faked. The HTML file offers no protection to tampering, both manually by hand and automatically by software. Basically it's just an editable document, nothing more.

The fool-proof method to verify the statement is by asking for the investor login/password to the MetaTrader account and check the trade history through MetaTrader client terminal by yourself. If I were you, I would also make sure the account is a real-money one, not a demo."

"Yes, its relatively simple as the statement is just an HTML file, and many vendor and signals services filter out the losers."

(source: https://goo.gl/W0JgPH )
Is JJPTR's Metatrader (MT4) Hack True?
We already prove that JJPTR's Metatrader (MT4) chart is faked. So, I think it's useless to discuss this issue.
If JJPTR's MT4 is true, why is Johnson Lee so CARELESS to keep his password in an UNSAFE PLACE?
But we will rephrase the question into "Is MT4 hackable by other MT4 programmers?" and "Is it possible to hack MT4 to change your trades after?
No.
According to forexfactory.com,
"Directly manipulating your MT4 account is impossible unless you gave someone your password and he would not need to do that through an indicator."

"I don't know if it is possible or not, but I can tell you with 100% certainty it would be illegal, and probably wind a person up in prison. And if somehow it didn't, it would still be extremely unethical."

"If it would be possible, we would be all rich since long time!"

source: https://goo.gl/MYQE55, https://goo.gl/ELJ02q
Since I'm here in the Philippines, who are the people behind JJPTR Philippines?
JJPTR Philippines Officials and Staff
JJPTR in the Philippines has around 7,000 total members.
These are the people who operate JJPTR in the Philippines. They're using the corporate name RVMRF Credit Corporation. RVMRF stands for Reynan, Vilma, Marites, Reggie, Fren.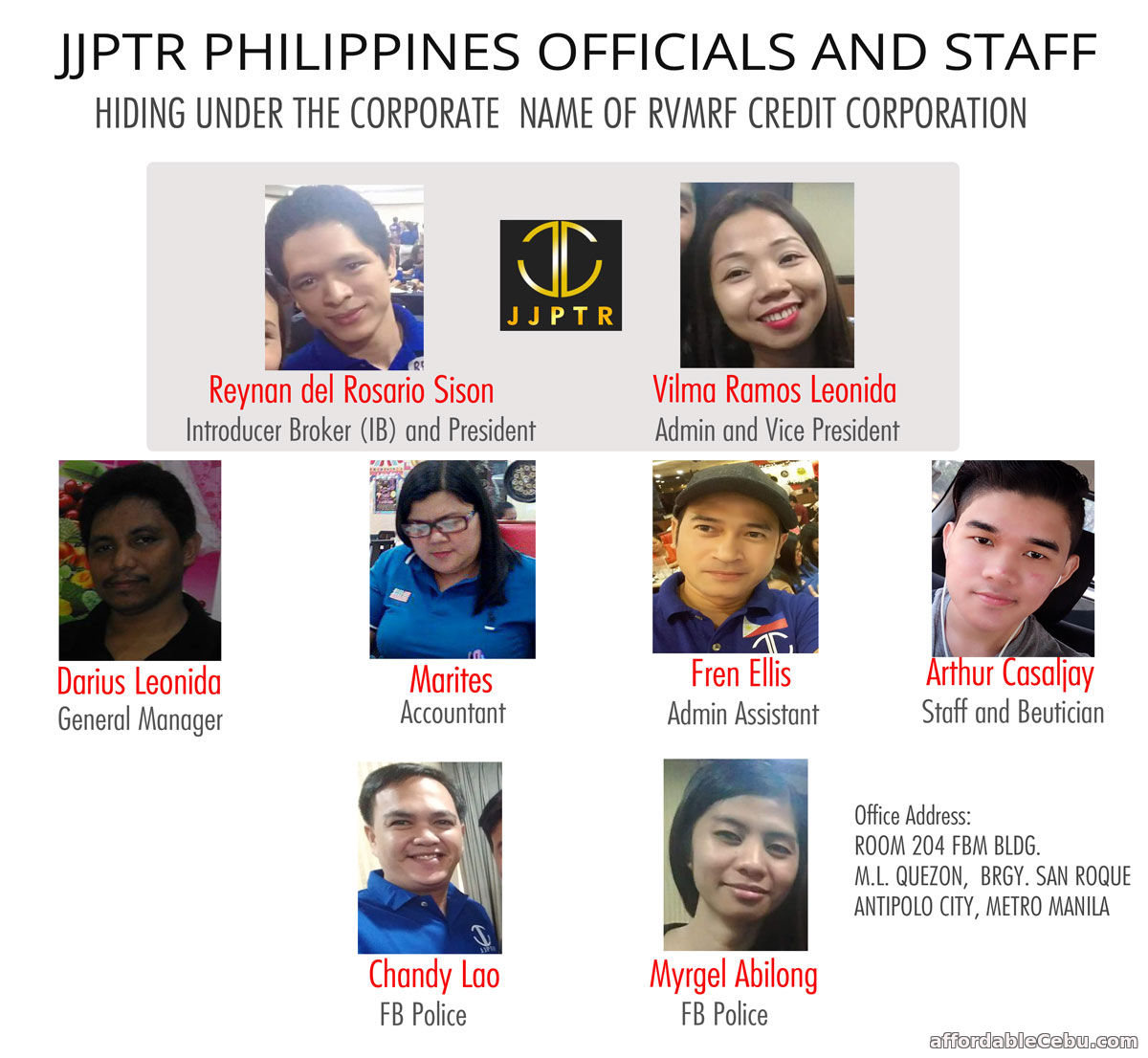 Reynan D. Sison
- Introducer Broker (IB) and President
Vilma Ramos Leonida
- Admin and Vice President
Darius Leonida
- General Manager
Marites
- Accountant
Fren Ellis
- Admin Assitant
Arthur Casaljay
- Staff and Beautician
Emily "Emz" Ramos
- Staff
Chandy Lao aka Andy Hao
- FB Police
Myrgel Abilong
- FB Police
Reggie
- I don't know this person but he is involved with RVMRF.
JJPTR Philippines Office
JJPTR PHILIPPINES BANK ACCOUNTS
In JJPTR, your capital is withdrawable anytime. But as of now, you cannot withdraw your capital anymore. If you're one of the victims of JJPTR, you can file a complainT to the following:
Police
NBI
Private Lawyer
And report to SEC the following:
Wala tayong pinirmihan na papel na we accept the risk of loss. Ang offer nila is WITHDRAWABLE ANG CAPITAL ANYTIME. Heto po mga COMPLAINTS natin sa NBI, POLICE AT SEC:

1. Hindi tayo makapagwithdraw ng capital.

2. RVMRF Credit Corporation is operating JJPTR in the Philippines and collects investments to the public which is against the law. RVMRF Credit Corp. has no license to sell securities or investments. Their SEC registration will be revoked or suspended if SEC finds out they collect investments in the public. Report RVMRF Credit Corporation to SEC that RVMRF is operating operating a ponzi scheme and acting as an agent in collecting investments in the public. Investment promises to give 20% interest per month.
What to bring:

deposit slips, xerox or scan copy of deposit slip
pictures of the JJPTR Philippines Officials and Staff
picture of JJPTR Philippines Office
Or you may call President Duterte Hotline Numbers: 8888.
You may also call or report to Tulfo, media (ABS-CBN, GMA, PTV4, TV5, etc.).
Are you one of the victims of JJPTR? Do you want to withdraw your capital? Just tell us in the comment below.