Gusto nako ni ishare sa inyo. Dili jud lalim ang mutrabo sa gawas. Mao ni ang kahimtang sa uban natong mga kababayan nga naningkamot ug trabaho sa gawas para lang makalingkawas sa kalisod ang ilang pamilya sa Pilipinas.
Overworked OFW returns with lung cancer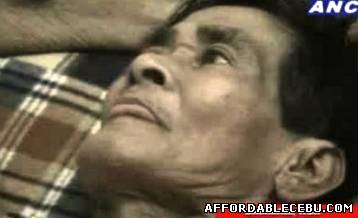 Jaime Opolencia
DAMMAN, Saudi Arabia – After working hard for years in Saudi Arabia, breadwinner Jaime Opolencia is back in the country.
Opolencia has nothing grand to offer his family as a returning OFW. He came back because he is sick and wants to be treated in his own country. What he thought was a simple fever turned out to be lung cancer.
"Pumunta kami sa ospital, yun pala ang sakit ko, lung cancer, at saka may tumor pang maliit. Pitong buwan akong na-ospital," said Opolencia.
When Balitang Middle East interviewed him in Damman, he was already thin, bedridden and was having a hard time moving around on his own.
"Doon ako nahirapan sa chemo. Hanggang ngayon ganito pa din. Sana matulungan ako ng OWWA (Overseas Workers Welfare Administration) kasi wala akong pang-gamot e," he said.
The OFW worked as a painter for 4 years without rest. He also took overtime and sideline jobs to save.
"Ito ang sinapit ko. Gusto ko na talagang umuwi, nahihirapan na ako," he said before he was repatriated.
His employer shouldered the medical expenses he incurred during his 7-month treatment at the hospital. He also received his salary even if he wasn't able to report for work.
Those willing to extend help to Opelencia may call him at his mobile phone +63920-5723676. Dinan Arana, ABS-CBN Middle East News Bureau
Mao ng kinahanglan maningkamot jud ang mga anak ug mga mahal sa kinabuhi nga pina-dal-an sa mga OFW sa gawas. Dili jud mag-liwaliw ug mag-abusar.[b]