---
Vending Machine Sales Agents - Fantastic Commission Rates
Ad Type: Looking For | Location: Outside Cebu
| Views: | Comments: | 15 September 2015
What is a Kalidad Sales Agent?
A sales agent is an independent contractor  who is authorized (under the terms and conditions of an agent agreement) to solicit sales orders from clients within a given region.
What are the products and services?
A sales agent will solicit orders for Kalidad vending machines, vend products and related value added options. For more information please refer  to our product information packs.
What is the remuneration?
Sales Commission is the sole  remuneration. You are responsible for paying all relevant and applicable taxes on sales commissions you earn.  
e.g.
·         Vending Machines  & Value Added Options = Up to 7% of net sales invoice value  
·         Vend Products = Up to 5% of net sales invoice value
COMMISSION EXAMPLE:
Vending Machine (Net) Invoice value = Php 27,995.00
Sales agent commission (7%) =  Php 1,959.00
(Please refer to sales agent agreement  for exact commission figures)
What marketing  efforts does a sales agent need to undertake?
Sales agents are responsible and are expected to undertake their own marketing efforts. Support in this marketing  activity is available from Kalidad as follows:
·

         

Access to back catalog of marketing collateral

·

        

Advise on effective marketing channels

·

        

National/Regional marketing initiatives

·

        

In region inquiry referrals
What is the market potential of the products and services?
In one word... HUGE!!
·         There are thousands of potential clients to solicit orders from in every area of the Philippines.
·         The vending machine marketplace as a whole is massively undeserved, with little or no provision of vending machines in 90%+ of locations.
Here is just a few of your potential clients: Schools, Government Offices, Call Centers, Factories, Stadiums, Airports, Transport Terminals, Malls, Public  Venues..... and thousands of other locations.
Pictures
---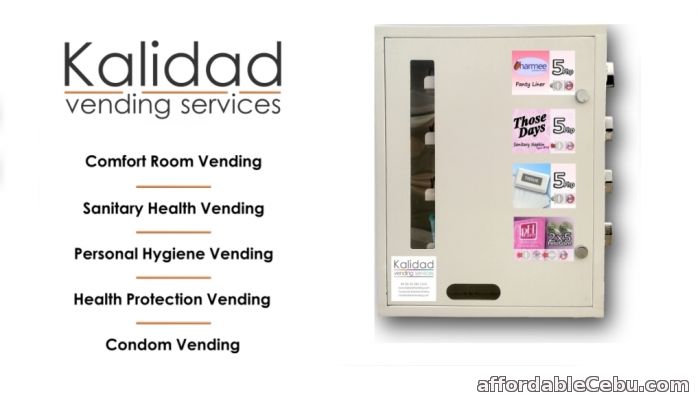 Share this Ad