Whether you're an old or new online banking user of Metrobank (
MetrobankDirect
), you can enroll your Metrobank account to Metrobank's online banking facility called MetrobankDirect.
This is a very simple procedure and it only takes about five (5) minutes to do it.
Step 1
Go to the official website of Metrobank online banking facility (for retail or individual) called MetrobankDirect Personal.
Click the Sign up now link as you can see on the screenshot below: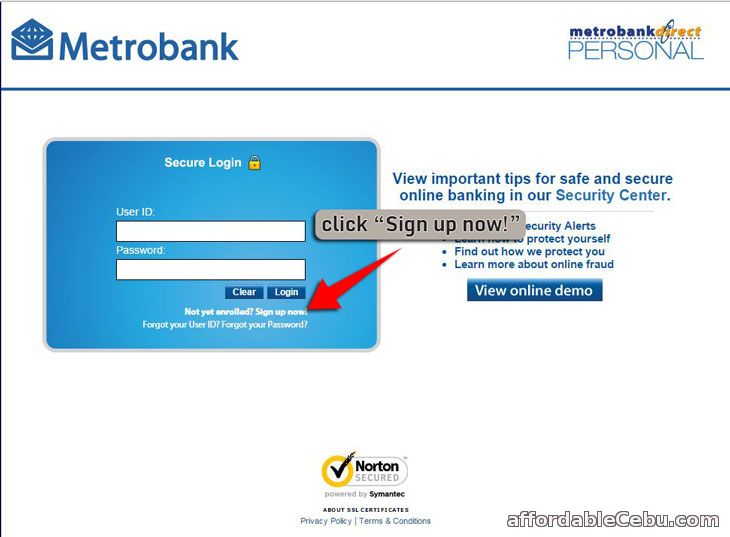 Step 2
Select the type of account you want to enroll. Is it your ATM Card or your Credit Card?. If you enroll your ATM Card, choose ATM Card. Then, click Continue button.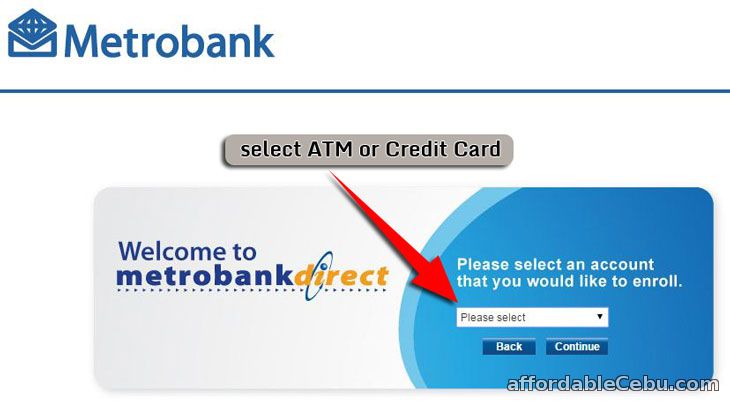 Enroll ATM Card in Metrobank Online Banking
Step 3
Fill-out the Enrollment Form.
Tips for filling-out of the following fields:
Preferred USER ID - don't use your name. As much as possible, use a combination of letters and numbers (alphanumeric).
ATM Card Number - enter the card number that can be found printed at the front of ATM Card. Add three zeros (000) at the end of your 16-digit ATM card number.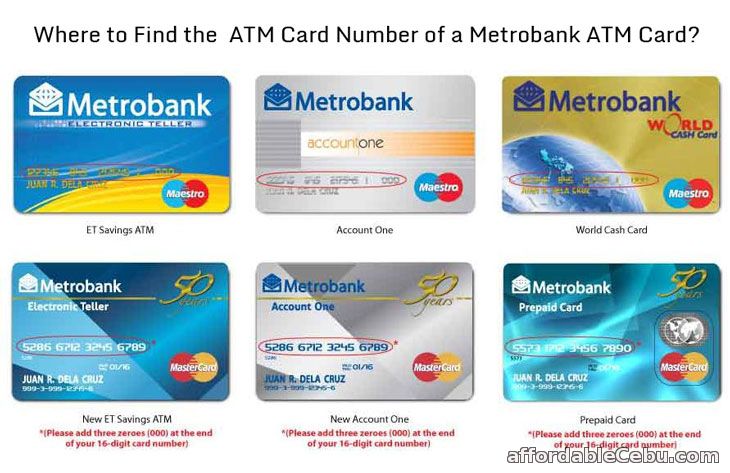 ATM PIN - enter the PIN code (or Personal Identification Number) of your atm card
Card Holder's Name - make sure you write First Name first, then Middle Name, and Last Name
Mobile Number - enter your mobile number. Make sure you enter your most used mobile number in order to receive your One-Time-Password or OTP and transact the online banking service securely.
Proceed to the next step.
You will receive a message (MetrobankDirect User Activation) to your email like what you can see below:

Dear Mr. *******,

Thank you for choosing Metrobankdirect for your internet banking needs.

To activate your Metrobankdirect account, please follow the instructions below:

1. Copy and paste the link on your address bar to access the activation page.

Activation URL: https://personal.metrobankdirect.com/RetailInternetPortal/activationwizard.do?activationId=************

*Please note that this link will remain active within 3 days upon receipt.

2. Enter your temporary password.

Your temporary password is: **********

3. Read the terms and condition and click "I AGREE".

4. Provide at least 2 challenge questions and answers and click "SAVE".

5. Enter the One Time Password (OTP) sent to your registered mobile no.

6. Change your temporary password.

7. You may now login to Metrobankdirect.

Should you require further information, you may contact Metrobank Customer Care Desk through any of the following:

Hotline : (632) 8700-700
Domestic Toll-free : 1-800-1888-5775 (for provincial areas only)
E-mail : customercare@metrobank.com.ph

Thank you and we are glad to be of service to you.

Metrobank E-Banking Division
Click the activation link and follow further instructions given in the email.
Frequently Asked Questions (FAQ)
I have already an account enrolled in Metrobank Online Banking (MetrobankDirect), can I re-enroll it by following the steps above? Yes.
I cannot update my mobile number, that's why I cannot receive my One Time Password (OTP). How can I update my mobile number? Read this "How to Update Mobile Number in Metrobank Online Banking?".
Is there any fee in enrolling an account to Metrobank Online Banking? No. It's free.