Do you want to avail Metrobank's internet/online banking services?
If yes, apply or enroll to their 
MetrobankDirect Retail,
Metrobank's online banking service for individual customers
.
.
It caters the internet users. With the advent of internet technology today, you can now access your Metrobank accounts in a click of a button using your computer with internet connection.
The good news is: it's FREE OF CHARGE.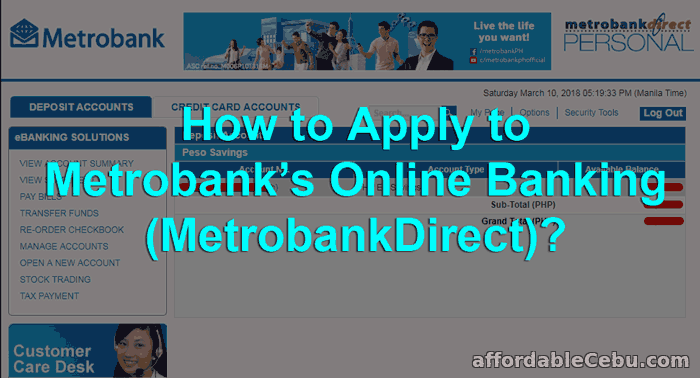 Before we proceed to the steps in applying for MetrobankDirect Retail, let me enumerate to you some wonderful features and services you can use with MetrobankDirect Retail.
MetrobankDirect Retail allows you to:
View your Metrobank account balances
Transfer funds
Reorder checkbooks
Pay electric, water, phone, or internet bills
and perform many other online banking services with a click of a mouse...
This is the MetrobankDirect Website: https://personal.metrobankdirect.com. This is where you log-in everytime you want to access your accounts and do some online banking services.
Steps on How to Enroll in Metrobank Online Banking Service (MetrobankDirect Retail)
Step 1
It is required that you already have an account with Metrobank. If it's your first time to open an account with Metrobank, don't forget to include also your application for Metrobank Online Banking (MetrobankDirect). Only individual or joint accounts are eligible to enroll or apply for online banking (corporate accounts have different online banking service). Have a personal appearance in a Metrobank branch/office.
Another option is you can
enroll directly through Metrobank's online banking
website (https://www.metrobank.com.ph/). On the homepage of Metrobank website, you can see the MetrobankDirect box located on the upper-right side of the website. Click the
Enroll Now
link to enroll. This online enrollment is the easiest way to enroll your account to online banking. You don't need to go to the following steps (Step 2 and so on..) below if you enroll online.
Step 2
If you personally enroll in the bank, fill out the Metrobankdirect enrollment form given to you by a bank officer.
Step 3
Create a unique Customer ID in your enrollment form and enter your working or active email address.
Step 4
After filling out the enrollment form, you will be given a Password Mailer (containing your initial password that you are going to use when you log-in to MetrobankDirect)
Step 5
Within 2 to 3 days, you will receive a confirmation letter from Metrobank in your email address you indicated in the enrollment form. The confirmation letter contains a short Welcome message and your Customer ID. This letter also confirms that you are now activated and you can now do online banking services of MetrobankDirect Retail.
Step 6
To access your accounts, go to Metrobank's website: www.metrobank.com.ph. Click the link "Personal" in the metrobankDirect right sidebar of the website. Upon clicking, you will be redirected to a different webpage: https://personal.metrobankdirect.com
Step 7
In https://personal.metrobankdirect.com, enter your Customer ID and password to log-in.

You can now enjoy online/internet banking for FREE with MetrobankDirect Retail. To let you feel the Metrobank online banking experience, let me share to you some snapshots inside the online banking website of Metrobank:
Photo Snapshots Inside Metrobank Online Banking Website
View Account Balance For Free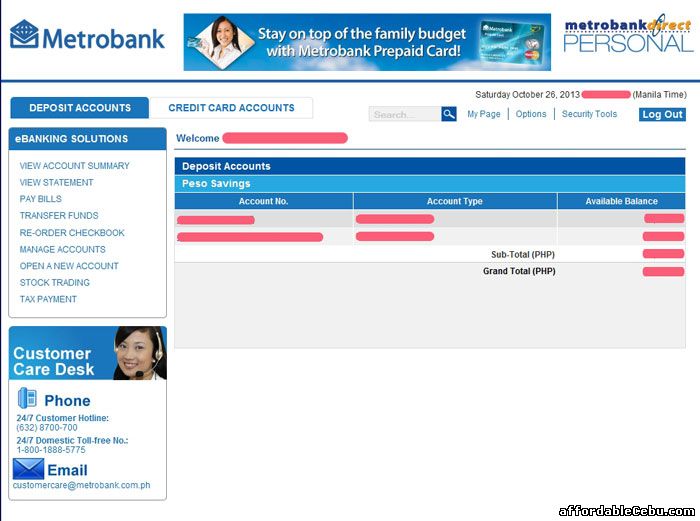 Pay Bills (e.g. internet or electricity) Online Anytime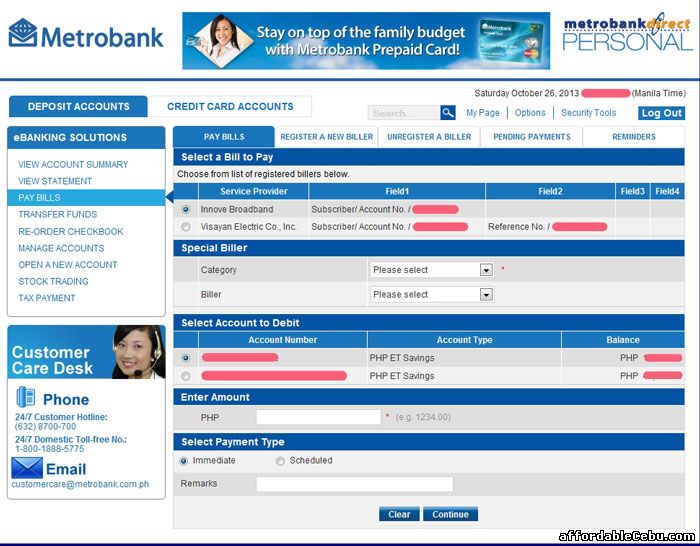 Transfer Funds/Money to Other Account (to your other account or to other person's account)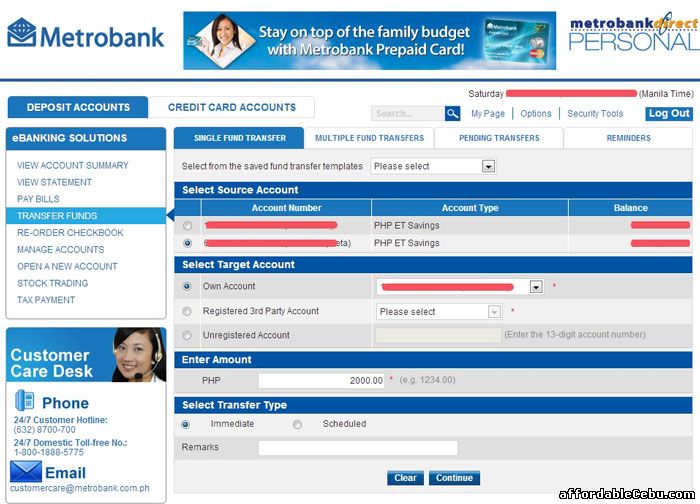 Powerful Features of Metrobank Online Banking
Through your Metrobank online banking service, you can
pay your bills
such as (
electric bills
, phone bills, internet bills, cable TV bills, travel tickets, insurance, SSS, PAG-IBIG, etc.). You can also:
access or inquire your account balance online (free).
transfer funds/money from your enrolled source account/s to enrolled own or third party target account/s in an instant or at a future date
pay your credit cards
reorder checks
view, print or download your account statement online
manage stock trading transactions with First Metro Securities Brokerage Corporation (FMSB)
Below is a list of updated Metrobank Billers where you can pay your bills:
Air Asia
Avon Cosmetics, Inc.
Awesome Deals Inc.
Bankard/RCBC
BATELEC I
Bay Gardens Condominium
BF Visa
Blue Cross Health Care Inc.
Blue Cross Insurance Inc
Blues Brothers
Bureau of Customs Duties
Cathay Land Inc
Cebu Pacific Air
Citibank Credit Card
Citiseconline.com, Inc.
Coke - GMA Region
Coke - Key Accounts
Coke - Mindanao Region
Coke - North Luzon Region
Coke - South Luzon Region
Coke - Visayas Region
Colgate Palmolive Philippines
Cordia Communications Corp
De La Salle University -
Destiny Cable-CATV
Diocese Of Baguio
Dyna Drug Corporation
Eagle Ridge Golf  & Country Club
Easy Trip Services
Essilor - Dagupan
Essilor Phils - Luzon
Essilor Phils - Mindanao
Essilor Phils - Visayas
Extelcom
Father Al's Children Fundation Inc (FACFI)
First Life Financial Co., Inc.
First Metro Save & Learn Balanced Fund, Inc.
First Metro Save & Learn Equity Fund, Inc.
First Metro Save & Learn Fixed Income Fund, Inc.
First Metro Save & Learn Money Market Fund, Inc.
First Metro Securities Brokerage Corp.
Fly Ace Corporation
G-Xchange
GETCRE8IVE
Global Business Holdings
Globe Handyphone
Globe Quest BC - Lease
Globe Quest BC -Telex
Globe Quest G-Net
Globelines
Go! MasterCard
HIMLAYANG PILIPINO PLANS, INC.
HSBC Corporate Collection
HSBC Credit Card
ICA - GH
ICC Bayantel
Indiana Aerospace University
IPM REALTY DEVELOPMENT
Kawasaki Motors (Phils.) Corp.
King Solomon and Associates
Liberty Broadcasting Network,
Loyola Plans Consolidated Inc
Manila Memorial Park
Manulife Financial Plans
Manulife Philippines
Maynilad Water Services Inc.
Meralco
Metrobank Dollar MasterCard Gold
Metrobank Dollar MasterCard Platinum
Metrobank Femme Visa
Metrobank MasterCard Classic
Metrobank MasterCard Gold
Metrobank MasterCard Platinum
Metrobank Value MasterCard
Metrobank Visa Classic
Metrobank Visa Dual Currency  Dollar
Metrobank Visa Dual Currency Peso
Metrobank Visa Gold
Metrobank World Mastercard
Nutri-Asia, Inc.
Our Lady of Fatima University (OLFU)
OWTel (PH)
Pacific Internet - PhP 100.00 minimum payment
Pag-Ibig Fund (Individual)
PAMI
Phil. Charter Insurance Corp.
PLDT
PRU Life UK
PSBank MasterCard Classic
PSBank MasterCard Gold
Red Ribbon Bakeshop Inc.
Republic Cement Corp/Fortune Cement Corp
Rockwell Leisure Club
SB Cards Diners/SBC Mastercard
Scanasia
Shangri-La's Boracay Resort & Spa
Siliman University
SkyBroadband
SkyCable
SKYY Services
Smart Telecom
Southeast Asia Food, Inc.
SSS Cont - Farmers & Fishermen
SSS Cont - Non Working Spouse
SSS Cont - OFW
SSS Cont - Self Employed
SSS Cont - Voluntary Member
St. Paul College Pasig
Sta. Lucia Realty & Development Corp.
Standard Chartered Credit Card
Statesfield School Inc.
Stradcom
Suysing
Teletech
Thinking Tools
Toyota Financial Service
Trade Payments
Tyco ADT
UC-Banilad (University of Cebu - Banilad)
UC-LM (University of Cebu - Lapu-Lapu & Mandaue)
UC-MAIN (University of Cebu - Main)
Unicard Credit Card
University of Sto. Tomas
Victory Liner Inc.
Visayan Electric Co., Inc.
Let your friends and family experience the convenience of Metrobank's online banking service? Share this post to them.