I just want to share with you my real experience with applying an insurance in the Philippine AXA Life Insurance Corporation. Here's a sad but true story you can learn from.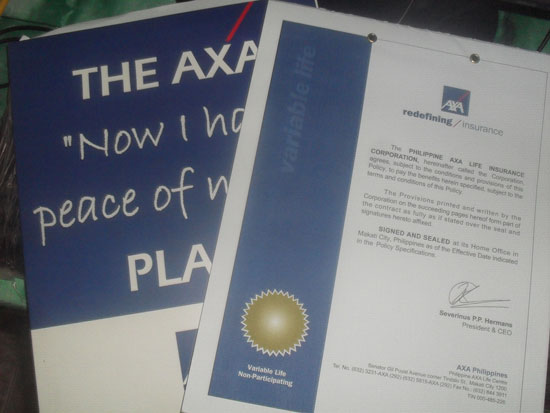 My AXA Insurance Policy
Philippine AXA Life Insurance
First, let me introduce to you some vital information about Philippine AXA Life Insurance Corporation. It's a financial company, a partnership between AXA Group and Metrobank Group. Based in France, AXA serves a global clientele of more than 80 million customers in more than 50 countries with over 1 billion Euros under management. They claimed as one of the world's leaders in financial protection and wealth management. The Metrobank Group has consolidated resources amounting 649 billion pesos and capital funds of around 68 billion pesos.
My application to the Philippine AXA Life Insurance
I frequently go to a certain Metrobank branch to deposit money for my savings account. One day, a bank officer which is also an insurance agent approached and introduced me a kind of investment that would help me save and earn more in the future years. He's quite smooth in selling the financial product and I'm very convinced of his idea to make my money grow more. At first, I'm not interested in his offer. After few weeks, I'm thinking of accepting that offer. And I went to the bank to apply for an investment insurance called Life Basix of Philippine AXA Life Insurance. I approached the same bank officer again for my application.
Life Basix of Philippine AXA Life Insurance
This kind of insurance is a regular-pay variable insurance product where a portion of the premiums/payments, net of the company's charges in invested to a choice of fund. The kind of fund recommended by the bank officer is the Philippine Wealth Balance Fund which I opt in for. Unlike most investments, this insurance provides multiple benefits to the policyholder such as:
Guaranteed Death Benefit equivalent to at least 500% of the annual premium if no withdrawal is made.
Potential upsides from portion of the premium placed in bonds, equities and/or money market instruments, depending on your risk appetite.
Guaranteed loyalty bonus as a reward for keeping your investments with AXA.
The age covered by the insurance is up to 100 years old.
My Payment and Benefits
I pay 1,585.84 pesos monthly through automatically debiting from my savings account (ADA). It totals PhP19,030.00 annually.
For a premium of PhP19,030.00 annually, I'll get to enjoy the following benefits:
For You
(Living Benefits)
For Your Loved Ones
(Death Benefits)
When the insured reaches 65
If the insured passes away
Based on
(PHP
Based on 8% annual rate
(PHP)
4% annual rate of return, Account value
1,468,772
Age 50
1,025.001
Or 8% annual rate of return, Account value
3,850,664
Age 60
2,547,541
Or 10% annual rate of return, Account value
6,430,519
Age 70
5,765,378
Note
:
The values are based on the projected performance of the fund. Sind the fund performance may vary, the values of the units are not guaranteed and will depend o the actual investment performance at that given period. The projected returns on investments are based on assumed annual rates of 4%, 8% and 10%. These rates are for illustration purposes only and do not represent maximum or minimum return on the fund.
Philippine Wealth Balance Fund
This is the type of my fund allocation. Level of risk is moderate. The funds are invested in government bonds and corporate equities.
My Account Value
The account value of my funds may go up and down depending on the market conditions. I regularly view my account value in the AXA Philippines website (www.axa.com.ph). If you are an AXA insurance policy holder, you can log-in to the website by registering first in the website. There, you can access your account value, your monthly premiums/payments transaction, etc.
What I've noticed in my account value is that it decreases its value by over 50%. In 4months, the total money I've deposited in my AXA account is around 6,000 pesos (this is the capital invested) and now it becomes for about 3,000pesos. This means that the market condition is not good. The reason might be that the stock market and prices of bonds are going down. (This is where it teaches me a lesson.)
My Approach to My AXA Insurance
I cannot risk too much if the market continues to fall in the succeeding months. In spite of that, I spent all the money in my savings accounts where my insurance payments are automatically debited due to a particular needed payment for an occasion. That's why I've planned to exit for this kind of insurance investments. You may think that I should withdraw the money in my insurance account? I can't do that. It's in the Product Transparency Declaration (Agreement) between AXA Insurance and me that I have zero (0) withdrawable value during the first two years of the policy because the amount withdrawn will be subject to 100% surrender charge on the first two years. You can read the full AXA Insurance Product Transparency Declaration below. I don't know how the fund managers played well the money in the market. I'm very young of age. I still have too much to learn regarding investments. It seems that I'm throwing away 1,585.84 pesos in the trash can every month.
AXA Insurance Product Transparency Declaration
Before you decide to invest in AXA Insurance, I think it's very important that you know carefully its terms, conditions including the agreement or Product Transparency Declaration.
AXA Insurance Product Transparency Declaration

By signing off on the items listed below, I acknowledge that the same have been discussed with and thoroughly explained to me.

I understand that I am buying an investment-linked insurance product.
I understand that the principal and earnings are not guaranteed and the value of my unit investment (NAVPU) may go up or down depending on the performance of the separate funds.
I understand that the funds will be invested in Equities and/ or Bonds or a combination thereof, and will be subject to changes in market condition.
The available funds and the risks that they bear have been thoroughly discussed with me, and I have made my Fund Allocation decision based on my own judgment of and tolerance for these risks.
I understand that this product is appropriate for a long-term investment horizon.
I understand that I will have a zero (0) withdrawable value during the first two years of the policy because the amount withdrawn will be subject to 100% surrender charge on the first two years.
My own young thinking about investment
Investment is about making your money grow as time goes by. Here are my own young thinking that helps me a lot about investment that will surely help you too in your financial journey.
Never rush in pouring your money to a famous insurance company. The name matters but what matters most is the performance, integrity and reliability that the insurance company carries.
At young age, invest first in entrepreneurship or business than stock market, mutual funds, investment insurance, time deposit, etc. The business that you create can earn 100% more than the said investment vehicles. If your business has grown enough that you can afford to set aside a specific amount of money to a certain investment vehicle, then go for it. Let your money work for you.
Your investment is the reflection of the level of skills and knowledge you have regarding money, business and relationship. Think of the richest men in the world how they became rich: Carlos Slim Helu (Telecommunications provider), Warren Buffet (financial investor), Bill Gates (entrepreneur/founder of Microsoft). That's why never stop developing your skills and explore more knowledge about money and business. If you have skills in sports like Manny Pacquiao, develop and become a master of it.
Choose which investment you can earn the most. Real estate is better than mutual funds or investment insurance. Real estate has an average 12% annual profit. Mutual funds average is 8% or lower.
That's all for this time. I hope you learn a lot. Just drop a comment below regarding your investment experience.