---
Household and Janitorial Products for sale at Factory Price
Ad Type: For Sale | Location: Mandaue City
| Views: | Comments: | 27 March 2016
Sold in factory price and straight from the manufacturer.Buy and save up to 50% compared with popular brands!

Products Available:
Ultra Magic Detergent Powder = 50 php per Kilo
Dishwashing Liquid Soap = 150 per gallon
Hand Soap =150php per gallon
Toilet Bowl Cleaner =150php per gallon
All-Purpose Cleaner = 150 php per gallon
Sanitizer Bottle Cleaner ( With or Without scent)=150php per gallon
Car Shampoo = 150php per gallon
Fabric Conditioner and Softener = 200php per gallon
Rust Converter = 300php per gallon

We offer great discounts for bulk orders.
We are also open to interested distributors / re-sellers nationwide.

We ship nationwide.
Free delivery around Cebu, Terms and conditions applied.

For more inquiries, you may contact us at 09196309321 or 328-03-15.
God bless!
Pictures
---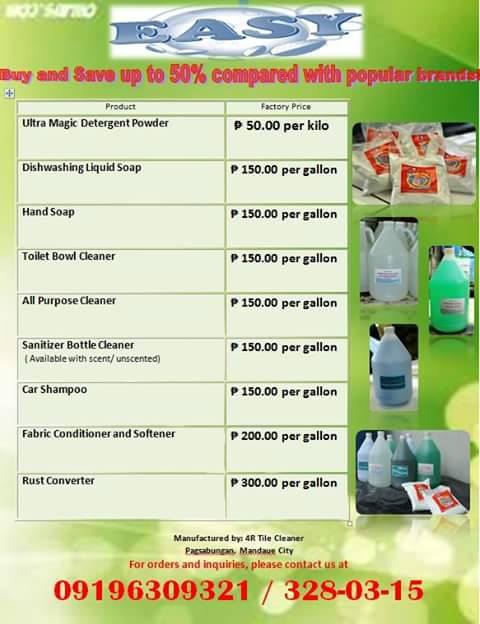 Share this Ad