---
FREE.... Video on how to make money using FACEBOOK..
Ad Type: Offer | Location: San Fernando
Views: | Comments: | 04 August 2013
1. ANU ANG SWA?
- Ang Supreme Wealth Alliance(SWA) ay isang homebased online business na pnapatakbo gamit ang facebook at internet. Purely online. Kahit nasa bahay ka lng.. Sakop nito ang buong mundo, bundok o patag bsta may internet conection at remitance center ka jan. Wlang qualifications na hnihingi. Mayaman mahirap, nkapag-aral or not bsta may pangarap at gus2 kumita ng extra income in dollars welcum ka.

2.PRODUCTS NG SWA
- Ang product natin ay ebooks and mor electronic learning materials; video/audio tutorial, webmaster script, MLM software, icons, graphics,fonts,templates. They are 'knowledge base' life changing product. Very useful sa pang araw2 nating pamumuhay. profesionals,students, parents, and ordinary people are much to benefit frm it.
- These are downlodables easy to install on ur computers,fast and quick. Portable, durable and safe,
Earning with learnings..

3. SINO ANG FOUNDER NG SWA?
- Franco Renato Chaves is natively frm Cebu, 0ne of the most recognized Filipino marketing strategist who made a name for himself as one of the few individual from Philippines who have used his knowledge in network marketing to expand business worldwide with a focus on helping fellow filipinos.
-Francis Chaves is one of the most brilliant Filipino Speaker,whose main life mission is to help uplift the lives of regular people by providing and teaching them how to earn money even with very little or lacking resources/capital. He is an ASEAN/European accredit trainer which also provided the groundwork for his international exposure.

4. SWA LEAGALITIES
-registered under DTI sa pinas at IBC(International Business Company) sa Belize Central America which has fulfilled all necessary requirement an IBC company should comply with. So nationwide po e2 at lahat ng fb and internet users sa buong mundo ay pasok d2.

Location: 5th floor of MarinaTower,Newton Barracks,Belize city,Belize Central America

5. PANU TAU KIKITA?
- Base frm d payplan, may dlawang earning process tau w/c are perfectly COMBINED (PAYPLAN1 AND PAYPLAN 2) Automated po lahat yan. Systma gagawa

A. Bwat mapasali mu meron ka $20 except dun sa 2,3,7th na dowlines mu dahil ung $20 ipa pas up nla kay upline. Dont wori dahil ung 4,5,6,8th onward mgpapas up sau ng $20 each ung kanilang 2,3,7th na dwnlines.
- this is under PAYPLAN 2 or 3 UP PASS UP.

Heres wat happend:
referal 1= $20 punta sau
referal 2= $20 kay upline
referal 3= kay upline
referal 4= punta sau
referal 5= punta sau
referal 6= punta sau
referal 7= punta kay upline
referal 8 onward= sau lahat

B. Bilang myembro, your name is automaticaly entered to the system. you are given a slot to fil up 6 persons. U earn 70- $90 upon completing the cycle. Pag nka anim ka, nka cycle ka na so another slot to fil up. It cud be frm d spilover and ur downlines.
- example ngkarun ka ng 2 referal at ngkarun sla tig 2 referal automatic nka cycle ka na, dka mag-iisa na buuin yan. Ganun kaganda ang payplan.
- ung $90 naman, kapag nka 7 DIRECT referal ka, $90 na makukuha mo each frm ur next cycle,not $70 anymore, onward na un. No time frame. This is PAYPLAN 1 or 2x2 MATRIX

lets get ur total earnings:
payplan 1 = $70
payplan 2= $80
total of $150

*how much more sa next cycle mu undr payplan 1 which is $90 geting better & bigger. Kaya lets just keep inviting and sharing our business as many as we cn.

a.)Referal/downline- the person who joined under you
b.) upline/referor- the person who invited you

6. MAY BABAYARAN BA?
- Yes, one time payment of $55 or P2500 fee, minsanang bayad wla ka na bayaran pa, iyo na lahat ng kikitain mo zero deductions. SWA is among the Pioneering and fast growing businesses in MLM or Multi-level Marketing. Alam naman po natin naturaly, ang negosyo ay may puhunan. So as a membr of thecompany we give our part.

SAAN mapupunta ang fee?
$30 goes to payplan 1
$20 goes to payplan 2
$5 goes to admins fee

*therefore taung mga myembro rin lng ang mkikinabang.

b
- malalaman mo po lahat through email. Its very important na may valid email ka dahil dun mo marereceive ang msg frm the company itself.
- so after mo mag sign up, aantayin mo na lng ang activation at ipapadala sa email mo ang link/url ng SWA acnt mo.

8. PANU KO MAKUKUHA ANG EARNINGS KO?
- Nandun lahat sa SWA account mo ang detalye. So click lng ung PAYOUT REQUEST then enter mo ung desired bank and bank account number mo kung san mo gustong ipadala ng company ung pera mo, automatically the system will transfer your money..Then kaw na bahala mag withdraw. you will count 5-7 days except weekends dahil dayoff ng mga admins.

you can claim your cash through the ff:

Money Gram (Multi-Currency)
Western Union Remittance (Multi-Currency)Smart Money (PHP)Globe GCash (PHP)PNB Bank (PHP)BPI Bank (PHP)Banco De Oro (BDO) Bank(PHP)UnionBank Bank Deposit (PHP)LBC Express Remittance (PHP)Mlhuillier (PHP)Cebuana Lhuillier (PHP)

9. SWA REQUIREMENTS
a. Computer/laptop/tab/ipad
b. Email
c. $55 or P2500 fee
d. Facebook acnt
e. Bank acnt, pwde rin kahit wala. Or u can borow frm ur relatives, frends, family.
Pictures
---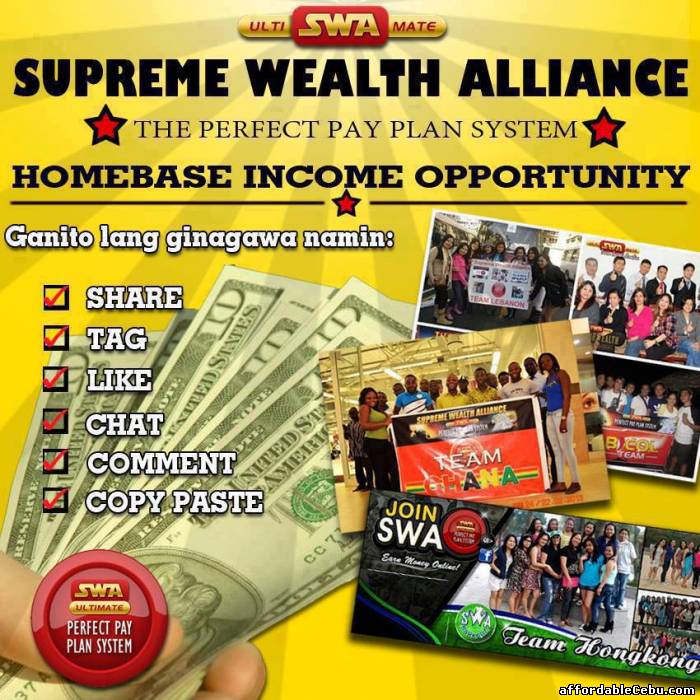 Share this Ad