---
Brand new House for sale Talisay Cebu
Ad Type: For Sale | Location: Talisay City
| Views: | Comments: | 13 February 2017
Bayswater is the place where dreams become reality. It is conveniently located few minutes from SRP, Malls, Schools, Church, Hospital, Beaches, Terminals, Malls and other necessary establishments. It is situated along the road and It is 1.2 kilometers away from the heart of Metropolitan Cebu
Bayswater's world class facilities and amenities like Basketball Court, Clubhouse, Swimming Pool, Parks and Playgrounds will enrich and enlighten your lifestyle. Bayswater Talisay is also safe and secure with high perimeter fence and round the clock security, so you can relax, enjoy and be feel comfortable.
BAYWATER HOMES SUBDIVISION in Talisay City, Cebu is having a new housing project development. Still the same development with thier project in Mactan and personally managed by MSY Holdings Corporation, a familly own business real estate developer. They will preserve thier legacy as one of the successful developer in Cebu, to assure and maintain the sudivision accordingly to preserve its wonderful beauty to stay long last and relaxing all the times for homeowners.
Comfort, happiness, and serenity… This is under British administration and we all know of thier high standard mind set, particularly the quality.

 
CHAMPACA 2:
2 Storey single detached
Lot area: 175 sqm
Floor area: 191.70 sqm
4 bedrooms
3 toilet and bath
fitted kitchen
Maid's quarter w/ T&B
carport and terrace
Total Selling Price: Php 8,784,098.40
FACILITIES AND AMENITIES:
Two grand and elegantly-designed entrance gates with guard house.
Beautiful Clubhouse with sun deck and garden for events and gatherings.
Fun & exciting lap pool for adults and kids alike.
All-weather covered basketball court complete with modern lighting system.
Safe and fun adventure-land playground for toddlers and children.
A mini-mall with a 24-hour convenience store, coffee shop, gym, laundromat, bakeshop, internet cafe,
restaurants and more.
Tree-lined access roads and landscaped open spaces.
Guaranteed clean and round-the-clock water and electricity supply.
Fully concreted road network with 10-meter wide major roads and 6 to 8-meter wide minor roads.
Ready-to-install telephone, cable and internet lines.
Huge and fully-covered retention pond w/ extensive and complete drainage and sewerage system.
Spacious curbs and gutters with street lights.
PAYMENT TERMS:
Reservation Fee:
Champaca and Adelfa House- Php 40,000.00
Magnolia- Php 30,000.00
Gumamela- Php 20,000.00
1.SPOT CASH- 5% discount (30 days from date of Reservation).
2.DEFFERED PAYMENT (6 Months Total Contract Price discount 3%)
2.BANK FINANCING (20% Phase 1- 18 Months; Phase 2-30 Months; Phase 3-42 Months); 80% thru bank Financing
3.INHOUSE FINANCING- 100% Payable up to
Phase 1 up to 18 Months (19-36 Months with Interest)
Phase 2 up to 30 Months (31-36 Months with Interest)
Phase 3 up to 42 Months (43-48 Months with Interest)


FOR APPOINTMENT CONTACT :
ALMIRANTE HERBIETO
Real Estate License #: 0005812
Email: crs25realty@gmail.com
Mobile: +63920-9640292
Mobile: +63925-5640292
Website: http://www.crs25realty.com
 
Pictures
---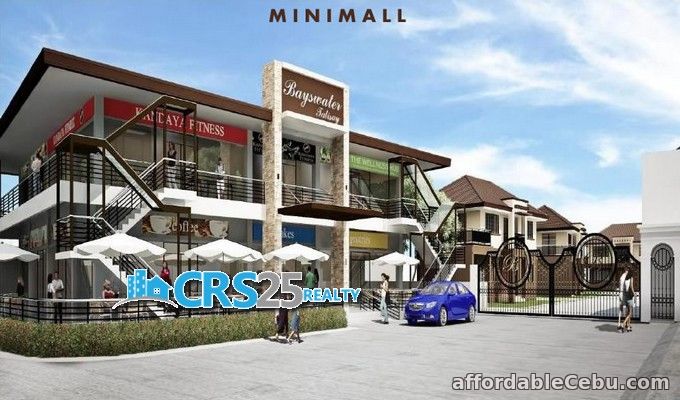 Share this Ad