---
Vantage Pro2 - Weather Monitoring System
Ad Type: For Sale | Location: Lapu-Lapu City
| Views: | Comments: | 04 November 2016
The Vantage Pro2 Plus offer the professional weather observer robust performance with a wide range of options and sensors. You'll get your own local forecast, highs/lows, totals or averages and graphs for virtually all weather variables over the past 24 days, months or years.

Vantage Pro2 transmit and receive data up to 1,000 ft. (300 m) line-of-sight. Vantage Pro2 is also an excellent choice for emergency professionals, farmers, schools, researchers, municipalities and others to monitor wind and moisture conditions, irrigation requirements and potential flooding.

A wireless weather station with a versatile sensor suite that combines our rain collector, temperature, humidity sensors and anemometer into one package.

Post your weather data directly to the internet without a PC.
For the ultimate in weather monitoring, WeatherLink software and data logger to any of our weather stations. The data logger fits neatly into Vantage Vue console to collect and store your weather data. Connect the data logger to your computer to download the data to the software for detailed analysis and graphing.

View your data on the WeatherLink map through PC, iPhone or Android app.

The key features are:

· Emergency response team will have data they can rely on. Rugged, solar-powered sensor suite reports real-time rain, wind, temperature, and humidity data and mounts easily on a roof or in an open area.
· Receive alerts that indicate approach of severe weather. Real-time alerts for high wind speeds and dropping barometric pressure help you respond quickly.
· Evaluate fire danger based on local conditions. Monitor wind, rain, relative humidity and days since last rain in your community to increase fire danger accuracy.
· Track conditions during natural disasters and hazmat incidents. Cell-based data transmission allows first responders to set up weather monitoring equipment in the field to evaluate and act on changing conditions.
Pictures
---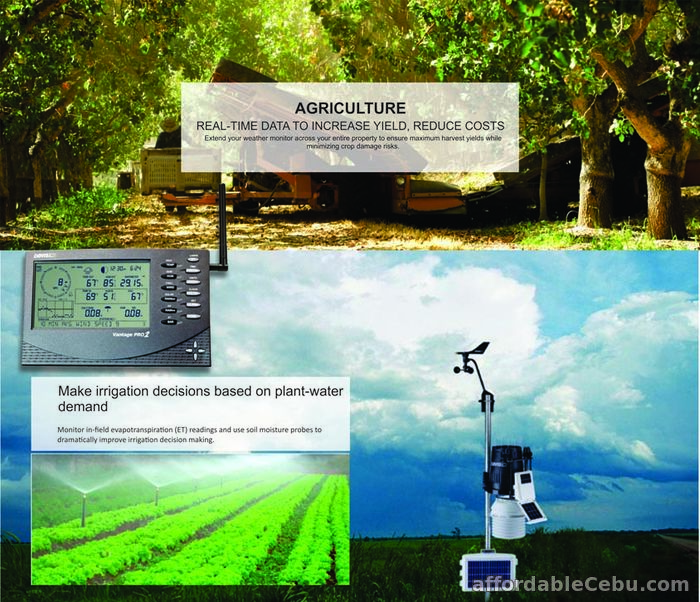 Share this Ad