Hayde Kho and Vicky Belo Reunited

Hayden Kho and Dr. Vicki Belo have rekindled their romantic ties over a year after the hidden camera scandal that caused their separation.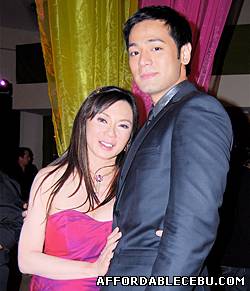 In his first live interview Sunday, October 31, on ABS-CBN's "The Buzz," Hayden was asked if he and Vicki are back together.
Hayden responded with a simple "Yes."
In the interview, Hayden revealed he was moving on and taking a second chance in life.
A cosmetic surgeon, Hayden was stripped of his professional license to practice medicine after his secret recordings of his intimate affairs with women were made public through popular video sharing sites. These postings not only cost Hayden his license but also drew government backlash and led to a court case filed by one of the women in his videos, actress Katrina Halili.
After his separation from Vicki, Hayden was reported to have made several attempts to take his life. He also lived in the US for a time in the wake of the controversy. Throughout his ordeal, Vicki remained supportive despite their separation.
Aside from his reconciliation with Vicki, Hayden is also attempting to take a new lease on life with an unlikely business venture—fragrances.
"Well there was a time na wala… parang hindi ko na alam ang gagawin ko and finally I decided if I'm going to move on in the future why not move on now, so I started looking for things that I can do and enrolled in MBA class and maraming bagay and then finally I stumbled upon fragrances and I really really liked it. I've loved fragrances even before pa when I was young," Hayden said in the interview.
Hayden also recalled his experiences while going through the ordeal and revealed that the biggest lesson he learned from the situation was not to forget God despite numerous achievements. "I feel na mas malakas akong tao ngayon. Sa dami kong pinagdaanang bagay, paghihirap sa mga challenges din personally parang I guess pinakaimportante is… meron akong nakalimutan kasi before e, meron akong nawala sa buhay ko e nung time na maganda ung career ko and ang lakas ng kinikita ko, andyan lahat parang star ako, may nakalimutan ako, nakalimutan ko ang Diyos," he said.
"What I realize is that no matter how big a mess you created in your life no matter how deep, or far you've fallen, the story doesn't have to end that way if you don't want it to. If you have the strength of character, if you have the will, if you have most especially the faith, then you can change things," Hayden added.
Hayden also revealed that he wants to make amends with everyone he's wronged but admits that it wouldn't be easy to fix his relationship with those concerned. Despite saying that he too was a victim of the controversy, he declared that he is taking full responsibility for everything that happened.
"In life you have to take responsibility for everything that happens to your life, sometimes it doesn't make any sense feeling mo ibang tao may kasalanan pero the only way you can act on something is to take full responsibility. Akin to, akuin mo, may magagawa ka," he said.
Hayden is still fighting a legal battle to get his physician's license back. He is also fighting to have the case filed by Katrina dismissed.
Keywords: Hayden Kho and Vicky Belo Reunion, They are in love again,
http://ph.yfittopostblog.com/2010....9s-arms