---
ChinaBank ATM Card Balance Inquiry Online
Do you want an easy balance inquiry of your ChinaBank ATM Card? No need to go a physical ATM machine. Just few clicks of your mouse, you can check your ChinaBank ATM account balance online. Here are the steps.

1. Go to the official website of Bancnet (https://www.bancnetonline.com).




2. Browse the list of Bank websites.




3. Choose and click ChinaBank (pointed by red arrow in the image below):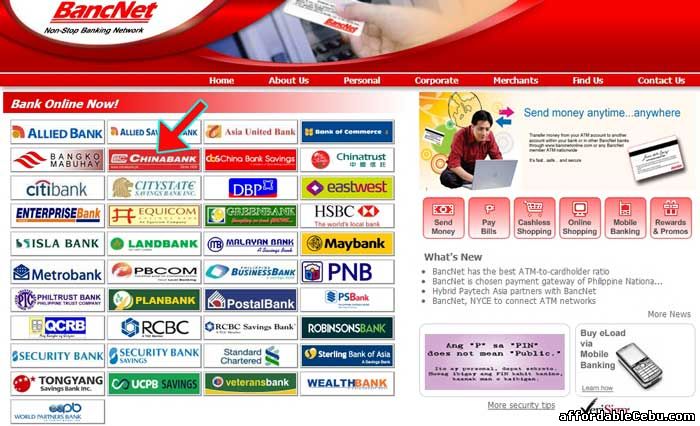 4. A new window will open which is the ChinaBank/BancNet Online Terms and Conditions. Click the I Agree button.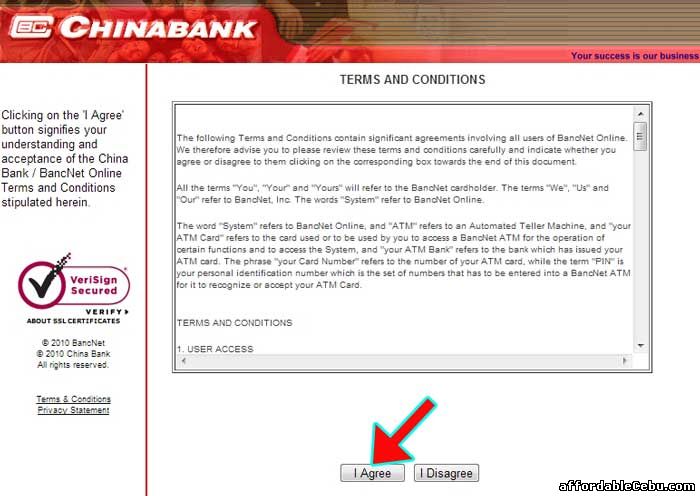 5. You will be redirected to ChinaBank Online ATM Banking interface. Enter the appropriate information in the given fields (ATM Card Number, Account Type and ATM PIN) and view your account balance.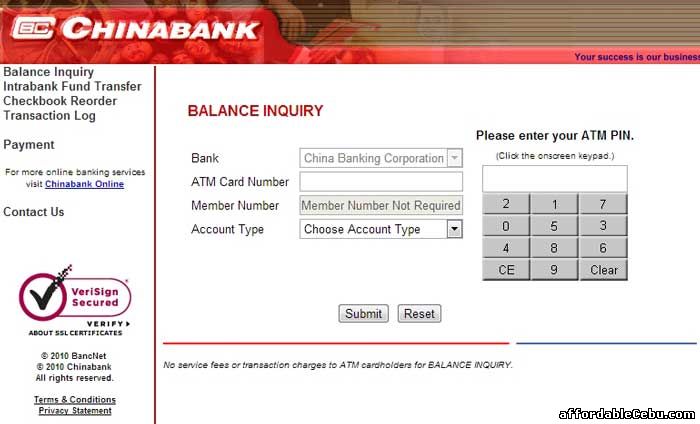 Do you find it convenient to inquire your ChinaBank account balance online? Did you encounter any problems in checking your ChinaBank account balance online?
Use English language when posting comments. Non-english comments will not be published. Don't spam. Don't use offensive language. Write as if talking to a good friend. No textspeak please. (Examples of textspeaks to avoid are plz (for please), u (for you), ty (for thank you), gud, (for good), nyt (for night), etc.)
Total comments: 12
12
jaycee jaranilla
(28-February-2016 7:57 PM)
its that safe to inquire online to our account thank you
10
mae oracion
(18-October-2014 8:12 AM)
How long is the validity of a Chinabank Tellercard ATM.. Plesae help.. Thank you..
9
mae oracion
(18-October-2014 8:02 AM)
I have question.. How long is the validity of your Chinabank Tellercard ATM card? pls help thanks!
8
Venz Nollora
(04-October-2014 9:47 AM)
Any way I was read the notice regarding to this issue. China bank can't be check via Online now since last sept. 1 2014 they move and create own site for online china bank. The Problem is How can we use ATM balance Inquiry there? Wasting time to check in ATM machine so please make it easy. Its hard to Find in your New site the ATM china bank online balance inquiry. Unlike before so convenient and so easy to check that was so helpful to all China bank ATM card holder.
How about statement of account? Can we check or request online our statement of account?
6
Harry Cruz
(28-April-2014 10:41 AM)
Same thing happens to me Garrie Aberion. I think it's been a week or 2 now that I can't check my balance online thru Chinabank. It keeps on asking to choose your bank even tho it's the Chinabank's balance inquiry page. And I also notice that it's not just the China Bank's balance inquiry page that have this kind of error cause I also tried to check my balance in Bank of Commerce, same thing happened.
5
garrie aberion
(28-April-2014 1:41 AM)
why i can't inquire balance in online, every time i open china bank inquiry it can't access always ask enter your bank, this is only happen this month because last month and previous months i can always access inquire chinabank online. what is the problem now of this online inquiry?
4
eileen
(12-January-2014 2:25 PM)
hi, i cant activate my chinabank e banking account, i cant login to inquire my atm balance, could you please help me, thanks!
3
daniel sorita deloso
(22-August-2013 2:19 PM)
... previously whenever i go to china bank on line, i could read log in.... i click it... then i was ablebto enter into my atm account.... it was easy.... could you please help me how.....
2
daniel sorita deloso
(22-August-2013 2:14 PM)
for the past days i am lost. i don't know where to go, i don't know how could i open my atm account. could you please help. previously whenever i go to china bank on line i could see log in then it was able to enter into my account fast.
1
aisha hintapan
(18-April-2013 12:52 PM)
I want to ask if why I cannot check my balance online?
When I am going to enter my account number and pin it would say my account does not exist