Beware of Oneline or Monoline Marketing Scheme, says SEC
The agency that regulates securities in the Philippines, Securities and Exchange Commission (SEC) warns the public against the "Oneline or Monoline" Marketing Scheme that assures potential investor of at least P3,000 income for 3 heads or P30,000 for maximum cycle, less standard monoline deductions, per month.



SEC added that to join in the scheme, an investor has to buy one Vitamin C product kit for P1,000 at a promo discounted price and recruit 2 direct referrals or take 3 heads at a cost of P3,000.




SEC advises the public to think first before investing and verify the legal existence of the company, the quality of the product and the credibility of the people managing it.




SEC says, "...it is a questionable deal if the money you will earn is dependent on the number of the participants you can recruit and not on real products and real sales..."




For more information about this marketing scheme, you may inquire SEC Corporation Finance Department with telephone numbers: 584-6103 or 584-5950 or the Enforcement and Prosecution Department of the SEC at telephone number: 584-71-87.




You can read the full details the SEC Advisory below:




English version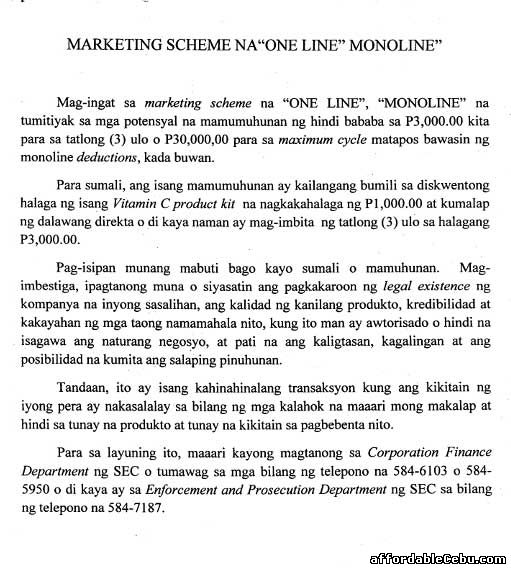 Earning mainly through recruitment is a pyramiding scheme, a scam and illegal. SEC wants to point it out that if your oneline or monoline marketing scheme is earning mainly through recruitment and the product is just a cover-up, then its a pyramiding scheme or a scam.
Reference: sec.gov.ph
Are you engaged in Oneline or Monoline Marketing Scheme (business)? Do you feel that your marketing scheme is legal and nothing to worry about? Tell us in the comment below.
Warning! When posting comments, strictly observe correct spelling. Avoid incomplete words such as TY (as Thank You), Pls as Please, gud as good, dpt as dapat, etc. You can comment in English or Tagalog. If you will not follow this simple instruction, your comment(s) will not be accepted or published.
Total comments: 1

0

Spam
Now you have a chance to be at the beginning of a new technological service that will literally move the world.
It will change the way people move from one point to another thanks to mobile technology and it will generate millions of transactions you can profit from.
It is a "community business" concept. We have the idea and the product and those who help spread it around the world will profit from it.
Until now we have kept this innovative approach a secret, because nobody has ever used the power of the community business to distribute mobile apps!
Register below to get more details ahead of the crowd:
www.joinsomethingnew.com/ROBERTALLEN
https://www.facebook.com/zimmermann.robertallen
Regards
technological service Support Team
Taking you to the TOP in 2013
Robertallen