---
How to Get Barangay Clearance/Certificate in the Philippines
Barangay Clearance or Certificate of Residency is one the Philippine government issued identification documents needed for many important business, job, or personal transactions. You might need it for the following reasons:


Barangay Clearance is required when you apply a job/employment.
It's one of the documents required when you apply or open a bank account.
It's required for business establishment.
It's required for other business or financial transactions such as lending, loan or financing.
It's required mainly to certify that you are living or residing in a certain barangay.

And it's required for any other important transactions...
If you haven't seen an actual or real Baranggay Clearance/Certificate, take a look at the picture below.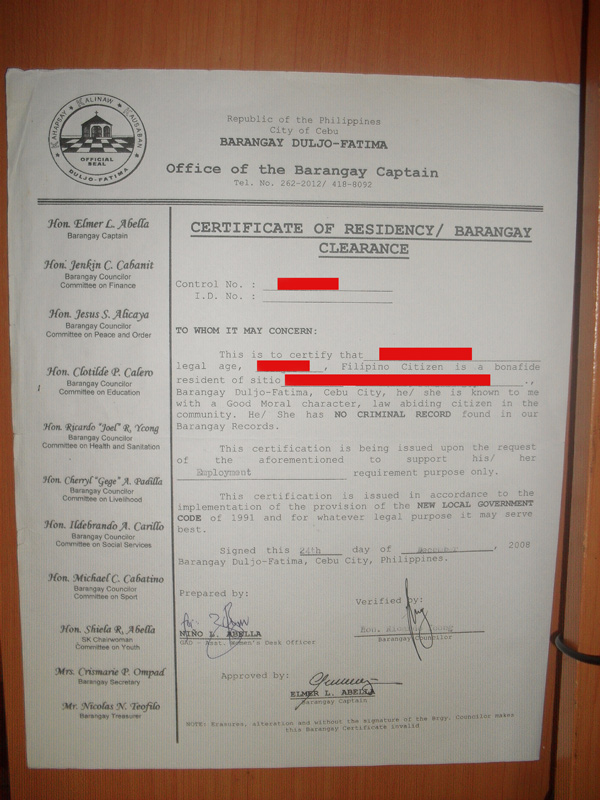 Picture snapshot of a real or genuine Barangay Clearance in Cebu, Philippines
The Barangay Clearance in the picture above is mine. I was able to get one when I was living in Duljo, Fatima, Cebu City (Philippines) and wanted to apply for an employment.
Take note: The design and structure of Barangay Clearance/Certificate differs from barangay-to-barangay. To get a better view of the main content or text written in the document, I provided a transcript below:
---
CERTIFICATE OF RESIDENCY / BARANGAY CLEARANCE

Control No. : _________________
I.D. No. : _________________


TO WHOM IT MAY CONCERN:

This is to certify that ___(Name of Applicant)___legal age, __(civil status)__, Filipino Citizen is a bonafide resident of sitio _______________,__________________., Barangay Duljo-Fatima, Cebu City, he/she is known to me with a Good Moral character, law abiding citizen in the community. He/she has NO CRIMINAL RECORD found in our Barangay Records.

This certification is being issued upon the request of the aforementioned to support his/her __(employment)__ requirement purpose only.

This certification is issued in accordance to the implementation of the provision of the NEW LOCAL GOVERNMENT CODE of 1991 and for whatever legal purpose it may serve best.

Signed this __(day)___ day of __(month)__, ___(year)___, Barangay Duljo-Fatima, Cebu City, Philippines.

Prepared by:

Authorized Persons with office position and signatures.




Note: Erasures, alteration and without the signature of the Brgy. Councilor makes this Barangay Certificate invalid.



---
Now here are the steps on how to get or apply a Barangay Clearance/Certificate. Don't worry it's so easy to secure this document. It takes 15 to 25 minutes to get this one depending on the number of applicants and how busy those Barangay employees are.
Steps on How to Get or Apply a Barangay Clearance or Certificate:
1. Prepare at least 20 to 30 pesos for the Barangay Clearance fee.

2. Go to your nearest Barangay Office and ask for Barangay Clearance.

3. Wait for the Barangay employee(s) to process your document.

4. Then get your Barangay clearance/certificate after. Finished!

Remember to review your Barangay clearance and see if authorized signatures are indicated and appropriate name, place and date are also correctly written.
Clearance fees may differ by type, location and yearly increase.
Warning! When posting comments, strictly observe correct spelling. Avoid incomplete words such as TY (as Thank You), Pls as Please, gud as good, dpt as dapat, etc. You can comment in English or Tagalog. If you will not follow this simple instruction, your comment(s) will not be accepted or published.
Total comments: 14
14
hiro
(15 July 2016 1:19 AM)
hi,

I went to our barangay to request for a Resident Certificate. They won't let me have it because they said that I am not a voter or I don't have a voter's ID. I'm a dual citizen. Tama ba sila? what should i tell them?
13
Michael lovin
(08 September 2015 12:59 PM)
My Barangay (where I have resided for over a year) as they are full aware and met me many times. Told me they have never issue a clearance to a foreigner and did not know if they could. I think this is wrong, I have never read anything about Citizenship, Birth Certificate, or ANY other form of requirement (possible TIN) which I have. What the truth about this? Thanks

1

Spam
10
single parent
(14 December 2012 10:53 PM)
Is it true that to get a barangay clearance froma barangay,you need to be a registered voter in that barangay?because if you are not then you have to go back to where you got registered regardless how long you had stayed in that baranagy
8
christopher dlrs
(13 October 2012 9:54 AM)
this is the scenario, people here in our barangay were living in more or less 4 years, renting an apartment, not they are trying to get a barangay clearance needed for registering in comelec, the baraqngay captaind did not not issued te said papers needed, my question is why? and What are the grounds of not issuing the said legal document needed by those people is it a political?
Here in Cebu, you don't need a baranggay clearance in order to register in COMELEC. But it is the other way around.

You need to register in COMELEC before you can get a baranggay clearance.

The baranggay will not issue a baranggay clearance if you you're not yet registered in COMELEC.

But's it's a case-to-case basis. Pag kilala niyo ang staff ng Baranggay office/hall, madali kayong makakakuha ng Baranggay Clearance/Certificate.
7
chanine
(22 August 2012 10:42 AM)
Hi,

i came from south of cebu, and i am registered there. but i studied in talamban, cebu city and i lived in an apartment for about 8 years. i was about to get a barangay clearance in talamban but they told me that they cannot give me the clearance because i am not registered in talamban. they said, in order to get a barangay clearance from them, i should transfer my registration in talamban. my question is, what if i dont want to transfer my registry in talamban, can i still get a barangay clearance in talamban? or should i get the clearance from where i registered???
5
lota villano
(12 June 2012 9:23 PM)
hi ask ko lng pwedi po ba baranggay clearance ung e present as valid id sa airport as domestic flight? thank you
you need a photo-bearing id. I'm not sure if the airport will accept baranggay clearance.
4
cecilio farinas
(02 February 2012 1:00 PM)
my son applied for a barangay clearance here at San Isidro Angono Rizal the application has been denied due non-payment of monthly dues from at villagloria subdivision….. my question is? did I commit a crime from non-payment of monthly dues .can the president of the subd. dictate barangay officials of non issuance of clearance…. despite presenting identification cards ….Pls advise me where to file a formal complaint ?
3
ann reyes
(29 November 2011 10:03 AM)
hello there,
i need to get a clearance from our brgy.captain but this i want to know how to make it, this is for a friend of mine she need to use for the property and declare that thay don't have enough properties and their son certificate trhat don't have work also.
thank u!
elizabeth, as stated above, you can get the baranggay clearance on the same day (15-25 minutes).
1
elizabeth gregorio
(28 September 2011 6:50 PM)
hello,

i need to getmy barangay clearance for my wedding in order to apply for marriage license, and i am currently outside phils right now but going home by november this year, i would like to ask if i can get it on the same day or after i applied for it?
thanks!