Healthcare-Associated Infections Kills More People Than Breast and Prostate Cancer Combined
General Electric (GE) reported that an unknown killer called Healthcare-Associated Infections (HAIs) kills more people in the United States than breast and prostate cancer combined.
Healthcare Associated Infections (HAis) affect millions of people and add billions of dollars to healthcare costs in the US annnually. HAIs are an unintended consequence of care delivered by healthcare organizations. Scientific evidence suggest that most HAIs are preventable.
If you are admitted to a hospital, you have 5% (percent) chance of contracting an HAI. Your length of stay in the hospital increases by 17.6 days if you get an HAI
Per year, there are 1.7 million people who get an infection during a hospital stay. 98,987 people in the US die annually from HAI's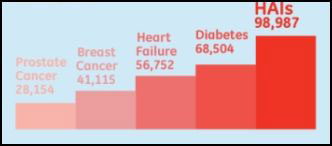 On average, the institutional systems spend for about a total of 35 billion dollars per year in healthcare while a patient spends 1,100 dollars per admission. And 9.4 percent of that total inpatient costs are HAI-related. More than 2/3 of HAIs affect people with Medicare or Medicaid.
Warning! When posting comments, strictly observe correct spelling. Avoid incomplete words such as TY (as Thank You), Pls as Please, gud as good, dpt as dapat, etc. You can comment in English or Tagalog. If you will not follow this simple instruction, your comment(s) will not be accepted or published.