I used to pay my Wired Globe Broadband Internet through my UnionBank EON Cyber Account. You can follow the steps below on how you can also pay your Globe Internet Broadband bill online.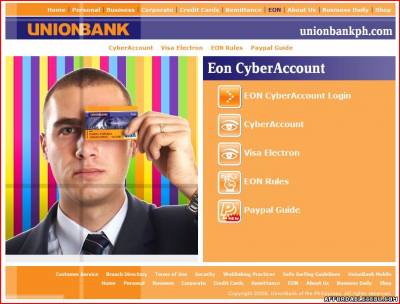 Paying your bills online is very hassle-free. You don't need to go out in your home or office or you don't need to fall in line just to pay your bills. Just a click of a mouse, it's very easy to do online transactions. I can do this with the help of my Unionbank EON Account. If you want to know how to open or apply a UnionBank EON Cyber Account, just read it in my other post:
How to Open a Unionbank EON Account
.
Note: You can also pay your other bills such as electricity, water bills, SSS, Pag-ibig, NSO Birth Certificate and many more.


If you have already a Unionbank EON Card, just follow these simple steps in paying your bills online.
You need to log-in your Unionbank EON Cyber Account (http://www.unionbankph.com).
Click
BILLS
.
Click Search Biller
You have to find
INNOVE COMMUNICATIONS
as your Biller
.
And follow further instructions. You can pay any amount. In my case, I pay 995pesos. It depends on your Internet Plan, Postpaid or Prepaid.
That's it. If you have any questions, just let me know.