With the advent of online banking and e-payment, paying your MERALCO Electric Bill should be easy and hassle-free. Save your time and money. You can pay your MERALCO bill without going to any MERALCO office or any MERALCO payment centers/outlets. How? Through BDO (Banco de Oro) online banking.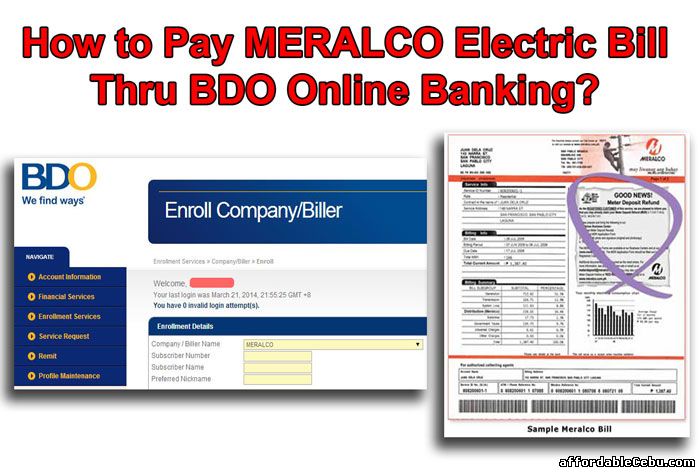 How to Pay Your MERALCO Bill Through BDO Online Banking?
First it is required that you have a BDO account. Your BDO account should be enrolled to BDO's online banking facility. In enrolling or applying for
BDO online banking
, this article might help you:
If you are already enrolled, your BDO Account should have a sufficient balance to pay your MERALCO bill.
Then, log-in to your BDO online banking account ( https://www.bdo.com.ph/ ).
To be able to pay your MERALCO bill via BDO Online Banking, or Mobile Banking App, or Phone Banking, please enroll your MERALCO as your Biller by following the steps below:
1.
Go to
Enrollment Services
-->
Enroll
-->
Add Company/Biller
.
2.
Select
MERALCO
for the
Company/Biller Name
.
3.
On the "
Subscriber Number
" field, input the first 11 digits of your
ATM/Phone Reference Number
. This is indicated at the bottom portion of your bill.
4.
Key in the "
Subscriber Name
" as reflected on your bill.
5.
"
Preferred Nickname
" could be house, office, etc. for your own quick reference when paying.
You may pay your bill/s immediately after enrollment:
1.
Login to your BDO Online Banking account.
2.
Select
Financial Services
-->
Bills Payment
-->
Pay Bills
.
3.
Choose which BDO deposit account to pay from.
4.
Select
MERALCO
as the
Company/Biller
to pay then input the total current amount.
5.
Type in the last 5 digits of your ATM/Phone reference number. These numbers vary every billing cycle.
6.
Choose your payment schedule then click "
Submit
."
If you have enrolled your old MERALCO account previously, you may delete it by going to
Enrollment Services
-->
Company/Biller
-->
View/Edit/Delete Biller
. Tick off MERALCO from your list then choose the Delete (X) icon.
Do you have any concern or problem in paying your MERALCO bill through BDO online banking? Tell us in the comment below.