Are you almost out of cash? Want to pay your PLDT Bill thru credit card? You can do that with BDO credit card. You can pay your PLDT bill thru BDO Credit Card Online.
We are in the era of "INSTANT PAYMENT, INSTANT CASH, even INSTANT NOODLES!" ;o).
You can adopt this method for your added convenience. Pay your PLDT bill thru BDO credit card online, anytime and anywhere. Here's how?
Step 1
You must have a
BDO Credit Card enrolled in BDO online banking
facility.
Step 2
Log-in to your BDO Online Banking. Go to
More Services
-->
Credit Card Services
. Then you will be redirected to a separate BDO Credit Card Online Banking facility. Then go to
Bills Payment
-->
Charge on Demand.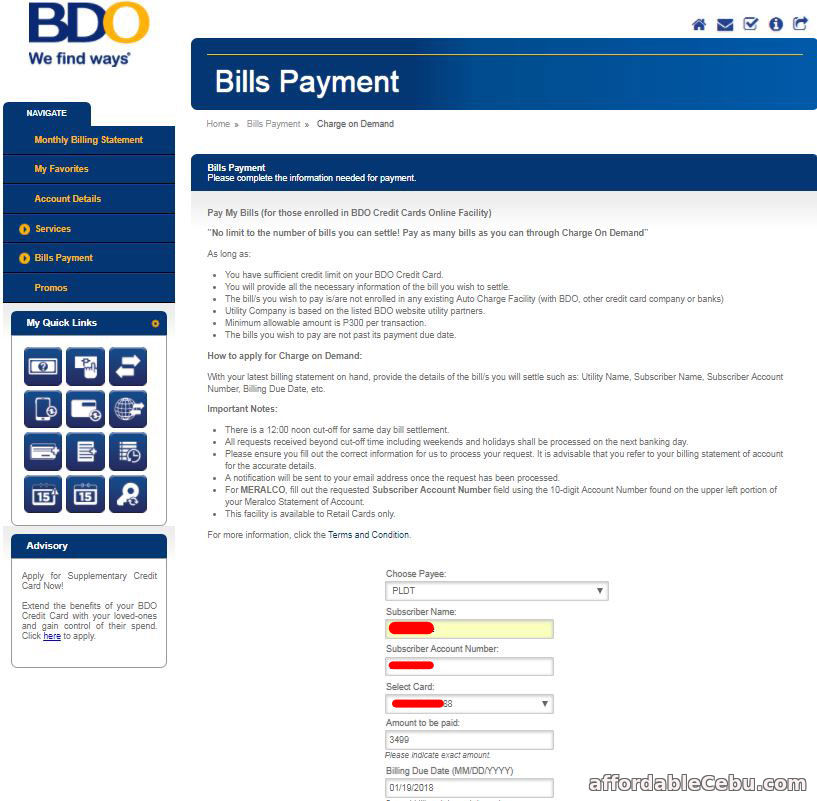 Fill-out the form:
Choose Payee: PLDT
Subscriber Name: The name that appears in your PLDT Bill (or Your PLDT Account Name).
Subscriber Account Number: Your PLDT Account Number (this article might help you find your PLDT Account Number - "How to View PLDT Bills Online?".
Amount to be paid: Amount of your PLDT Bill.
Contact number: your mobile phone number
Landline number: your telephone number
After filling-out the form, click the
Submit
button.
Step 3
Answer your secret question (questions that only you can answer). You created these questions when you register or enroll your BDO Credit Card to its online banking facility. For example, my secret question of my credit card account is "Where did you spend your honeymoon?"
Enter your answer and click the
Submit
button.
Step 4
Review carefully the payment details you've entered. Edit it if you found some information wrong. If all details are correct, click the
Submit
button: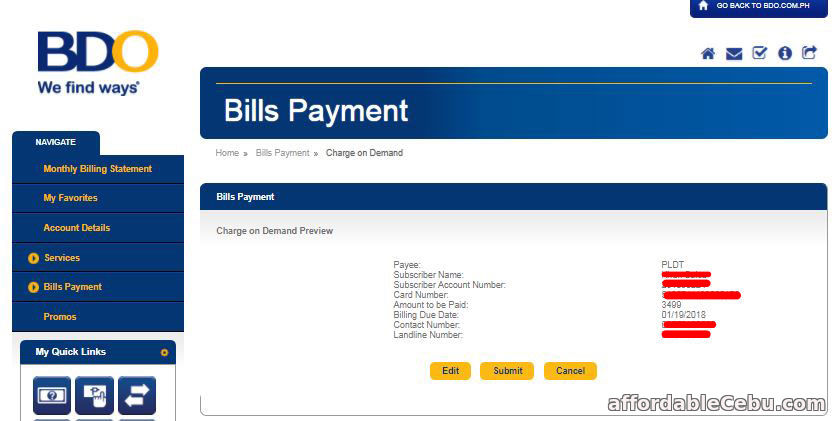 This is the final step. You will then be redirected to a "T
hank You
" page.
And you will receive a confirmation message to your email:
Take note of the following:
No limit to the number of bills you can settle! Pay as many bills as you can as long as:

You have sufficient credit limit on your BDO Credit Card.
You will provide all the necessary information of the bill you wish to settle.
The bill/s you wish to pay is/are not enrolled in any existing Auto Charge Facility (with BDO, other credit card company or banks)
Utility Company is based on the listed BDO website utility partners.
Minimum allowable amount is P300 per transaction.

The bills you wish to pay are not past its payment due date.
There is a 12:00 noon cut-off for same day bill settlement.
All requests received beyond cut-off time including weekends and holidays shall be processed on the next banking day.
Please ensure you fill out the correct information for BDO customer service to process your request. It is advisable that you refer to your billing statement of account for the accurate details.
A notification will be sent to your email address once the request has been processed.
For MERALCO, fill out the requested Subscriber Account Number field using the 10-digit Account Number found on the upper left portion of your Meralco Statement of Account.
Do you have any concern or problem with paying your PLDT Bill thru BDO Credit Card?