You're lucky if you always receive your BDO credit card bill (Statement of Account) early before due date. If you're one of those who receive their credit card bill late, chances are you're frustrated not to pay your bill on time (on due date or before due date). If you want to avoid the hassle of receiving your BDO credit card bill late, you must either
enroll to BDO's online banking
or enroll to BDO's Electronic Monthly Billing Statement Facility where you can receive your credit billing statement monthly to your email.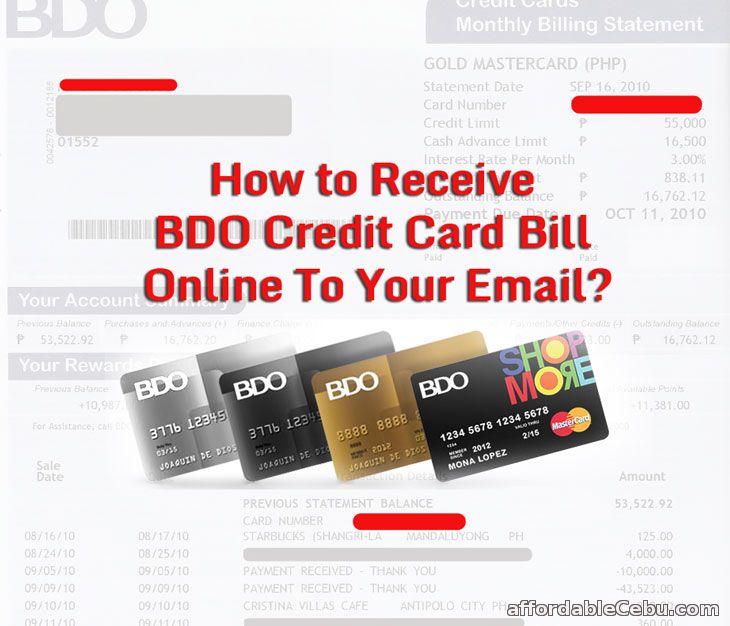 You have two (2) options in enrolling to Electronic Monthly Billing Statement
1.) Visit your BDO branch of account or any BDO branch. Go to the Customer Service or New Accounts section. Tell any bank officer that you want to enroll your credit card to Electronic Monthly Billing. They will accommodate your request.
Within Metro Manila BDO:
1-800-10-6318000 (PLDT)
1-800-3-6318000 (Digitel)
1-800-5-6318000 (Bayantel)
1-800-8-6318000 (Globelines)
1-800-10-8141700 (PLDT) AMEX
International Toll Free

BDO:

(IAC)+800-8-6318000
(IAC)+800-8-8141700 AMEX
How long will you wait to receive your credit card bill to your email?
You bill will be sent to your email within 3 days after your statement date.
One good feature of BDO credit bill is it's password-protection. You should enter your choosen password (which you create during enrollment) when you open the file. Thus, your bill will not be easily compromised or access by unauthorized person.
According to BDO, going Paperless bill can help local farmers in Isabela revive its forests. BDO will plant a seedling on your behalf for the livelihood of Isabela farmers.
Are you having a problem with your BDO credit card bill?