Like the deposit accounts (ATM card or Passbook with ATM card), you can also enroll your BDO or Banco de Oro credit card to its online banking facility. Examples of BDO credit cards that you can enroll to online banking are:
BDO ShopMore MasterCard
BDO Standard MasterCard
BDO Gold MasterCard
BDO Titanium MasterCard
BDO Platinum MasterCard
BDO Forever 21 MasterCard
BDO Bench MasterCard
BDO Simple Installment MasterCard
BDO Classic Visa Credit Card
BDO Gold Visa Credit Card
BDO Platinum Visa Credit Card
Blue from American Express Credit Card
American Express Credit Card
American Express Gold Credit Card
American Express Platinum Credit Card
Cathay Pacific American Express Credit Card
Cathay Pacific American Express Elite Credit Card
JCB Lucky Cat Credit Card
JCB Gold Credit Card
BDO Gold UnionPay Credit Card
BDO Virtual Card
Here's the procedure on how to enroll or apply your BDO credit card to BDO's online banking website:
Step 1
Go to the official website of BDO [ https://www.bdo.com.ph ]. On its homepage particularly on the upper-right part of the website, click the
"ONLINE BANKING LOGIN"
, a small screen will pop-out and will show the
"BDO ONLINE BANKING"
button which links to its online banking log-in page. Click the
"Not yet enrolled? Enrol Now!"
link. You will be redirected to the Electronic Banking Terms and Conditions page.
Step 2
Check the small box on the bottom part of the Electronic Banking Terms and Conditions page. Then, click Submit button.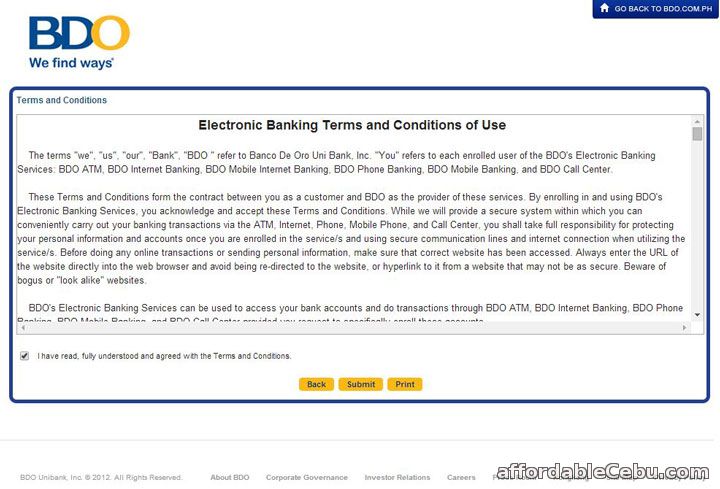 You will be redirected to the Online Enrollment page.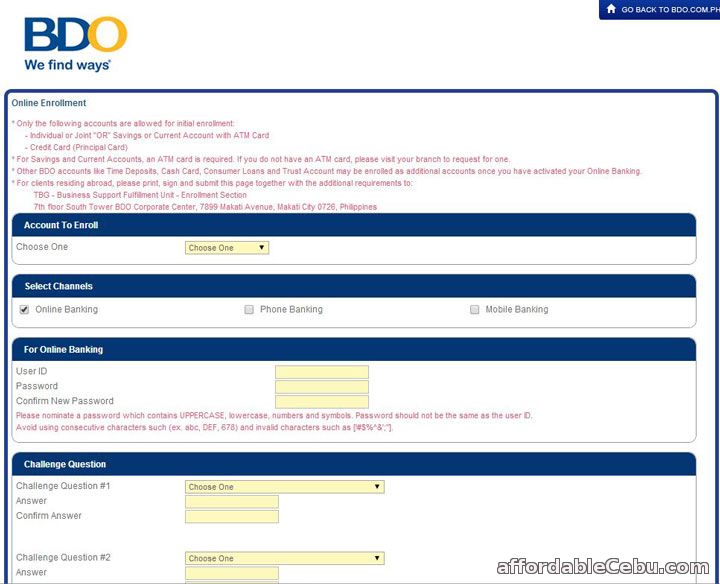 Step 3
Fill-out the needed information on the Enrollment page:
Account To Enroll
Since you're going to enroll a credit card, you must choose Credit Card
Select Channels
Check the Online Banking.
You can also check Phone Banking or Mobile Banking if you want.
For Online Banking
User ID - enter a user id. It could be combination of your name and your favorite numbers
Password - choose a password that is very hard to guess. A very good password is a combination of uppercase, lowercase, numbers or symbols. Examples are Rf83g#f*bH, y@dh!93Ghd, or U2*dgV3Gt. Take note: Password should not be the same as the user ID.
Confirm New Password - enter the password again
Challenge Question
This challenge question provides a way to log-in or to access your BDO online banking account in case you forgot your One-Time-Password (OTP). Samples of questions are:
In what city were you born?
What is the license plate of your car?
What is the maiden name of your mother?
What is the name of your favorite pet?
What is the nickname of your favorite cousin?
What is your father's middle name?
What is your favorite PBA team?
What is your favorite sport?
What was the last name of your favorite teacher?
What was your favorite subject in college?
What was your first job?
When is your mother's birthday (Month/Day/Year)?
Where did you go on your honeymoon?
Where did you have your first kiss?
Where did you spend your high school?
Where was your wedding reception held?
Where were you during typhoon Ondoy?
Who is your favorite superhero?
There is a second challenge question in case your forgot the answer of the first challenge question.
Client Information
Mobile Number - provide your mobile or cellphone number
Email Address - provide a working or active email address
Validation
You must enter the validation code shown in the captcha (image). You can left the Marketing Referral Code blank.
Review all the information you provide on the enrollment form, then, click the Submit button.
Follow further instructions...
Are you having any problem enrolling your credit card to BDO's online banking facility?