Do you want a paperless PLDT billing at a click of mouse? With the advent of 
computer
 and internet technology, PLDT (Philippine Long Distance Telephone) Company created an 
online bill access service
 that allows you to 
view your monthly PLDT bills
 online. No need to wait for the actual PLDT paper bill (or PLDT monthly statement). You can access them anytime and anywhere you want. Just follow the procedures below.
Steps on How to View Your PLDT Bills Online
New Update:
 The new online billing facility of PLDT can be accessed at https://my.pldthome.com. In order to view or access your PLDT Bills online, you need to register in
PLDT myHome website -
https://my.pldthome.com. After successful registration, follow the steps below.
1.
Log-in to
PLDT myHome homepage -
https://my.pldthome.com
 . Below is the screenshot of PLDT myHome website: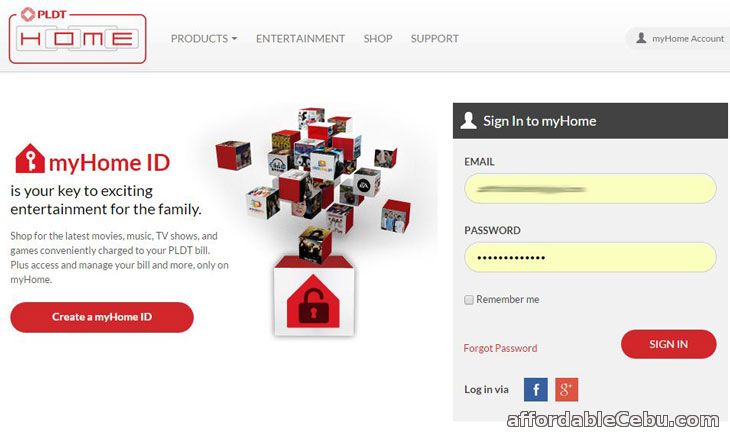 PLDT myHome website ( thew new online billing facility of PLDT)
" Please be aware that the previous online billing facilities of PLDT (websites) which are: https://www.pldt.com.ph/bills/ and  https://www.pldt.com.ph/billsonline/ are now disabled. PLDT abandoned those facilities. You will not be able to access your PLDT bills on those websites anymore."

"The new PLDT online billing facility is the PLDT myHome website - https://my.pldthome.com"
2.
 Inside the myHome Account, go to
Your Accounts
and hover or place your mouse cursor on the gray box area where you can see your PLDT Account Number. And click the
Manage
link.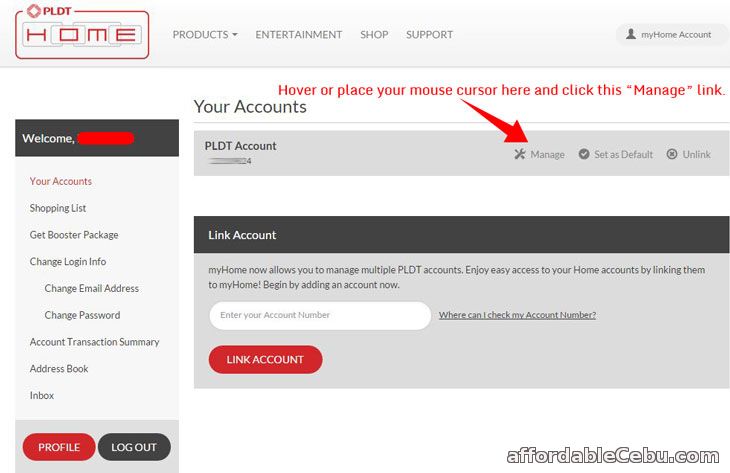 3
. Go to
Billing and Payment
. Under View Billing Statements Box, click the
GO
link.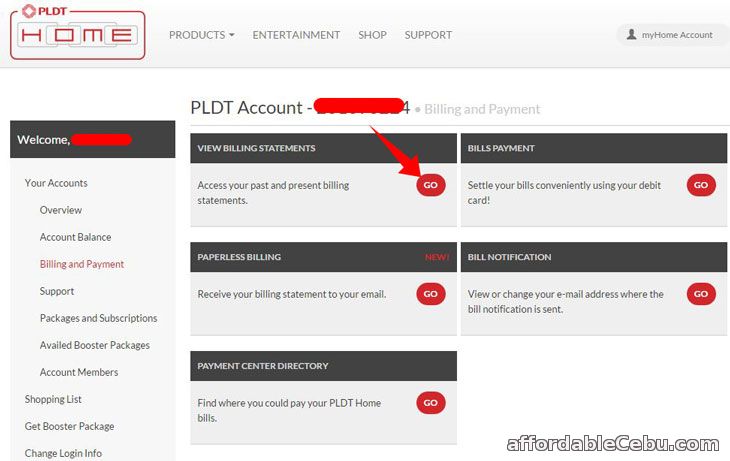 You will then be redirected to the page where you can view your monthly PLDT bills:
Click the View link to download and view the bill of the month. The Bill is in .pdf format. You can view it using pdf reader software such as Adobe Reader or Foxit Reader.
PLDT will send a Summary of Billing to your email on a monthly basis. This will serve as your bill notification two weeks ahead of your due date. The details of the Summary of Billing are as follows:
Account Number
Bill Date
Account Name
Billing Address
Balance from Last Bill
Current Charges
Due Date
Total Amount Due - this is the amount you should pay for the given month.
Sample of PLDT Bill Downloaded Online:
Screenshot of the PLDT Bill downloaded online
Are you having a problem accessing your PLDT Bill online?