Want to avoid the hassle of going to the PLDT office or PLDT payment center in order to pay your PLDT bill (internet or landline)? With the advent of online banking, you can conveniently pay your PLDT bill thru
BDO online banking
. Save time and money by paying your bill at the comfort of your home or office with just a few click of a mouse. Are there any charges paying your PLDT bill online? No. It's completely free. Here's the procedure on how to pay your PLDT bill thru BDO online banking:
Note
: Use
Internet Explorer
in paying your PLDT bills thru BDO Online banking. If you use Chrome or Firefox, the transaction will not proceed. You will encounter an ENDLESS spinning (reload) of the page.
By the way, PLDT stands for Philippine Long Distance Telephone Company. BDO stands for Banco de Oro.
Step 1
Step 2
If you already have a BDO account enrolled in BDO's online banking facility, the next thing to do is to log-in to your BDO online banking account.
Step 3
Enroll a PLDT as your Company/Biller. You can do this by going to the Navigate menu --> Enrollment Services --> Company/Biller --> Enroll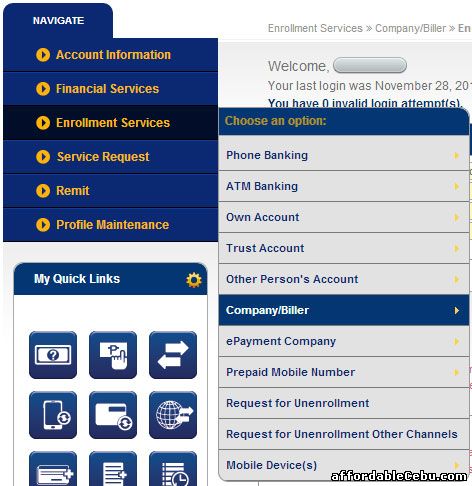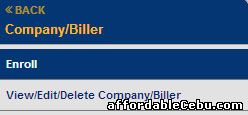 Step 4
Fill-out the Enrollment form.
Company/Biller Name - choose PLDT
Subscriber Number - enter your PLDT Account Number
Subscriber Name - enter your PLDT Account Name
Preferred Nickname - enter any nickname you want
Then click the
Submit
button.
Note:
If you don't know your PLDT Account Number, this article might help you "
How to View Your PLDT Bill Online
?".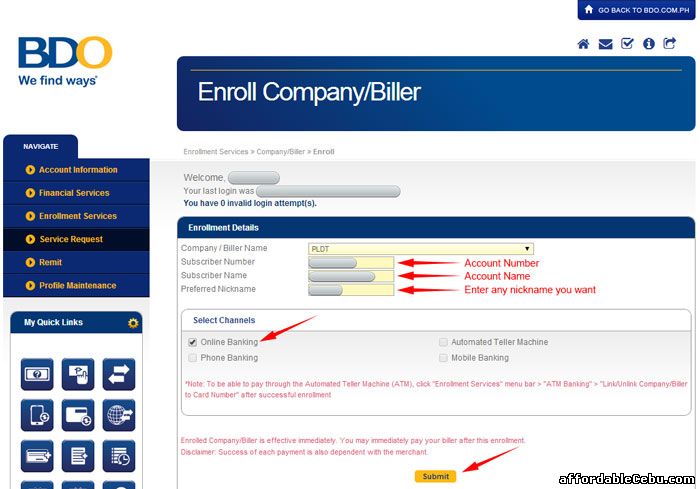 You will receive a message on the BDO website and to your email that confirms successful enrollment of the Company/Biller (PLDT).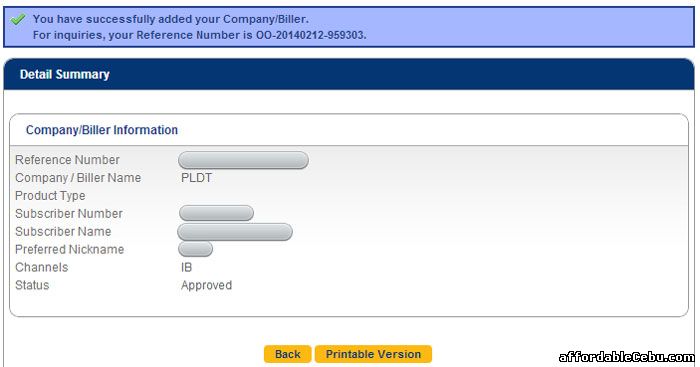 Step 5
After successful enrollment, you can now pay your PLDT bills. Go to Navigate menu --> Financial Services --> Bills Payment --> Pay Bills.
Step 6
Enter payment details in the Payment form.
Pay from - choose the BDO account where you want to withdraw for the PLDT payment.
Pay this Company/Biller - Choose PLDT
Amount - enter the amount of the bill (or amount due)
Then click the Submit button.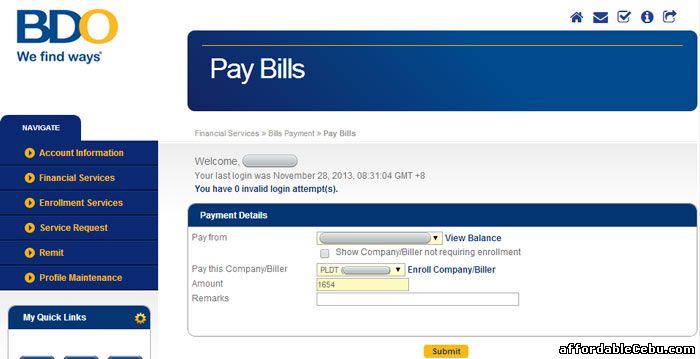 Continue to follow further instructions and then if the payment is successful, you will receive a message that confirms the successful payment of your PLDT bill.
Tips:
Aside from paying through BDO online banking, you can also pay your PLDT bill through Metrobank online banking.
It may take 1 to 3 banking days before your payment will reflect to your PLDT account. PLDT Customer Service (Billing Department) handles the verification of all payment transactions done thru online banking system. A lot of PLDT subscribers/customers are paying thru online banking system. Your payment transaction thru BDO online banking might be queued in their system. PLDT Billing Department is the one who will check and verify those payment transactions. So, if you pay your PLDT Bill after your due date, you can call PLDT Customer Service right away in order to confirm your payment and to reconnect your line immediately.
Are you having any problem paying your PLDT bill (landline or internet) through BDO online banking?