If you have a Metrobank account enrolled to Metrobank's online banking facility (MetrobankDirect), you will surely enjoy the convenience of paying your Globe bills (your Globe Mobile Postpaid Plan). Avoid the hassle of going to the Globe office or to any payment centers connected to Globe. You can pay your Globe bills anytime and anywhere thru Metrobank online banking. You can do this in just 3 steps provided below: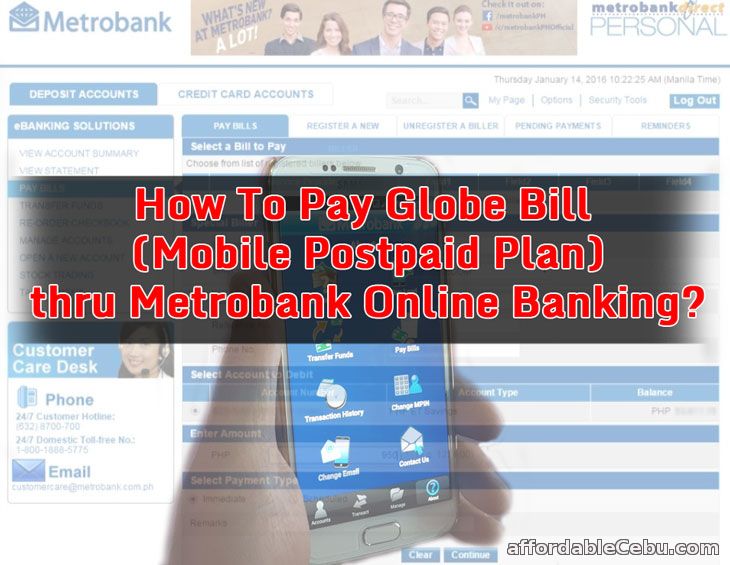 Step 1
Step 2
If you're already enrolled to MetrobankDirect, log-in to your Metrobank account. Go to Pay Bills and enter the following details in the following fields:
Category: choose Telco
Biller: choose GLOBE TELECOM
Reference No.: leave this blank
Phone No.: enter your Mobile Phone Number
Select Account to Debit: check or choose which of your accounts you would like to use for paying your Globe Bill.
Enter Amount: enter the amount of the bill (TOTAL AMOUNT DUE) reflected on your Globe Bill.
Select Payment Type: choose Immediate, which means you're going to pay the bill at that moment.
Remarks: leave this blank
Then click the Continue button.
Step 3
You will be redirected to the Transaction Confirmation page, which means you should confirm the transaction by clicking the Confirm button. Then, you will receive the Transaction Acknowledgment to your email.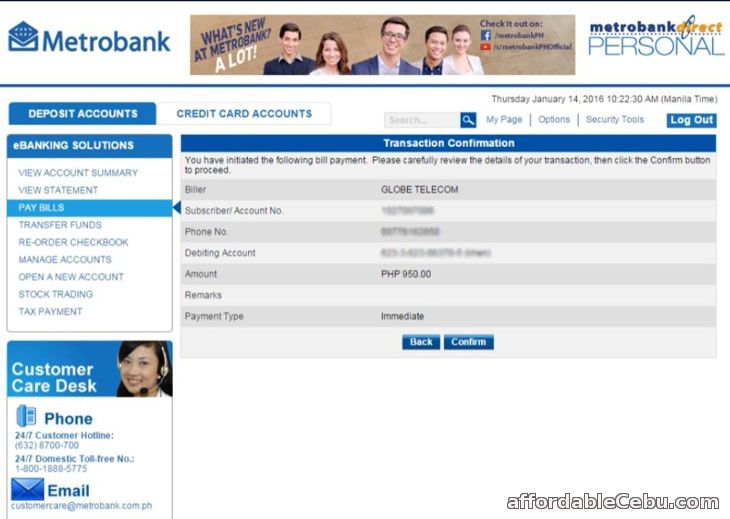 Are you having any problem paying your Globe Bill (Mobile Postpaid Plan) thru Metrobank Online Banking (MetrobankDirect)?