UnionBank EON Card is useful for offline and
online transactions
. Though EON Card is not a credit card, it has more advantages than the credit card. EON Card (or EON Debit Card) has minimal fees and no maintaining balance. You can open an EON Debit Card Account for only 350 pesos. 350 pesos is its annual fee for the bank. You can initially deposit any amount for as little as 100 pesos. It has less documents required for opening the account.
The documents required to open an EON Debit Card are listed below. You can use EON Debit Card to purchase in any Unionbank affiliated stores such as SM, Robinsons, Ayala, Gaisano mall and many other major stores in the Philippines. You can also use this card to purchase products or services in the internet - "online shopping". Online shoppers and online entrepreneurs are using this card to purchase anything in the internet. Like me, I use this card when I purchase products in Ebay, Amazon or any other e-commerce websites. I also use EON Debit Card to purchase domain and hosting for my websites.

Below are pictures of a real Unionbank EON Card: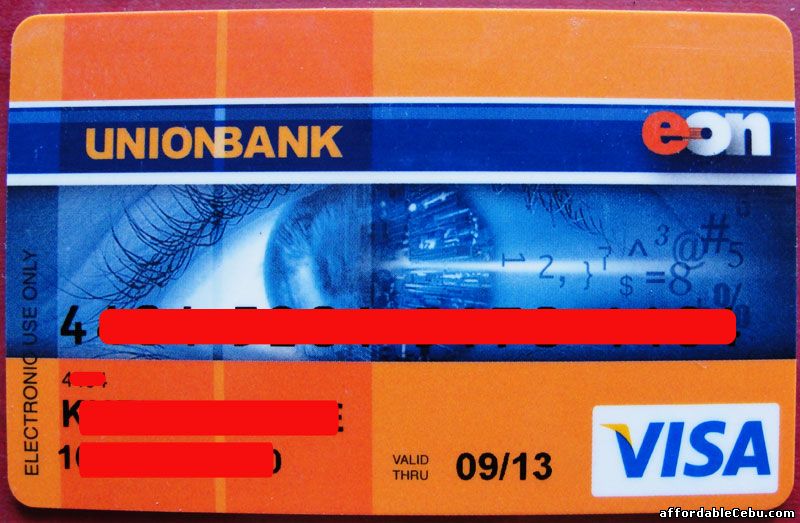 Unionbank EON Card - front view photo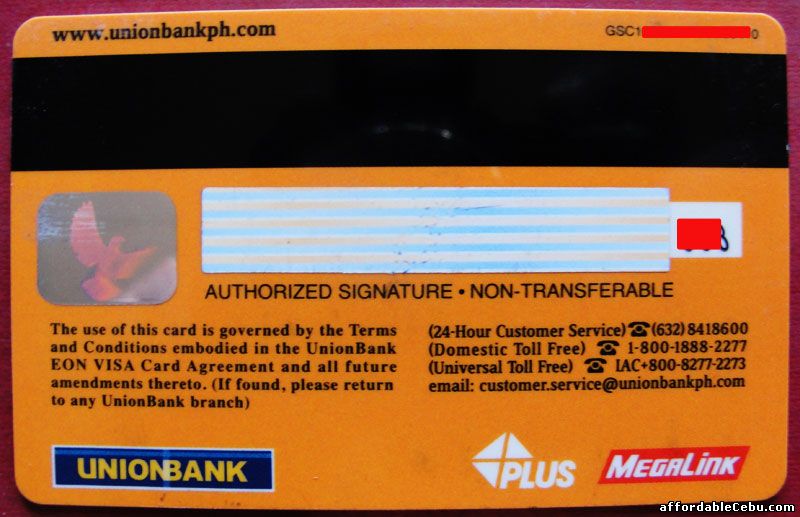 Unionbank EON Card - back view photo
Opening an EON card is easy and simple. To apply for an EON Card, follow the steps below:
Step 1
Bring the needed requirements to open a Unionbank EON Card:
Only 350 pesos - initial deposit.
At least two (2) valid ID's:

School ID
Company ID
Passport
Current Driver's License
Permit to Carry Firearms
New Social Security System (SSS) card
Government Services Insurance System (GSIS) eCard
Professional Regulation Commission (PRC) ID
New Tax Identification Number (TIN) Card
Original & unexpired National Bureau of Investigation (NBI) Clearance
Police Clearance
Digitized Voter's ID
Philhealth card
Office of Senior Citizen Affairs (OSCA) / Senior Citizen card
ACR Identity Card (I-Card)
Consular ID
Philippine Overseas Employment Association (POEA) / Overseas Workers Welfare Administration (OWWA) Card
OFW ID
Seaman's Book
Government office ID (e.g., Armed Forces of the Philippines, Home Development Mutual Fund [HDMF] IDs)
Certification from the National Council for the Welfare of Disabled Persons (NCWDP)
Department of Social Welfare and Development (DSWD) Certification
PRA Special Resident Retiree Visa (SRRV) ID
Other valid IDs issued by the Government and its instrumentalities

2 pieces 1x1 or 2x2 ID pictures
Bring the original copies of the ID's and you must photocopy/xerox them. The bank requires a photocopy of the id's. Please note that the branch may require other documents and information such as your Tax Identification Number (TIN) and SSS Number so please have this ready.
Go to a nearest or to your preferred UnionBank branch and submit a fully accomplished EON Cyber Account Application form. This form will be provided by the bank.
Step 3
Pay P350 for your first year annual fee. Bring your initial deposit (not required but recommended) so that you can start using your EON account. For me, I initially deposited 350 pesos. You'll be told by the bank to fill-out an application form. And pass the necessary requirements. 
Waiting Period for Claiming
You can claim your EON Debit Card after 1 week. After you receive your card, you need to wait 2 days. Then, enroll your EON card in Unionbank website (www.unionbankph.com/).
Enrolling Your EON Account to Unionbank's Online Banking
Go to the official website of Unionbank (http://www.unionbankph.com). Click the EON Cyber Account link on Unionbank's homepage. This where you are going to enroll for Unionbank's online banking.
After registering and logging in to their website, you can see your amount deposited there.
Expiration
Unionbank EON card will expire in three (3) years. After 3 years, you should renew your EON card to continue using it. Here's an article on how to renew your expired EON account: "
How to Renew Old Expired Unionbank EON Card?
"
Using Unionbank EON on Online Transactions
Before you can do online transactions (
online banking
), it's very important and it's required to
link your EON Cyber Account Debit Card to Paypal
. Paypal lets you pay online transactions worldwide. Here is the
video tutorial
. When your EON Cyber Account Debit Card is already linked to Paypal, you can now use your EON in paying online transactions.
What are you waiting for? You should apply for an EON Debit Card now! For faster, easier and more convenient way of shopping and transacting business online, EON Debit Card is a must.
Frequently Asked Questions
Can a person below 18 years old open or apply an EON card?
No. 18 years old and above is the age requirement in opening an EON account.
Is EON card a credit card?
Does EON card have a required maintaining balance?
No. It's a zero-maintaining balance
Can I transfer money from my Unionbank EON account to different bank (example, BDO, Metrobank, Landbank, BPI, etc.)?
How to pay bills online with Unionbank EON account?
Does EON card act as an ATM card?
Yes. You can withdraw money from any ATM machines (with VISA, PLUS, Megalink logo) in the Philippines.
Note: I'm not endorsing Unionbank here. I'm just sharing my experience and the great benefits you can enjoy in using Unionbank EON Debit Card
Do you have any question or concern? Please tell me in the comment below.