It's time to renew my Unionbank EON Card. It's been three years since I started using it not only for keeping my money but also for paying services online (internet). Expiration of EON card is 3 years. Here's my way of renewing my expired Unionbank EON card and updating my new EON card in my Paypal account:
Step 1
Go to any Unionbank branch, present your EON card to the bank officer, and request for renewal of EON card. If your EON card is lost, get an Affidavit of Loss and present it to the bank.
Step 2
The Unionbank will process the renewal in one (1) week but some branches will process in just 2 days. So, you must go back to the bank and claim your EON card after a week or a day. Don't forget to bring a
valid id
(for verification and identification purposes). Take note: Within that week of processing, you cannot log-in to your EON account online. You must follow the next step (3) in order to use and access your EON card.
Step 3
After claiming your EON card, you must wait for 1 day for changing the EON card number through Unionbank online banking website:
https://ebanking.unionbankph.com/EbankEON/sgonHttpHandler.aspx?Action.EONUser.Init.001=Y&AppSignonBankId=UBP&AppType=EON
Step 4
To change your EON card number, go to
EON Log-in Page
.
Click the "
CLICK HERE
" link under "
Did you lose or replace your EON card?
(in red arrow).
Step 5
Change your EON Card Number by filling-out the form and click
Submit
button.
Update Your Paypal Account
Step 1
Log-in to you Paypal account and go to
Profile
>> Add/Edit
Credit Card
.
Click the
Remove
link to remove your expired EON card.
Step 2
You will receive a notification that confirms the removal of the expired card. Then add the new card by filling out the form on the same page.
Step 3
Confirm the new card by clicking on the "
Confirm My Card
".
Confirming your card means you need to verify that you are the real owner of the card. Click
Continue
button to request for the 4-digit code (Paypal code).
You will receive a notification and instruction on how to confirm your card. The 4-digit code that has been requested will appear on your EON account in Unionbank's website.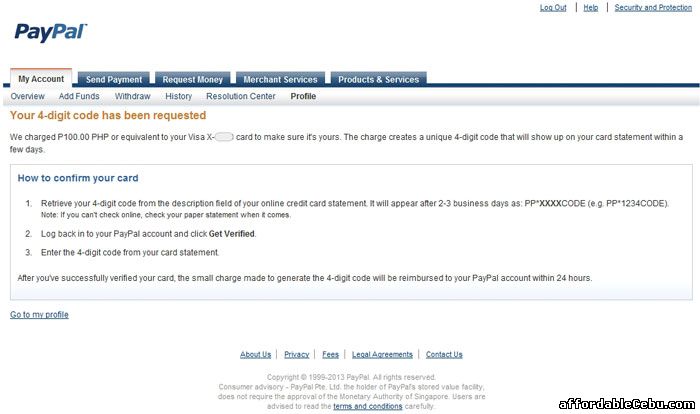 How to Confirm Your Unionbank EON Card in Paypal
Step 1
In order to see the 4-digit code, you must log-in to your EON account on Unionbank's website and click
Deposit Accounts
(pointed by red arrow).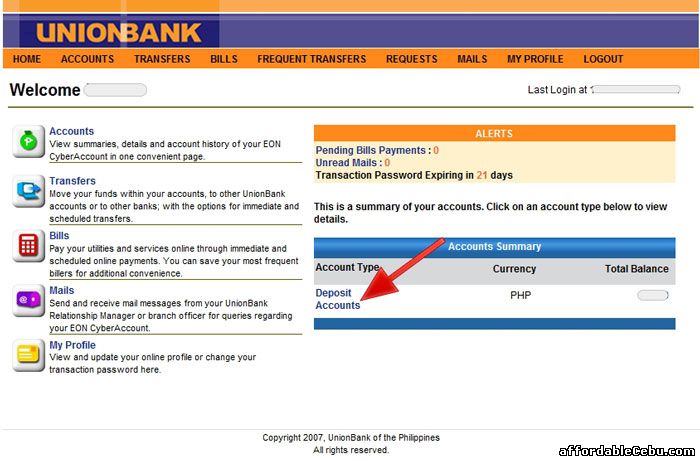 Step 2
Select the
Last 10 Transactions
.
The
4-digit code
can be found and identified in red circle below:
Step 3
Come back or log-in to you Paypal account and enter the 4-digit code on your Paypal account.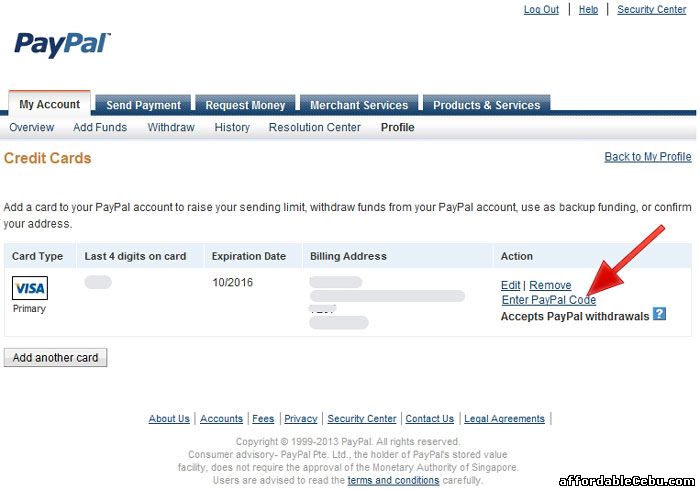 If you enter the correct 4-digit code (Paypal code) and click the
Confirm Card
button, you will receive the following message:
You're EON card is now verified to your Paypal account. Congratulations!
Frequently Asked Questions
Why does Unionbank implement an expiration to their EON card?
Because the bank wanted to update and to know the present status of the accountholder such as (present address, occupation, civil status, etc.).
Will my account number be changed after renewing my expired EON card?
No. Your account number will remain unchanged.