Get your 

NSO ( National 

Statistics

 Office ) Marriage Certificate

 Online. No need to go outside your house or office. No need to fall in line in the NSO office or any other NSO-affiliated centers. Your 

NSO Marriage Certificate

 will be delivered right in your doorstep after 3 days. It's very fast and easy to secure your 

NSO Marriage Certificate

 in the internet. e-Census provide this kind of service. e-Census is the online facility of National Statistics Office for online request and door-to-door delivery of your civil registry records such as marriage certificate. Follow these simple ways that I will teach to you.

Here are the easy steps to get your

NSO Marriage Certificate

online in e-Census

:

1.

 Go to

www.ecensus.com.ph

 . Click either the

Delivery link

or the

Click here to request now

button (checked in

Red

).
2.
 You will then be redirected to a next page which is the Terms and Conditions. Click the
I Accept
button.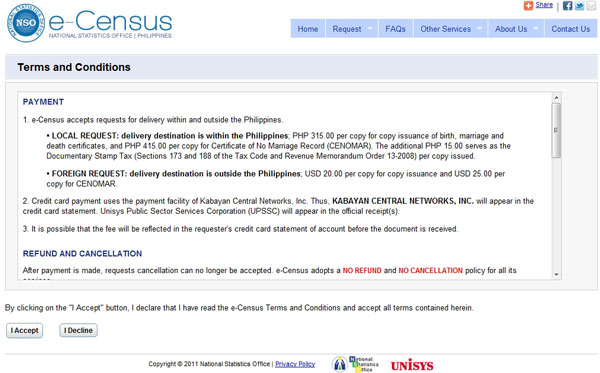 3.
Fill-out carefully and appropriately the Contact and Delivery Information form.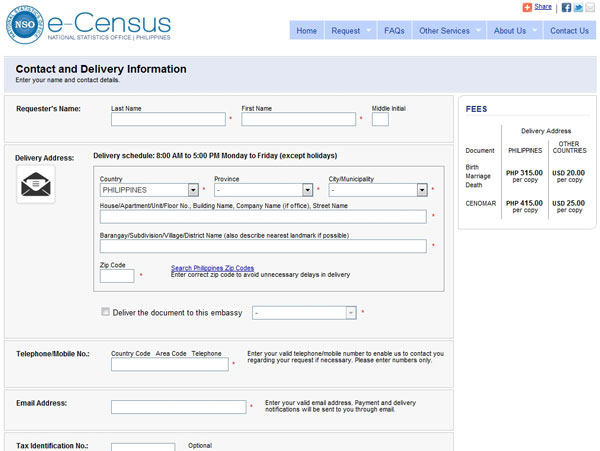 4.
 Be careful when filling-out. Review it. You might made errors. After filling-up. Click the Next button and follow further instructions.
For the payment, NSO requires you to pay 315 pesos for the Marriage Certificate. You can pay either thru bank offline or online. For offline payment, you can visit Unionbank, BDO or Metrobank in order to pay for the request of marriage certificate in e-Census.
For online payment, you can pay your NSO Marriage Certificate through Unionbank
Online Banking (EON or any Unionbank online banking account) or through BDO Internet Banking.
 If you have questions, don't hesitate to ask me. 
Have you experience getting your Marriage Certificate online? Tell us in the comment below.