I guess you already know the importance of having a savings account (it might be a passbook, atm or time deposit) in a bank.
Aside from securing your money, you also hold the faith to further grow your money in different investment instruments in the bank.
But to start your discipline to save your hard-earned money, you should know how to open or apply a passbook account in a bank.
What I'll be going to show you here are the steps in opening a passbook savings account in Metrobank.
Metrobank
is one of the largest and most trusted bank here in the Philippines.
It has numerous recognitions and awards such as
"2010 Bank of the Year"
by The Banker,
"2010 Best Bank in the Philippines"
by the EUROMONEY, and
"2010 Best Domestic Bank"
in the Philippines by the AsiaMoney Awards.
Recently this year, Metrobank received an Anvil Award of Merit for Public Relations Tools and Grand Anvil Award from the Public Relations Society of the Philippines.
That's why, cast your doubts and you shouldn't worry for entrusting your money with Metrobank.
"You're in Good Hands with Metrobank".

(Picture) Metrobank's Awards and Recognitions
To open or apply a
passbook savings account in Metrobank
here in the Philippines is easy as long as you have the needed requirements.
How to Open or Apply a Passbook Savings Account in Metrobank Philippines
Step 1
Prepare the needed requirements/documents:
2 Valid ID
SSS number or TIN number
2 pieces of your 1x1 picture and 2 pieces 2x2 picture
10,000 pesos initial deposit
10 to 20 pesos paper costs (scan, photocopy and etc.)
If you're a student, you don't need a SSS number or TIN number.
Most of the time, if you have two valid id's and a barangay certificate or a birth certificate, and 2 pieces 1x1 picture, you will be easily accepted by the bank.
Each branch of the bank (Metrobank or any other banks) differs in their strictness of acceptance of depositors/clients.
If you're an unemployed college graduate and have some cash in hand and you want to open a savings account in a bank, some banks require you to submit a TIN number.
I repeat, some banks require you a TIN number.
If you don't have a TIN number, I guess my best option for you is to choose another branch or another bank.
Don't worry, there are thousands of banks in the Philippines including the rural banks and the cooperative banks ;o)
Step 2
If all needed requirements are prepared, go to a Metrobank branch where you like to open a passbook savings account. (Be sure to wear your
smile
always.)
Step 3
Inside the bank, ask a bank officer/employee that you want to apply for passbook savings account. The bank officer will give you an Application form to fill-up. Provide whatever requirements needed by the bank.
Metrobank gives you the option whether you want have an ATM card together with your Passbook. For me, better to have an ATM card. ATM card gives you more mobility in withdrawing your money anywhere. (There's no cost to ask for an ATM card). Your Passbook and ATM card has the same account number.
Step 4
Then after filling up the form, giving the 10,000 pesos initital deposit, and some verification, a bank officer/employee will give you your newly opened passbook with the amount of your initial deposit indicated inside. (Be sure to check or review your Passbook regarding the name, account number and amount deposited). You will receive your ATM card after 1 week.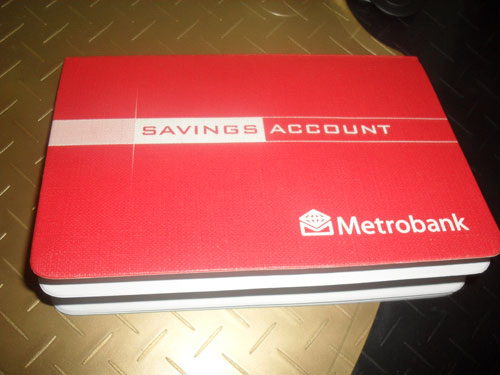 Picture of Metrobank Passbook savings account
It only takes 20 to 30 minutes for processing your application for Passbook savings account depending on the number of applicants and the number of bank officers available.
The
maintaining balance
and the
balance to earn interest
of Metrobank Passbook Savings Account is 10,000 pesos.
If you want to know more about the
Rules and Regulations governing Metrobank's Passbook Savings account
, you can read it
here
.