(Note: This is only applicable to accounts that are enrolled in
Metrobank online banking
or
MetrobankDirect
). Removing inactive accounts on your Metrobank online banking account can be very important in order to avoid the clutter, confusion or unnecessary details of your inactive Metrobank account(s). If you have idle or inactive account in Metrobank, you can remove or unenroll it to Metrobank online banking system by following the steps below.
Step 1
You must log-in to your Metrobank online banking account.
Step 2
Inside your Metrobank online banking account, go to MANAGE ACCOUNTS --> Unenroll Account.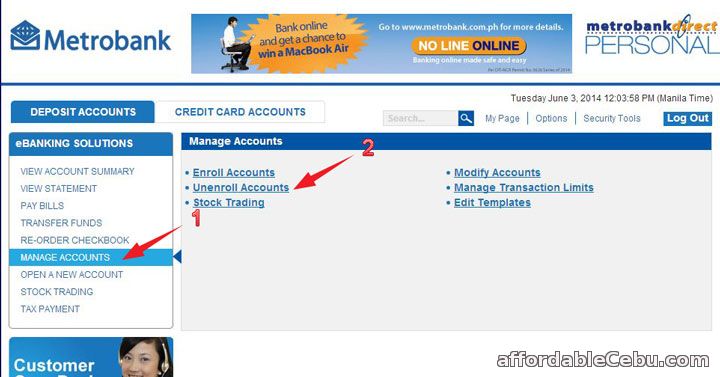 Step 3
Select the Account you want to unenroll by checking its box. And then click the Continue button. Be very careful when selecting the Accounts you want to unenroll/remove.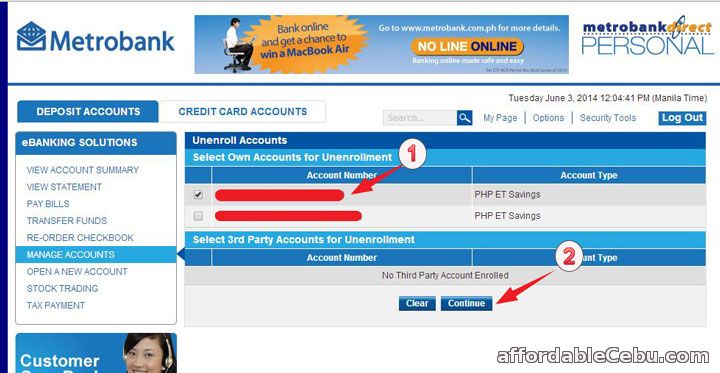 Step 4
Confirm the unenrollment of your Metrobank Account.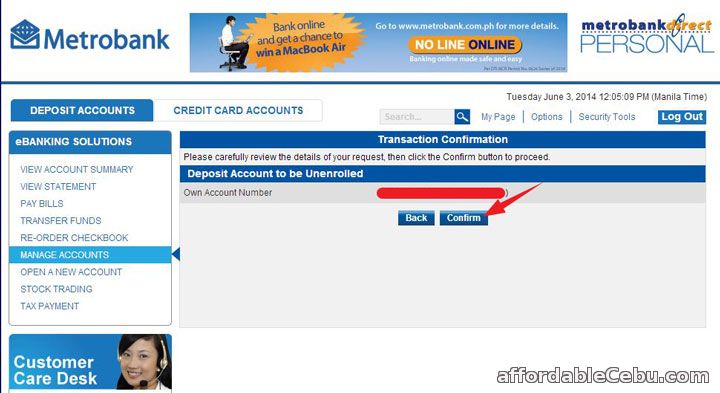 Step 5
You will receive a Transaction Acknowledgment Receipt.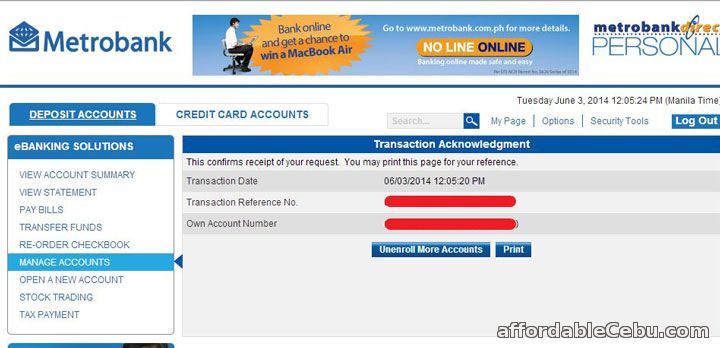 You can also receive an Acknowledgment Receipt to your email which states like this:
 

---

Dear Mr. ********,

 

Thank you for using Metrobankdirect.  Your own account unenrollment was Successful.

 

Details as follows:

 

     Transaction Ref No : 02*-***-******-*****

     Transaction Date   : 06/03/2014 12:05:20 PM

 

Should you require further information, you may login to Metrobankdirect or contact Metrobank Customer Care Desk through any of the following:

 

     Hotline            : (632) 8700-700

     Domestic Toll-free : 1-800-1888-5775 (for provincial areas only)

     E-mail             : customercare@metrobank.com.ph

 

Thank you and we are glad to be of service to you.

 

Metrobank E-Banking Division

---
Do you have any problem unenrolling or removing your Metrobank account online?