The
wealthiest man
in the world this year 2011 is named
Carlos Slim Helu
. He became the wealthiest man in the world for the second time this year 2011. On the year 2009, the wealthiest man in the world was Bill Gates. But when year 2010 entered, Bill Gates was surpassed by Carlos Slim Helu as the wealthiest man.
Picture of Carlos Slim Helu (wealthiest man year 2010-2011) - photo credit to forbes.com
Who is Carlos Slim Helu?
Carlos Slim Helu (born on January 28, 1940) is a Mexican Business Tycoon and holds the record as the wealthiest man in the world (year 2010 to 2011). He was born in Mexico City, Mexico. He's father is Julian Slim Haddad which is businessman who established a dry goods store, "La Estrella del Oriente (The Star of the Orient)". Mr. Julian later bought a real estate in the developing commercial district of Mexico City. These business produces great wealth to Mr. Julian. In 1926, Mr. Julian married to Linda Helu. Linda Helu's parents founded of the first magazines for the Lebanese-Mexican community. Mr. Julian and Linda Helu had six children: Nour, Alma, Julián, José,
Carlos
and Linda. Due to exposure of big businesses with his parents, Carlos wealth might be attributed to his parent's business skills.


How did Carlos Slim Helu became the wealthiest man?
Carlos Slim Helu's net worth of his
wealth
this year (2011) reaches to
74 billion dollars
. He is around 18 billion dollars wealthier than Bill Gates who is the second wealthiest man in the world. Bill Gates net worth is 56 billion dollars. And next to Bill Gates is Warren Buffet having a net worth of 50 billion dollars which makes Warren positioned as the third wealthiest man in the world.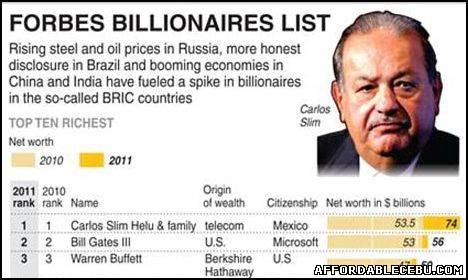 Forbes Top 3 Wealthiest Man in the World (Picture snapshot)
Carlos father taught him and his siblings with business practices and wealth generation ideas early in their childhood. In fact, Carlos bought some shares in a Mexican bank. He studied engineering at the National Autonomous University of Mexico and simultaneously teaching algebra and linear programming in that University. In 1965, he founded the Inversora Bursatil Inc. and he then bought the Jarritos del sur. This was how he started to plant his wealth generating venues. The man never stopped searching for opportunities as he grew.

In 1966, Carlos' wealth grows to 40 million dollars. He then built Inmobiliaria Carso. Months later, he married Soumaya Domit Gemayel until Soumaya died in 1999. They had also six chidren: Carlos, Marco Antonio, Patrick, Soumaya, Vanessa, and Johanna.

Carlos focused on construction, real estate and mining businesses in his early career. In 1972, he acquired a further seven businesses in these categories, including one which rented construction equipment. In 1976, he branched out by buying a 60% interest in a printing business and in 1980 he consolidated his business interests by forming Grupo Galas as the parent company of a conglomerate that had interests in industry, construction, mining, retail, food and tobacco. Carlos wealth increases at a staggering rate.

Carlos never stop investing his wealth. In 1985, Carlos invested heavily. He bought outright, or a large percentage of, numerous Mexican businesses, including Reynolds Aluminio, General Popo, Bimex hotels and Sanborns, a food retailer. He also acquired a forty percent (40%) interest in the Mexican arm of British American Tobacco and fifty percent (50%) of that of Hershey's. He also invested into financial services. He bought Seguros de México and gaining wealth from it, along with other purchases such as Fianzas La Guardiana and Casa de Bolsa Inbursa, the Grupo Financiero Inbursa, Many of these acquisitions were financed by the cash flows from Cigitam, a tobacco business which he bought early in the economic downturn. This man invests, invests, invests. His wealth keeps on duplicating at substantial rate.

The man with a great ambition, Carlos used some of his business practices, aggressive approach and savvy negotiation skills, he was able to buy companies at very low prices. With strong management skills, Carlos was able to increase their value exponentially in the next ten years and amassed a greater wealth.

Carlos Slim Helu's growing wealth comes greatly from his telecommunication companies especially the America Movil, Latin American's biggest mobile company.

Being the wealthiest man in the world is not Carlos ambition. It is not his interest to be the wealthiest man. When asked to explain his sudden increase in wealth at a press conference soon after Forbes annual rankings were published, he reportedly said, "The stock market goes up ... and down", and noted that his fortune could quickly drop.