Here's a brief procedure on how to be a member in SSS (Social Security System) Philippines. As long as you secure all the needed requirements, it is very easy to register in SSS. Just be patient with the long line (falling in line system) due to many SSS applicants and members everyday inside an SSS Office/building.
(Picture) Banner Logo SSS Philippines
Steps in SSS Membership Registration
1. You should get an E-1 form in the SSS office. Just ask someone in the office where you can get an E-1 form and fill it out. Here's a sample of an E-1 form below: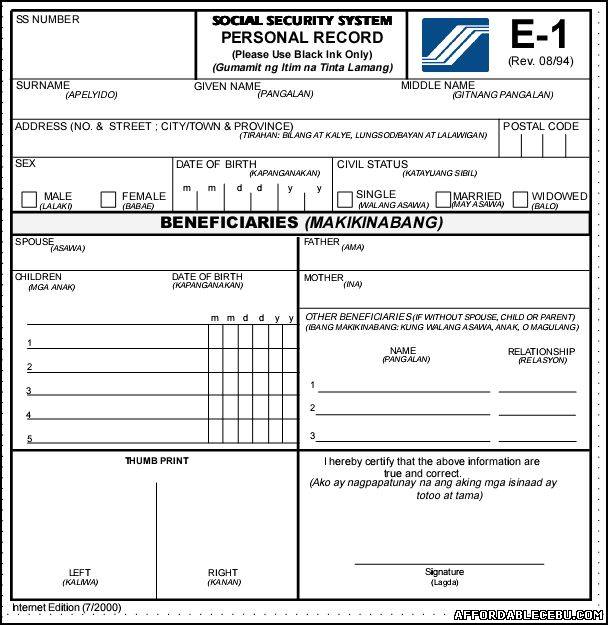 (Picture Snapshot) SSS E-1 form

2. Submit this E-1 form in two (2) copies.
3. Also submit the original copy and photocopy of the following documents (requirements):
Primary Documents


Baptismal Certificate; or
Passport

Other Required Documents


For reporting spouse - Marriage Contract
For reporting child

If legitimate:

Birth or Baptismal Certificate

If illegitimate:

Birth or Baptismal Certificate or in its absence,
Proof of Parentage or Relationship

If legally adopted:

In the absence of any of the primary documents, submit any two of the following where the name and date of birth of the registrant appear:

Secondary Documents


Record of Employment/Employer ID
GSIS Member's Record
Certification form National Archives
Alien Certificate of Registration
School/Voter's Identification Card
Driver's License
Marriage Contract
Birth Certificate of children
Joint Affidavit of two disinterested persons attesting to the correct name and date of birth of the applicant.
4. If the above-stated documents (requirements) are not available at the time of registration, comply immediately by submitting to the nearest SSS office to facilitate availment of benefits and privileges.

1. Issuance of SS number does not automatically qualify you for coverage. You must first be engaged in an occupation subject to SSS coverage.

2. An SS number is a lifetime number. No one should have more than one SSS number.