---
Philippine Arena: World's Largest Dome Arena
Popularly known to be the World's Largest Dome Arena, Philippine Arena is owned by the Iglesia Ni Cristo (INC) religious organization. The Hanwha Engineering and Construction Corp., which is the contractor of the said project has already been working this month (August 2011) to build this world's largest dome arena in Bulacan, Philippines.

The contractor of the project, Hanwha Engineering and Construction Corp. (Hanwa E&C) is a development and construction company based in South Korea. Its vice Chairman Kim Hyun-chung shake hands with the INC Executive Minister Eduardo Manalo after the groundbreaking ceremony on Wednesday.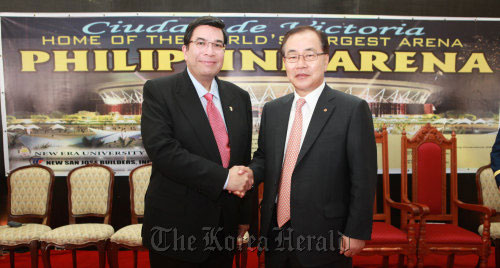 Eduardo Manalo (left), Kim Hyun-chung (right) picture (koreaherald.com)


According to the Korea Herald, Philippine Arena is estimated to be worth $175 million contract which was signed on August 4, 2011. It has a seating capacity of 50,000 (seats), floor area of 74,000 square meters and its domed roof is nearly 36,000 square meters which makes it the "World's Largest Dome Arena".

Hanwha E&C will work for the said project for over 30 months and will be completed by 2014. The company said that the project will be conducted in design-build process in which the contractor is responsible for all related processes from designing to building the facility.

"The Philippine Arena is three times bigger than the Seoul Olympic Gymnastics Stadium, Korea's largest indoor Arena", said a Hanwha E&C official.

INC said that the Philippine Arena will be built for the Centennial Project during the 100th Founding Anniversary of the Iglesia Ni Cristo (INC) in July 27, 2014.

The picture below shows the area of location where the Philippine Arena is going to be built.


Map location of the Philippine Arena (picture)


The particular place where the Philippine Arena will be built is in the Ciudad de Victoria, Bocaue, Bulacan.



Ciudad de Victoria
Home of the World's Largest Arena
PHILIPPINE ARENA
(photo by Eranio Mariano)
---
Some Pictures of the Philippine Arena - World's Largest Dome Arena:
Miniature architectural model of the Philippine Arena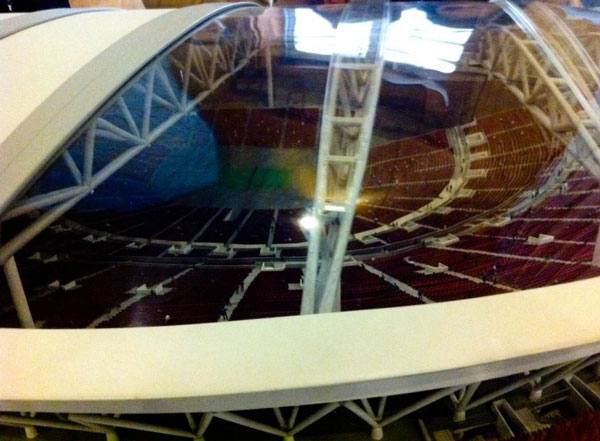 Dome of the Philippine Arena
New Era University Stadium (NEU) located beside Philippine Arena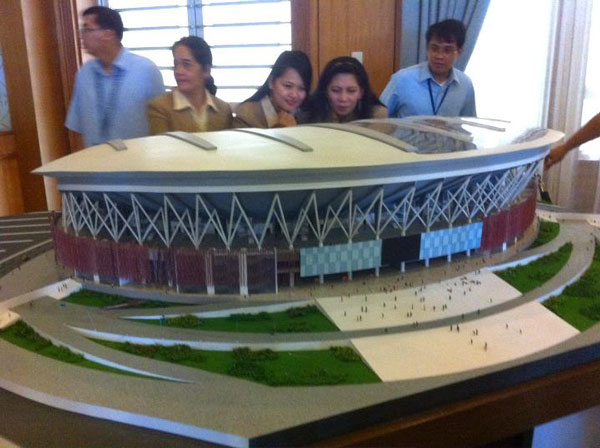 Philippine Dome Arena Miniature Model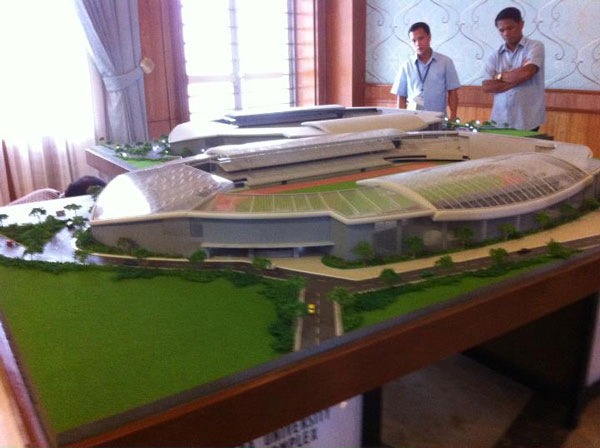 NEU Stadium
(All images credited to their respective owners)
---
Philippine Arena Groundbreaking Ceremony Video:
---
Personal Opinion:
The
Philippine Arena
would be a great place to house the most prestigious event of the Iglesia Ni Cristo (INC) which is the Centennial (100th Anniversary) celebration by year 2014. It could be also a most spacious place to host a grandeur Grand Evangelical Mission (GEM) or it might be the next Olympic Games Arena.
Warning! When posting comments, strictly observe correct spelling. Avoid incomplete words such as TY (as Thank You), Pls as Please, gud as good, dpt as dapat, etc. You can comment in English or Tagalog. If you will not follow this simple instruction, your comment(s) will not be accepted or published.