---
How to Apply for Metrobank ATM Card Bank Account
Known for its tagline "You're in Good Hands with Metrobank", Metropolitan Bank & Trust Co. ( or simply Metrobank) was founded in September 5, 1962. It was recently awarded in the Euromoney Awards for Excellence 2011 as the "Best Bank in the Philippines" and it's popularly known also to be the 2nd largest bank in the Philippines. That's why your money is safe and secure when you open an account with Metrobank especially an ATM account. If you want to open or apply for a Metrobank ATM Card, just follow the simple steps below:



Step 1

Before going to any Metrobank branch, prepare the needed requirements:


> School ID

> Company/Office ID

> Driver's License

> Passport

>

NSO Birth Certificate

> Baranggay Clearance

>

Postal ID

> NBI or

Police Clearance

> Government-issued ID's (PhilHealth ID, SSS ID, UMID, etc.)

> any other valid ID...


b.) 2 pieces recent 1x1 or 2x2 picture


c.) 2,000 pesos for the minimum amount (initial deposit) of opening a new ATM account

Step 2

Go to your preferred Metrobank branch where you want to apply for ATM account:

Step 3

Then, go to the New Accounts section inside the Metrobank branch and ask for an Application of New ATM Card Account.

Step 4

The Account Officer will then give you forms to fill-up. Accomplish these forms. That's it. The Account Officer will give you a Deposit slip/receipt with your Account Number printed on it.

Claiming Your Metrobank ATM Card (Waiting Period)

You can claim your ATM card after 7 days (1 week). Bring and present your deposit slip and a valid id upon claiming.

Pictures of a Real Metrobank ATM Card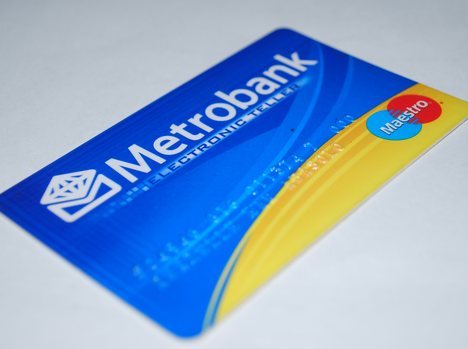 Metrobank ATM Card picture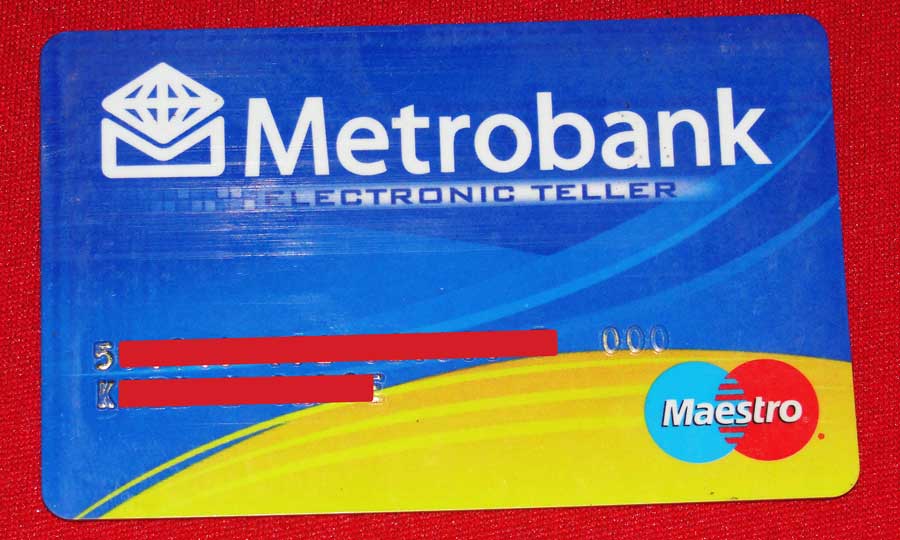 Old Metrobank ATM Card with Maestro logo in the front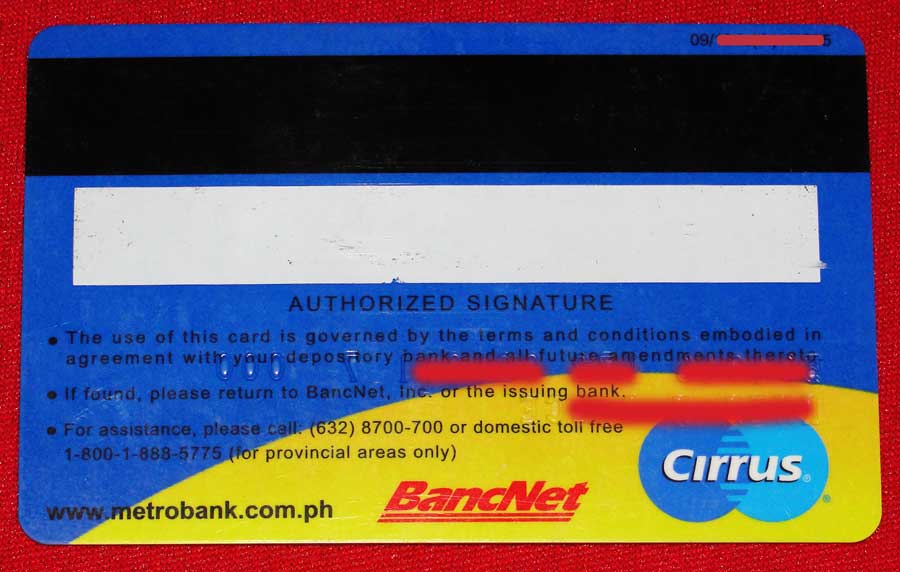 Metrobank ATM Card with Bancnet and Cirrus logos at the back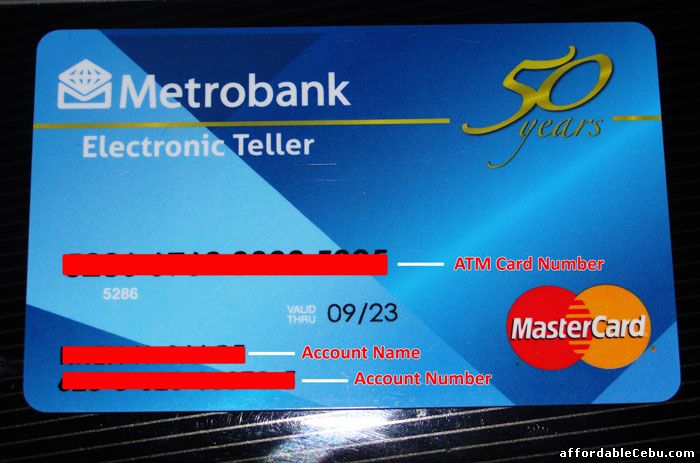 New Metrobank ATM Card with MasterCard logo at the front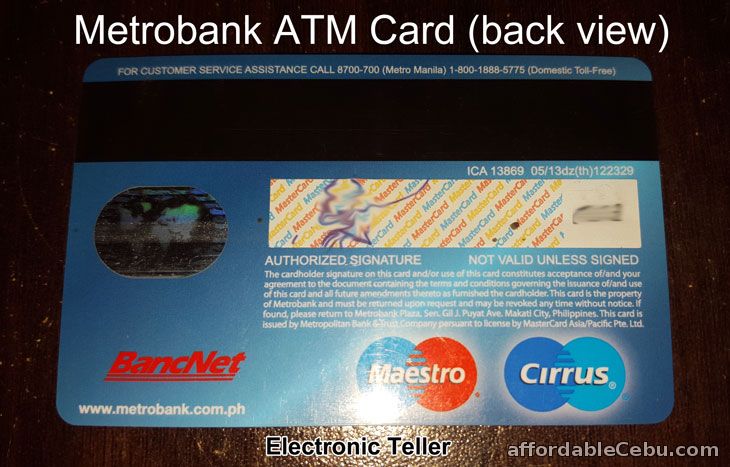 At the back of the Metrobank ATM Card bearing BancNet, Maestro and Cirrus logos.
You can use (for withdraw, balance inquiry, bills payment) this ATM card on any ATM machines that bear the BancNet, Maestro and Cirrus logos.
Other Types of Metrobank ATM Cards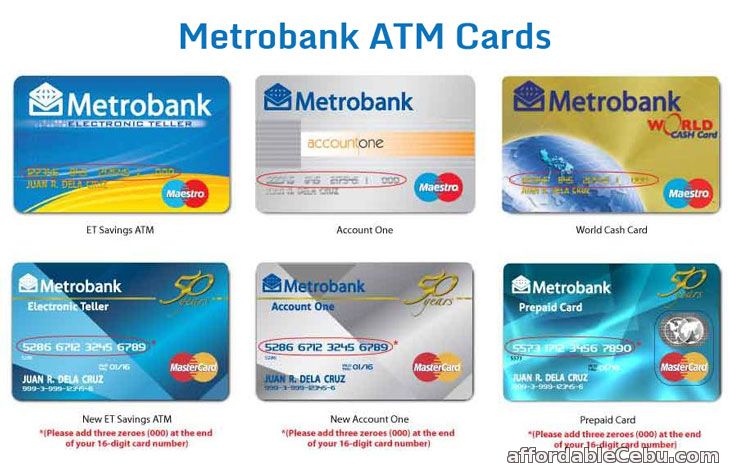 Maintaining Balance
The above ATM card is a Metrobank e-Teller ATM card. You should maintain the required maintaining balance of at least P2,000 in order to avoid charges/fees. Other types of Metrobank ATM accounts have different maintaining balance:
Passbook Savings with ATM - P10,000
OFW e-Teller ATM - waived
SSS Pensioner ATM - P100
AccountOne with ATM - P25,000
Falling Below Maintaining Balance Penalty
Metrobank charges P300 (per month) if your Metrobank e-Teller ATM falls below the required maintaining balance. The same amount will be charged to other types of Metrobank atm accounts:
Passbook Savings with ATM - P300
OFW e-Teller ATM- waived
SSS Pensioner ATM - P300
AccountOne with ATM - P300
Some Powerful Features of Your Metrobank ATM Card
Withdraw or transfer money to over 800 Metrobank branches and to over 1,600 ATMs in the Philippines
Pay your utility bills (phone, electric, internet, etc.) through ATM, mobile banking and internet banking
Use it to purchase in major business establishments or department stores such as SM, Robinsons, Ayala Malls, Gaisano Malls, and any other stores with Card Swipe Machines which are affiliated with Bancnet.
You can enroll your ATM account to Metrobank Online Banking and avail great online banking services of Metrobank such as free balance inquiry (access of your account), pay bills (electric, water, phone or internet bills, etc.), transfer funds and many others.
and many more...
Do you have any concern with you Metrobank ATM card?
Warning! When posting comments, strictly observe correct spelling. Avoid incomplete words such as TY (as Thank You), Pls as Please, gud as good, dpt as dapat, etc. You can comment in English or Tagalog. If you will not follow this simple instruction, your comment(s) will not be accepted or published.