The real estate boom in Metro Manila should not be viewed as a sign of a healthy Philippine economy. An ideal economy is one wherein most if not all citizens see and feel economic and social gains wherever they may be.
Metro Manila, a region with an area that comprises a mere one-fourth of one percent of the country's total land area, contributes 33% to our country's GDP and is home to 13% of the national population. The economic traction we have gained is irrelevant if you consider that 67% of our GDP is generated in the 99.7% of our nation's total land area.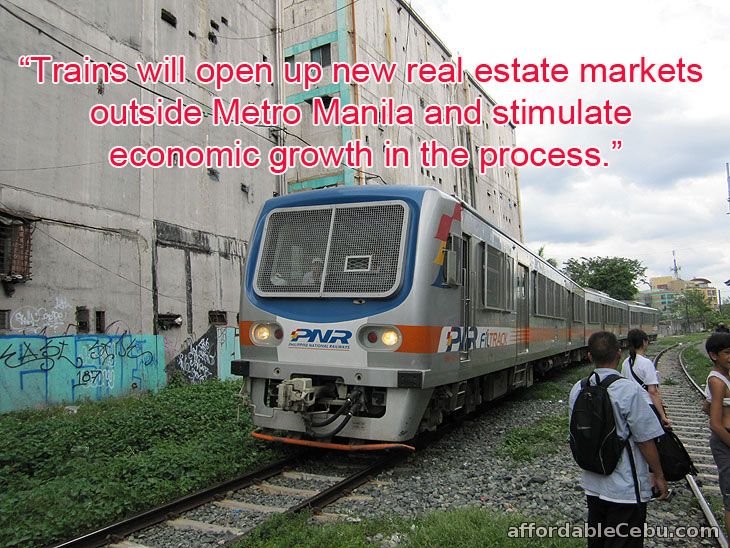 Real progress can only be attained by stimulating economic activities in the countryside
It will take a long time but with enough resolve, it can be done.
As early as 2004, the National Economic Development Authority (or NEDA) outlined the following strategies to effect this:
…spur economic growth for Bicol and Mindanao… development of the Southern Luzon Corridor as a strategy to decongest Metro Manila, and provide new opportunities for growth in the countryside… The Plan has in fact identified as one of its priority activities, the rehabilitation of the existing rail link to Bicol…Key roads and roll-on and roll-off (RORO) port facilities have been lined up for Mindanao… to provide access to product markets… PNR's South Line will extend up to Matnog, Sorsogon, being the take off point to the Visayas and Mindanao.
A modern, fast and reliable railroad system that will not only cater to commuters but will also transport cargoes over long distances will stimulate economic growth in the countryside
PNR or Philippine National Railways, a government-owned company, already rehabilitated parts of the so-called Southrail Line – from Tutaban in Divisoria, parts of Laguna and Quezon Province up to the Bicol Region. However, the rehabilitation was poorly done. There appeared to be no serious effort to modernize the project. Most of the coaches or trains are second hand that were donated by Japan. Travel time from Manila to Bicol is ten hours, the same time it takes when taking a bus.
By the way, our railroad system is also originally planned to extend North all the way to San Fernando in La Union.
How can a modern railroad system stimulate economic development in the countryside and decongest Metro Manila?
Answer: Like a domino effect, by opening up and increasing demand for real estate markets in areas that were once unattractive for those living in Metro Manila.
A 2006 Dutch study noted that:
"… households are willing to pay more for housing near railway stations due to lower transportation cost and reduced travel time. As workplaces become more accessible, so do leisure areas…"
Another study noted that:
"… the price of real estate is highest in city centers and decreases with every unit of distance from the city center. Thus, when some areas are pulled closer to the city center through an improvement in transportation, land values in these areas increase…"
In short, demand for properties in faraway locations increases as they are virtually and effectively "pulled closer" to city centers via faster and more efficient transportation systems.
As households increase in these "once' faraway places, commerce and industry (and therefore jobs), recreational and institutional facilities will follow. This will effectively make them the new city centers. The process will be replicated until progress eventually reaches the countryside.
Like I said, this will take time but it is something that must be done if we are serious in addressing regional economic inequalities.
image of a freight train in transitReal estate developers will have more options on where to build their succeeding projects instead of out-building one another in Metro Manila.
Small developers who could only afford to build projects outside Metro Manila, will find the value of their projects enhanced.
Other economic benefits of a modern railroad system
PNR trains currently cater solely to commuters. For me, trains transporting cargo is as important as trains moving people. In an article titled Economic Impact of America's Freight Railroads, the benefits of freight trains were enumerated as follows:
From the food on our tables to the cars we drive to the shoes on our children's feet, freight railroads carry the things America depends on. America's railroads account for 43 percent of intercity freight volume — more than any other mode of transportation — and provide the most efficient and affordable freight service in the world. Every year, America's freight railroads save consumers billions of dollars while reducing energy consumption and pollution, lowering greenhouse gas emissions, cutting highway gridlock, and reducing the high costs of highway construction and maintenance. In addition, America's freight railroads generate nearly $265 billion in total annual economic activity and sustain 1.2 million jobs.
Obviously, our country will never attain the same figures given the size of our economy, but we shall to a certain extent.
But given the sorry state by which our railroad system was rehabilitated by the government, none of these shall take place. That's why it is important to leave its rehabilitation and modernization to the private sector – to a company with the vision, motivation, ability, willingness, clout and financial muscle to do so.
Thank you so much
Author: Cecilio A. Sanchez, Jr. (Licensed Real Estate Broker)