---
How to Conduct an Earthquake Drill in School
This a Primer for Teachers on "How to Conduct an Earthquake Drill in School".

STAGE 1: PLANNING




Form a School Disaster Management Committee (SDMC)
Over-all Coordinator
First Aid Team
Fire Safety Team
Communication Team
Building Safety Inspection Team
Evacuation Team
Site Security Team
Prepare EARTHQUAKE SURVIVAL KIT



Basic items inside an earthquake survival kit:

First aid kit

alcohol
bandages
absorbent cotton
gauze
masks
adhesive plasters
medicine
tweezers

Food
Bottled water
Flashlights and extra batteries
Radio (battery operated)
Lighters and matches
Whistle
Knife
Blankets and spare clothes
Rope - at least 7 meters long
Toiletries
Pen and paper
Emergency contact numbers
Cash

SDMC should

Have the yearly update on information of school population
Prepare the most recent school map
Prepare the building floor plan of each building

SDMC should conduct a SCHOOL WATCHING EXCERCISE

Observe safe and unsafe zones
Suggest corrections for improvements
Assess the structural integrity of the building/s
Assess if the school location is tsunami prone

Good practices and safe zones:

Swing out door
Wide corridors
Wide open space for evacuation
Fire exits
Public alarm system

Some of the unsafe zones:

Windows and glass panes
Book shelves, machinery, cabinets and furniture that may topple or slide
Narrow alleys

Avoid passing near water tank






STAGE 2: DEVELOPING THE EARTHQUAKE EVACUATION PLAN
Use all available OPEN SPACES nearest to the building.
Determine if there is sufficient open space for all, set a buffer zone from the building.



(how many students?/1 square meter)



Consider the number of students in each building (per session).
Make sure that evacuation route will not expose the students to additional hazards.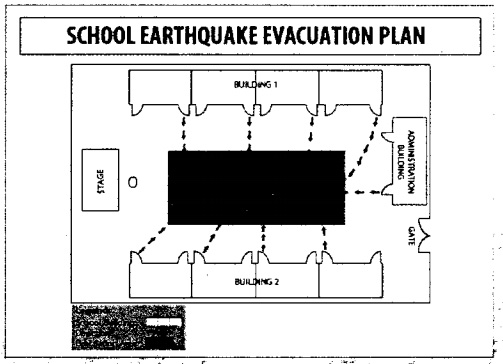 STAGE 3: ORIENTATION PRIOR TO THE CONDUCT OF AN EARTHQUAKE DRILL
A. Preparations
Conduct of lectures about earthquake.
Conduct classroom hazard observation activity
Introduce evacuation plan
Introduce assigned evacuation area
Post the school evacuation map in every classroom and bulletin board
Assign student in-charge of making sure the door is open during shaking
Assign observes and evaluators who will give comments and suggestions
Inform the neighborhood about the drill
Check available alarm system
Assign class marshall
Take note of persons with disabilities (PWD), pregnant and elderly and identify their locations for evacuations
Assign marshalls to assist the PWD, pregnant and elderly during evacuation.
B. Protect Yourself
What to do DURING an earthquake?
DUCK, COVER and HOLD
Watch out for falling objects
Keep calm and don't panic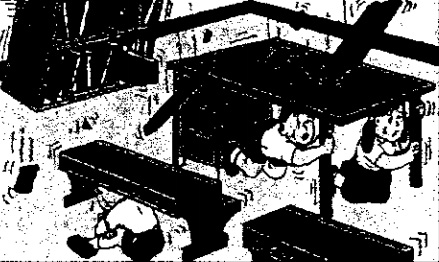 Keep away from glass window and heavy shelves.
STAGE 4: ACTUAL CONDUCT OF AN EARTHQUAKE DRILL
Phases of an Earthquake Drill
Phase 1. Alarm
During the drill, the 1-minute alarm indicates earthquake or shaking.
Phase 2. Response
While the alarm is ongoing, everyone should perform "duck, cover and hold". Remain in this position until the "shaking" stops.
Phase 3. Evacuation
As soon as the shaking stops, immediately evacuate the school building and proceed to identified evacuation areas using the pre-determined routes guided by the class marshall or teacher.
Phase 4. Assembly
At the designated evacuation area, students must be grouped together according to the class where they belong.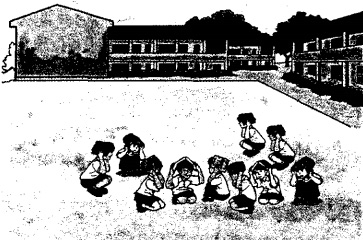 Phase 5. Head Count
Teachers should check and make sure all students are accounted for.
Phase 6. Evaluation
The over-all coordinator will announce the termination of drill or "All clear".
An evaluation of the drill must be conducted to identify problems encountered during the drill and how these can be improved in future earthquake drills.
Observers will give their comments and suggestions when all are gathered in the evacuation areas.
WHEN IS THE TIME TO EVACUATE?
After a very strong earthquake wherein you lose balance or could not stand, and heavy objects and furniture start to be moved or shifted.
As need arises or as declared by authorities.
Warning! When posting comments, strictly observe correct spelling. Avoid incomplete words such as TY (as Thank You), Pls as Please, gud as good, dpt as dapat, etc. You can comment in English or Tagalog. If you will not follow this simple instruction, your comment(s) will not be accepted or published.