---
SERVICE PROVIDER FOR GENERAL SERVICES
Ad Type: Offer | Location: Cebu City
| Views: | Comments: | 15 March 2013
Greetings!
Our company (I-MAGS) Integrated Management and General Services would like to express our intent to be in the business partnership and supply our client's manpower requirements and general services as well.
The Business started since August 2003 and served satisfactorily in some of the prestigious companies, institutions and business establishment in the Philippines.
We are very happy that you can be part of our growing, existence by giving and deploying effective and functional workers you deserve. With this, we strive to develop a dedicated long term business relationship and professional business environment.
We believed that our expert supervisors and well trained personnel in the field of their work assignment can cater your needs by carrying out to improve aspects on operations.
The company is entirely free from any liabilities or any demands from working personnel arising from labor laws and other government rules and regulations.
It is our sincere desire to offer excellent services to build a close business relationship and good partnership.
I- MAGS (Integrated Management and General Services) offers:
Janitorial and Housekeeping
One Time General Cleaning for:

Cinema
Post Construction
Swimming Pool
Condo
Warehouse
Others

Carpet & Upholstery care program
Furniture and Wall Surfing
Floor Maintenance Program
Window Cleaning
Comfort Room Cleaning and Sanitizing
Ground Care and Landscaping Maintenance
Hospital Aid /Orderly Personnel
Office Professional Personnel
Marketing & Promotional Consultancy Services
Bill Tendering / Messengerial
Facility Operations & Maintenance
Mechanical & Electrical Services
General Building Maintenance Services
Minor Construction Services
Building Technician
Air Condition Cleaning and Maintenance
More Services:
Merchandiser and Promo
Cashier
Service Staff
Checker/ Bagger
Warehouse man
Driver
Production worker
Construction worker
Data Encoder
Others
Should there be any inquiries regarding our company please don't hesitate to call us at thru any of  the following contacts.
Manila Head Offcie                     :           (02) 621 3453           
                                                             09228933936
                                                             09156550499
Satellite Offices
Bacolod                                     :          (034) 704 2950-51
Cebu                                         :          (032) 423 1281
Davao                                       :          (082) 305 5677
Iloilo                                         :          (033) 509 2037
Pictures
---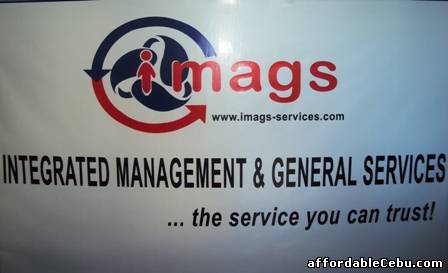 Share this Ad