---
Research Analyst - bradycorp.com.ph
Ad Type: Looking For | Location: Outside Cebu
Views: | Comments: | 21 May 2014
Monitors US government and legislative web sites to track developments relating to employment law, workplace safety, and business compliance
Tracks the status of pending employment-related legislation in the House of Representatives, the U.S. Senate, and state legislatures
Reviews electronic publications and news articles to determine topical relevance to core products
Use RSS feeds to track updates to targeted web sites
Contact government agencies via telephone to inquire about rulemaking efforts and publication updates
Monitor competitor e-commerce sites for new product introductions and product updates
Compile pertinent facts and statistics for inclusion in web content, new product projects, and marketing copy
Report key findings to the Regulatory Monitoring Coordinator and the Director of Research via daily, weekly, and monthly summaries
Compile questions from employers and HR managers from various forums and blogs
Perform fact-checking support on content projects
Complete special research projects assigned by the Regulatory Monitoring Coordinator.
Qualifications
Must have at least six (6) months of related experience in the fields of market or legal research

Bachelor's degree (BA, BS) is preferred

Must have excellent English communication skills both spoken and written

Ability to work in a fast-paced, aggressive growth environment.

Must be able to pay strong attention to detail and accuracy

Must have excellent organizational skills

Must be able to work independently

Must be a team player
HOW TO APPLY
Create/Submit your resume online:
Visit our Recruitment Hub:
Ground Floor, Worldwide Corporate Center, Shaw Boulevard, Mandaluyong City
LIKE US on Facebook to get updates on our Job Vacancies!
Official Brady Philippines
FOLLOW US on Twitter too!
@brady_careers
APPLY NOW!!!
Pictures
---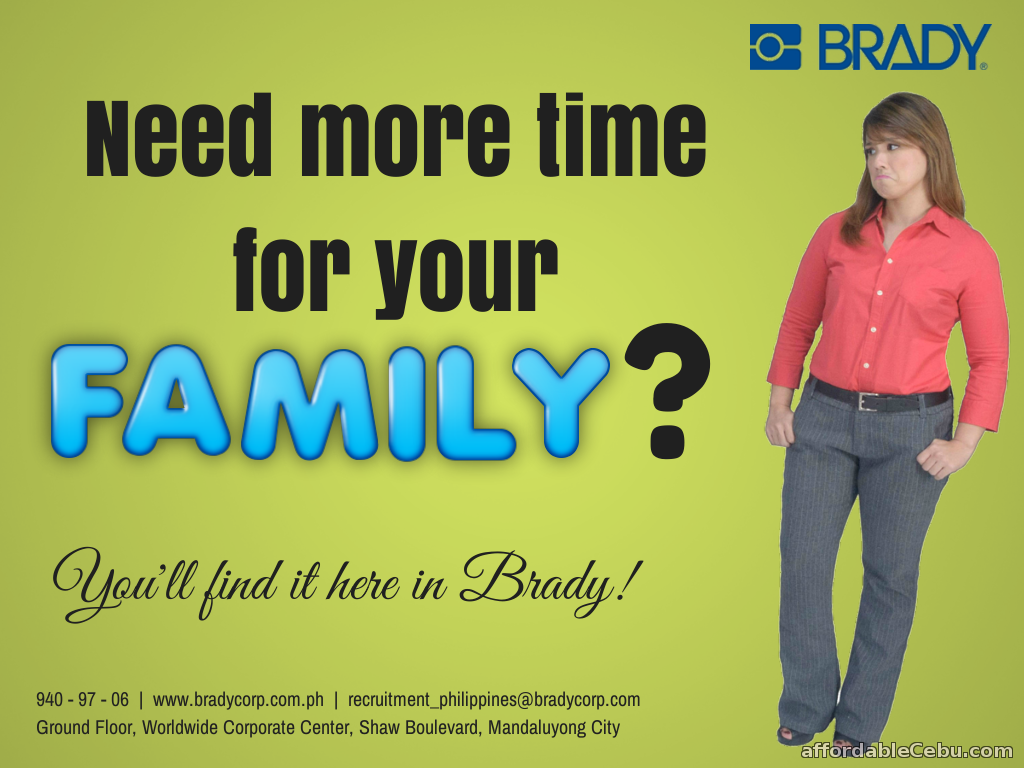 Share this Ad