---
Experience a New York-inspired lifestyle in Cebu
Ad Type: For Sale | Location: Cebu City
Views: | Comments: | 08 June 2017
Wake up where each new day is a masterpiece.
A first-class residential tower, 38 Park Avenue is meticulously designed and angled for the best panoramic view at one of the Philippines top 20 prime locations, the Cebu IT Park.
Experience high-end exclusivity with its unique features and amenities under the expert care of Cebu Landmasters' Property Management Team.
Situated within THE PLAZA at Park Avenue in IT PARK Lahug Cebu. A green open retail park where you can enjoy a unique variety of cafes and restaurants in landscaped green spaces and alfresco areas. A true New York experience right at your doorstep.
A World-Class Masterpiece in a New-York Inspired Condo Living, where a Park meets the City, Where East and West
are one in a panoramic view! The " 38 Park Avenue Condo in Cebu I.T. Park" Situated in a green, open retail park, this stunning property has 745 modern, meticulously designed condo units matched with ultra-modern features and amenities! – 38 Park Avenue Condo Cebu I.T Park World-Class Residences
38 Park Avenue Condo in Cebu I.T Park is the tallest Building
38 Park Avenue studio & 1 Bedroom, 2 Bedroom unit, 3 Bedroom & Penthouse units is as 38 Storey high! The highest Cebu I.T. Park with a Grand Atrium at the center of the tower. Surely this would be the home of Cebu's Top business executives that will be delighted with the Ultra-Exclusive VIP units at the Penthouse! Our studio and one-bedroom units comes with more space for the young professionals with a fast-paced lifestyle or for a start up family who wants to enjoy the urban life. It's multi-level Sky Amenity Club features the swimming pool, fitness gym, lounge and recreation areas, multi-functional hall and the kids zone.
The Grand Lobby & Garden Atrium
At the Grand lobby is the garden atrium, with the double volume height, with access to The Plaza, where you can enjoy fine dining, retails shops, leisure centers and business hubs. Needless to say, 38 Park Avenue 1 Bedroom Condo Cebu I.T Park with Balcony units is a great address in the region, may it'll be a residential or for business. A live work-play environment, offers, life a top most convenience in a bustling City of Cebu! 38 Park Avenue presents five (5) types of condo residences: Studio 24 square meters, One-bedroom 54 to 56 square meters, Two-bedroom 80 square meters, Three-Bedroom 111 to 137 square meters and the biggest units are the Penthouses 320 to 420 square meters.
Pictures
---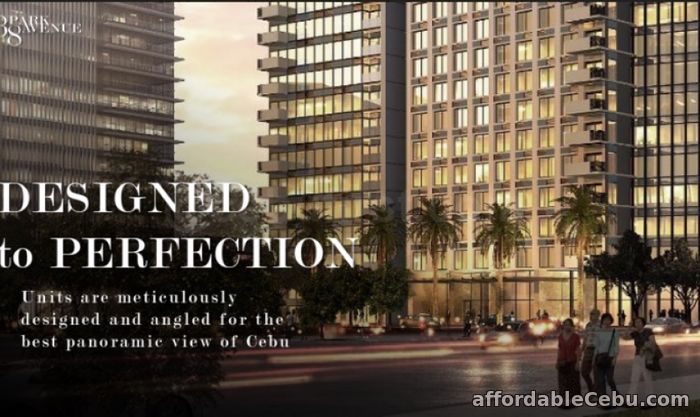 Share this Ad