---
Low-Cost Condominium in Labangon, Cebu City
Ad Type: For Sale | Location: Cebu City
Views: | Comments: | 20 November 2015
Want To Own A Condominium and stop Renting?
GREAT NEWS!
Affordable 20sqm Condominium for Sale in Labangon Cebu Near Paseo Arcenas for as Low as P5,900 per month only!!
Distance to:
2 kilometers from Rustan's Supermarket (Banawa)
4 kilometers from Chong Hua & Cebu Doctors' Hospital
2 to 5 kilometers away from premier schools
3 kilometers away from the Guadalupe Wet Market
2 to 5 kilometers away from most commercial banks
1 to 5 kilometers away from 3 different Police Outposts
2 kilometers away from the Tisa Fire Station
Total Contract Price Php 1,250,000
Studio Unit: Area: 20 sqm
Reservation Fee: Php10,000
Transfer Charges: Php75,000.
RESERVE NOW!!
15% DownPayment:
30mos. to pay w/o transfer charges: 5,916.67
30mos. to pay w/ transfer charges: 8,416.67
85% Balance through Bank or Pag-ibig Financing: 1,062,500
Estimated Monthly Amortization at 6.5% interest (3-year fixing)
30 yrs: Php 6,715.72/month
25 yrs: Php 7,174.08/month
20 yrs: Php 7,921.71/month
15 yrs: Php 9,255.52/month
10 yrs: Php 12,064.47/month
05 yrs: Php 20,789.03/month
"We Help YOU find the Quality Property of Your Needs"
For client Assistance, contact JOY at 0932 875 7166 / 254 1123 / madarcosrealestate@gmail.com
HURRY! GRAB THIS GREAT DEAL! RESERVE AND INVEST NOW!!
Pictures
---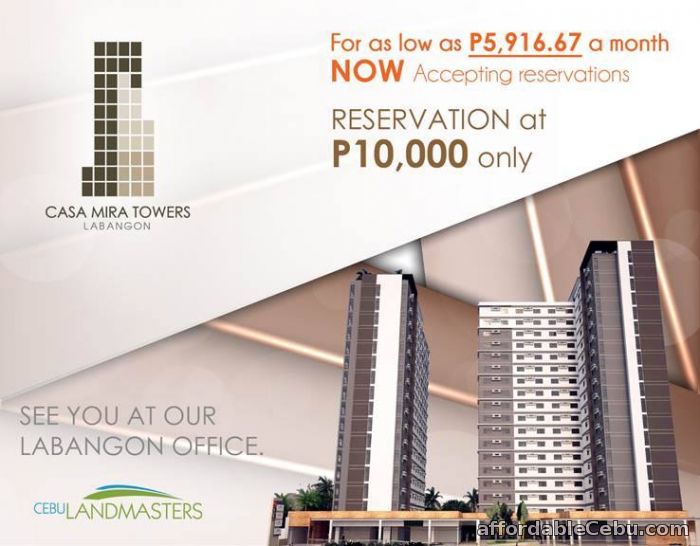 Share this Ad