---
One pacific residences one bedroom for sale
Ad Type: For Sale | Location: Lapu-Lapu City
Views: | Comments: | 25 August 2016
Building Plan
The contemporary piece of real estate consists of commercial establishments at the ground level, an office building, and three 18-storey residential towers.
AMENITIES:
A model of holistic living, the development features a full range of leisure amenities at the 4th floor. Here, recreational options are endless with a:
Swimming pool complex complete with a sunken lounge
20-m lap pool
Aqua gym pool
Jacuzzi roofed with tensile structure.
BUILDING FACILITIES/SERVICES:
24-hour security service wih controlled entry points
Automatic heat/smoke detection and fire sprinkler system for all units
Annunciator panel with emergency speaker at parking floors
Overhead tank and underground cistern for water supply
Standby power generator for selected areas
DEVELOPMENT FEATURES:
Ground Floor Features
Centralized residential lobby and lounge
Two high-speed, interior-finished passenger elevators for Towers A,b, and C
Closed circuit TV (CCTV) monitoring for selected common areas
Intercon security system connecting reception/security counter to all units
Security command center for 24-hour monitoring of all building facilities
Centralized mail room for each tower
Arcaded retail areas
Parking areas
AVAILABLE UNITS TOWER 1:

1 BEDROOM + BALCONY
Floor Area: 44.60 sqm
Price Range: Php 6,250,000.00 to Php 6,270,000.00
1 BEDROOM + BALCONY
Floor Area: 56.60 sqm
Price Range: 7,910,000.00 to Php 7,960,000.00
AVAILABLE UNITS TOWER 2:
1 BEDROOM + BALCONY
Floor Area: 45.60 sqm
Price Range: Php 6,300,000.00 to Php 6,330,000.00
1 BEDROOM + BALCONY
Floor Area: 56.60 sqm
Price Range: 7,520,000.00 to Php 7,840,000.00

TYPICAL RESIDENTIAL FEATURES:
Built-in closet for bedrooms and sleeping dens
Prefabricated kitchen cabinet
Stainless steel kitchen sink
Marble avatory counter top
Ceramic tiles for toilet & bath floors and walls
Ceramic tiles for the kitchen
ceramic wood plank flooring for bedrooms
Exhaust duct system for toilet & bath and kitchen
Provision for hot & cold water supply lines
Individual mail boxes with keys
Provision for cabe TV lines
Provision for telephone lines per unit
Split-type air-conditioning unit/s
Individual Condominium Certificate of Title (CCT)
PRE-FURNISHINGS
Split-type air-conditioning unit/s
LCD TV (2 units for 2BR)
Home Theater System
4-burner cook top with oven (for 2-BR and units up)
2-burner cook top (for 1-BR & below units)
Range hood
Washing machine (w/ Dryer for 1-BR and 2-BR)
Microwave oven
Refrigerator
Center Table and Sofa set with thro Pillow
4-Seater Dining Table set (for 1-BR & below units)
6-Seater dining Table set (for 2-BR & above units)
Bed Frame with matress set
Entertainment Cabinet
Accent Chair or Lounge Chair
PAYMENT TERMS:
Reservation Fee: Php 30,000.00
Option 1:
Cash ( 15% discount on contract price)
Option 2:
30% Down Payment ( less 10% discount on DP)
25% in 36 months
45% upon turnover
Option 3:
20% Down Payment ( less 8% discount on DP)
30% in 36 months
50% upon turnover
Option 4:
10% Down Payment
40% in 36 months
50% upon turnover
FOR APPOINTMENT CONTACT :

ALMIRANTE HERBIETO
Real Estate License #: 0005812
Email: crs25realty@gmail.com
Mobile: +63920-9640292
Mobile: +63925-5640292
Website: http://www.crs25realty.com
Website: http://www.ceburealtyshop.com
FOR MORE DETAILS... Please visit www.crs25realty.com
FOR MORE PROPERTIES... Please visit www.crs25realty.com
Pictures
---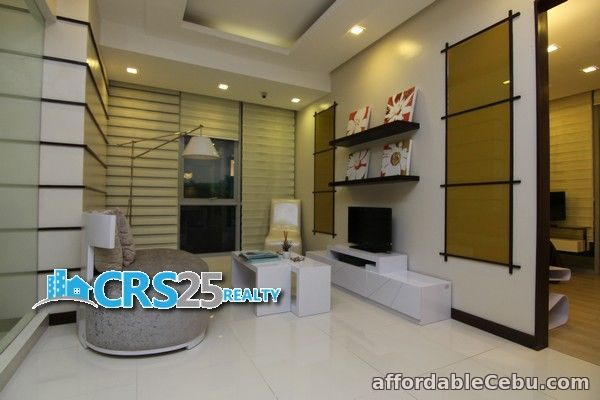 Share this Ad